Though the east is now under government control, the tell tale marks of a bloody war are still evident. Potholed roads, parched paddy lands and houses damaged by the fighting greet us as we enter the once LTTE -dominated areas of Batticaloa.
The entry and exit points lie between the town and the former LTTE-held areas. The security forces at these points keep a close watch on people and vehicles moving around. In the villages the Special Task Force (STF) and police are in control of the security.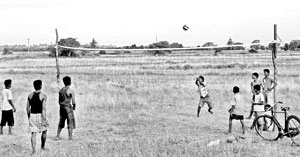 The fruits of freedom: Young boys who in the past were afraid to step out of their homes now enjoy a game of volleyball in Vavunathivu
For more than 12 years Vavunathivu and Kokkadichcholai were two key areas that were dominated by the LTTE, but after the recapture of the area, life is gradually transforming as residents look forward to cultivating their abandoned paddy fields, building their houses, improving school facilities for their children among other things. Many of these villagers had fled their homes and lived in welfare centres put up in the Batticaloa town areas and stayed there for periods ranging from three months to one year during the recent operations to liberate the east from LTTE clutches.
As we drive into the interior, groups of teenagers playing volleyball, towards evening, was a common sight. Villagers told us in the past parents were wary of sending their children to participate in sports activities fearing forced conscription by the LTTE.
In Vavunathivu's Kurinjimunai village, workers are feverishly constructing the main building of a school that had been damaged in the fighting. Some 130 students who study at the Govt. Tamil school in Kurinjimunai are being accommodated in cadjan huts.
The construction project, funded by the Norwegian Refugee Council is one among many projects that is assisting those who make a living as labourers or construction workers. In the past many of them were forced travel to Batticaloa town in search of labour or work in the fields.
Fifty-year-old mason and father of five children, Sinnathamby Kanapathipillai who works on the site says, "We feel free now as our children can live safely. Before the area was liberated we were afraid that they would be taken away by the LTTE."
Nallathamby Vijayalingam, 51, who also works on the same site says he still wakes up to the sound of barking dogs as he fears that someone could be coming to take his two children away. "We used to hide the children to prevent them from being conscripted by the LTTE in the past. There are no such fears now but I still worry," he said.
| | |
| --- | --- |
| | |
| A 'Co-op City' shop in Kokkadichcholai | The ferry service in Manmunai |
Many villagers who, live in houses that have been damaged by the shelling don't have the means to rebuild them. Some houses with damaged roofs have been temporarily covered with polythene or zinc sheets.
"When the rains come we face a lot of difficulties as it starts leaking from all sides," 38-year-old Shanthani Vijayalakshmi said. The villagers charge that government or NGO assistance is slow to reach them and many have been waiting for several months just to repair their roofs.Lack of irrigation facilities and dried up tanks are the main woes of the farmer in these areas.
However, 48-year-old Kathirgamar Ariyakumar, who owns paddy lands in Vavunathivu says despite the difficulties they have been able to cultivate the fields and obtain a good price for the yield. "If there is more water, more land could be cultivated and the economic situation of the villagers would automatically improve," he said.
Kokkadichcholai, a one time LTTE stronghold, is one area among others where people are enjoying the feeling of being free. However, it's a daily struggle of survival for the people whose livelihoods that include fishing and farming have not yet been fully restored.
Although the building that once housed the LTTE office from where the 'Thinakkadir" newspaper was published in Kokkadichcholai town now lies destroyed, roads are being reconstructed and irrigation tanks are being restored in the area.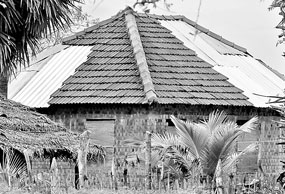 A house damaged by shelling with temporary zinc sheets on it in Kurinjimunai village
To improve the availability of food items including milk powder and other commodities the former co-operative society has been upgraded to a 'Co-op City' shop, similar to a supermarket, with prices of milk food, sugar, dhal and flour selling at prices about Rs five or 10 less than the going rates in Colombo.
"We are providing the same kind of goods that can be bought at any supermarket in any town in the country but at a cheaper rate," 32 –year –old Branch Manager Sinnathamby Villavarayan said.
For the first time in 15 years this village is seeing a functioning local political administration in the form of the TMVP (Thamil Makkal Viduthalai Puligal) - controlled Kokkadichcholai Pradeshiya Sabha. Although the council lacks revenue due to the absence of minimal taxable business, last year the council managed to gain an income of Rs. 150,000 and is looking to improve its revenue by increasing taxes on shops etc.
One of the development plans put into operation by the local council centres around the restoration of an irrigation tank. Elaborating on the project Krishnadas Innivan, a former LTTE cadre now with the TMVP overseeing the project says the soil filled in the tank over the years is being transported to the opposite side of the road where two sports grounds – one for males and the other for females are coming up. "We will be launching other projects too," he says with optimism. The Kokkadichcholai area was once popular for its prawn farming and this is another area that the council hopes to develop, he says.
The area's security is mainly provided by the STF together with the police while five new police stations are coming up.
"One of our biggest worries at the moment is the spate of robberies in the area. This may be due to the prevailing poverty, however police are keeping an eye on the situation," a police officer stationed in the area said.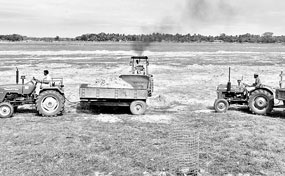 Soil from a dried up tank being transported to build up two sports grounds in Manmunai
Many villagers say that the main reason for the paucity of development in the area is that it lacks a bridge that links it to the Batticaloa mainland. Currently, they are forced to use a ferry service that also has the capability of transporting vehicles.
"If there is a bridge across the lagoon this area will develop faster and more vehicles could enter it," K. Thirunavakarsu, a former People's Bank employee said.
Meanwhile, the government has so far resettled more than 129,000 people in six AGA divisions.
The fervent hope of those who have already been resettled is that they would never again have to experience another round of fighting as they have done for the past 20 years and being displaced over and over again.
Married at 15 to escape LTTE
Twenty-eight year-old Manikkavasagar Varathalechchimi from Kurinjamunai, Vavunathivu married when she was 15 to avoid being conscripted as a child soldier to the LTTE. She regrets that her education was disrupted but believes that she made the right decision then.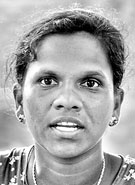 Manikkavasagar
Varathalechchimi
"When we were schooling the LTTE wanted a child from each household. But my parents managed to keep me safe and when they found it difficult to do it further they decided to give me in marriage. I had no alternative, but to get married ending my schooling days. We were four in our family and the LTTE tried hard to at least get one of us, however fortunately we all managed to escape conscription," Varathalechchimi told The Sunday Times.
A mother of a six year old son and three year old daughter Varathalechchimi is married to a carpenter who is employed in Qatar. Her husband left for employment six months back paying Rs. 80,000 and she is still repaying the loan they had taken.
"Since getting married we have been displaced several times and our house has been damaged several times too. Even now a part of the roof is damaged and we have patched it up with polythene resulting in many leaks when it rains.
"My main ambition is to see that my children are educated. I will give them the opportunity that I missed. Unfortunately the area lacks good schooling facilities and I have to send my children to Batticaloa town. With our limited income that is not an easy task," she laments.