By Nadia Fazlulhaq and Chathuri Dissanayake
The Ministry of Highways and Road Development is to go ahead with a plan to remove unauthorised structures on all A and B class roads, including roads running through main towns, starting on August 1. However, the move has already sparked protests from the public.
The Minister of Highways and Road Development, T. B. Ekanayake, told The Sunday Times the decision was largely in response to a request from the Ministry of Defence to have roadsides cleared for security reasons. "We are taking this action mainly as a precaution against possible security threats," the minister said. "However, we are also concerned about the pedestrians and cyclists. Pedestrians are often forced to walk on the road because of shops and structures set up by vendors encroaching on pavements. This in turn is an inconvenience to cyclists who are forced to swerve to avoid people walking along the road. Better road utilisation and the prevention of accidents are the two other reasons for clearing unauthorised pavement structures. Another important consideration is the aesthetic aspect – city beautification."
He said the ministry would be sending a circular to local governments with instructions regarding unauthorised structures along roadsides.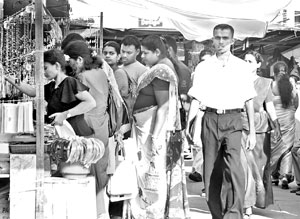 Pedestrians are often forced to walk on the road because of shops and structures set up by vendors encroaching on pavements
"The Ministry is drafting the circulars. We have also sought the advice of the Attorney General to ensure there are no legal complications. Meanwhile, we have given one month's notice to all vendors and others who have put up such unauthorised structures to find alternate sites. If they fail to meet the Road Development Authority demands, the RDA will remove the structures. We have total rights over the country's main roads," Minister Ekanayake said. A network of 11,800 kilometres of A and B roads link cities and provinces across the country. These roads come under the purview of the RDA, which comes under the Ministry of Highways.
Thousands of small-time vendors in towns and cities around the country make a living selling goods out of temporary or semi-permanent shelters and structures they have built on roadsides. Meanwhile, RDA general manager R. W. R Pemasiri pointed out the various disadvantages and dangers associated with such unauthorised roadside structures.
"Parcels or packages that could be potentially harmful to the public can be easily hidden in or behind such structures," he said. "Then there have been many instances of such structures covering culverts and blocking entire drainage systems in towns and cities. The main cause of flooding in Colombo is the presence of such unauthorised structures." According to the law, no construction is permitted on space reserved for roads, within 50 metres from the centre of an A class road and 40 metres from the centre of a B class road. The relevant authority, which could be either the RDA or a Provincial Council, has the authority to remove any such unauthorised roadside structure. However, the authority would require the assistance of the court to go ahead with the removal of such structures.
"A pilot project was conducted in Kurunegala, where RDA officials and Provincial Council members were briefed on the road-clearing plan and the ministry's proposed line of action. We will be raising public awareness by distributing leaflets," Mr. Pemasiri said.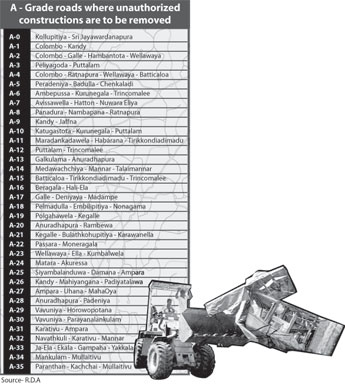 Source: http://www.rda.gov.lk/
Meanwhile, the vendors are crying out in chorus that it is unfair of the government to crack down on them this way, especially in a time of great economic hardship. G. Sunil, a spokesman for the Borella Self-Employed Workers' Federation, said the RDA action would have drastic consequences for vendors with fixed places of business on streets.
"This is the sole source of income for our people. Our families depend on our wayside business. If they force us out, we will have no other place to do business," he said.
According to Mr. Sunil, the street vendors in Borella also make a valuable contribution to general security by reporting any suspicious activities they see.
"We inform the police whenever we notice suspicious persons entering the neighbourhood. We are constantly on the alert, closely observing passersby. In fact, every night about five vendors work as security officers, doing patrol duty on the streets. These vendors are very aware of what's happening in the area."
Meanwhile, vendors in Pettah say they are prepared to move if the Road Development Authority can offer them space where they can be sure of getting regular customers. Gamini Marasinghe, a garment vendor in Pettah, said customers would miss the pavement hawkers if they moved out.
"We are popular with consumers looking for a bargain, especially in such economically difficult times. I have been in this business for 12 years.
There are some 15,000 street vendors in Pettah. This move is going to affect all of us. We would be willing to go if the RDA can give us land where we can be sure of business. Most of us have taken bank loans and borrowed on interest to do our various businesses. Some of us are already running at a loss."
Mr. Marasinghe said the Pettah vendors were very much on the alert when it came to security, and that many of them were in close touch with the police.