A complete ban has been proposed by Minister Dinesh Gunawardena on the importation of high cc capacity vehicles into the country to save on oil consumption, while the State and the private sector are expected to strictly follow the emergency national policies set out on energy saving.
The Minister made these proposals in connection with a Cabinet Paper submitted last week by the Finance Ministry on economic transformation to face the rising costs.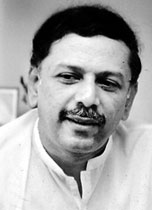 Minister Dinesh Gunawardena
Minister Gunawardena also said that the proposal to stop vehicles entering Colombo city on one day in the week has to be coupled with a good public transport system to and from set points and to have a better management system for transport, the number of bus stops should be revised, bus bays increased and the traffic police strictly implement traffic rules.
The Minister added that price adjustments should be considered along with their effect on the cost of living and cost of production, up to a level which will not cause serious problems to the public.
"The increase in the price of diesel oil affects public transport and the transport of goods. Reducing the subsidy to bring it on par with international pricing can cause serious problems. Therefore this proposal should be reconsidered," he said.The Minister also said that the diesel subsidy should be maintained for public transport and transport of goods while other diesel vehicles should have a special tax to reduce oil consumption. The gap between diesel and petrol prices should be reduced, he said.
The Minister objected to the proposal to reduce school days per week to four days and to increase the number of hours on the four days saying it will lead to another educational and social crisis in Sri Lanka.
"Therefore I would like to say accepting the four day school week proposal is committing political suicide and I am totally opposed to this proposal," he said.
Instead Mr. Gunawardena said it would be better to give serious consideration to the increase in places in primary education and to develop primary education independently.
The Minister welcomed the proposal to convert three-wheelers to run on gas to prevent an escalation of three-wheeler tariffs and said such a plan should be extended to the thousands of vans shuttling students to schools.