Pride of Lions 2008: Cascading Colours of Culture organised by St. Bridget's convent was a showcase of Sri Lankan culture and greatness, and the key word they were trying to impress upon everybody present was 'authenticity'; about the performance being as authentic and pure as possible. And how far that was achieved, has yet to be determined. First to leave their mark was the Bharatha Natyam piece. What was an awe-inspiring performance was hindered by lighting which was distracting. Half of the crowd was looking around to see where all the flashes of light were coming from, while the other half was glued to what was happening on stage. The backing track "Satyam Shivam Sundaram" was played a tad too loud, proving the importance of sound management when playing an old audio track.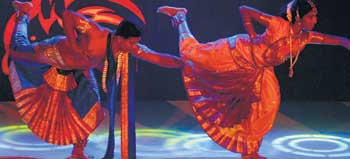 This was followed by a dance item which combined Kalagedi, Kulu and Lee Keli. As I already mentioned, one of the key words that they were trying to push forward was 'authenticity,' and this was brought into question, as the backing track for this dance was not a traditional one, but a modern pseudo-cultural track. But the part as a whole was well rendered, with the items being lined up sequentially.
Next up was a presentation on Sri Lanka. Note: When the theme from Pirates of the Caribbean is played during a renowned Drama Comp, it's new, it's hip, it's catchy. When it's played as a backing track for a cultural performance, not exactly. A better selection would have been "Andura," Stigmata's adaptation of the Gajaga Wannama.
Then came the three key 'highs' of the night, with mediocre items in-between. First was the showcasing of the three styles of Sri Lankan dance; Kandyan, Sabaragamuwa and Low-country. A fusion of sorts, the performance was rendered with growing intensity and reached an almost epic climax. Six dancers and seven drummers were on stage, taking well rehearsed turns in laying out the three disciplines with sharp and crisp transitions between the snippets.
The second high was the Wes Natum. I'm a particular fan of this, and I was not disappointed. Using the cramped space of a small stage, the dancers managed to put on a breathtaking display of their familiarity of the art, the discipline they put into it, and the beauty and energy of the dance itself. This was an item which deserved a standing ovation.
The third and last high, was very human. The a cappella medley of a selection of the best Sinhala pop from 70's to the late 90's, was not exactly technically perfect, but more than compensated for by filling it with truckloads of enthusiasm. And the girls truly seemed to enjoy themselves. How was the whole performance as a whole? The three 'highs' that I mentioned earlier will definitely linger in my mind for some time. But along with those fond memories would be the memory of two huge projector screens which showed nothing but a blank blue light, which was distracting to say the least. I would also be reminded of the well done décor of the event, Wrapping up, it was good entertainment which was dented at times by simple oversights and a somewhat unruly crowd.