Starring: Clint Eastwood, Meryl Streep
Directed by: Clint Eastwood
This is one of those movies that should be watched. It's a tad old – it came out in 1995 – but if you are a true movie buff then, there is really no excuse!
Clint Eastwood and Meryl Streep put on a show based on the 1980's styled book of Robert James Waller in style! Streep was nominated for an Oscar for her performance and I really don't know what they were thinking when they didn't give it to her!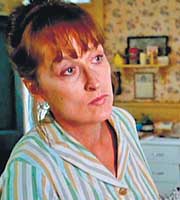 Clint Eastwood waved a magic wand, and worked wonders on the source material, by pairing it down to produce a beautiful, warm film with only one real flaw. The film's overwhelming main strength is the casting of Meryl Streep. As Francesca she dissolves into the role – at times her gestures and dialogue seem so natural and unforced it is as if Eastwood had installed a fly-on-the-wall camera into the house of a real Iowan housewife. She lifts the film – which does centre on themes which could appear trite in the wrong hands – to the level of profound piece of art. Her selflessness and devotion to her family, and tortured sense of divided loyalties are presented so powerfully, and so plausibly, that the final scene in the car at the end (those who've seen it will recall immediately what I mean) pulls at your emotions so hard you'd swear it was you who was making the decision. I defy anyone with a pulse not to shed copious amounts of tears at this point – you would have to have a heart of stone not to be moved on some level by this great, great performance.
Clint Eastwood provides good, solid support in the sense that he doesn't overact, and allows Meryl to become the heart of the film. This is a wise decision – part of the terrible weakness of the book was its dependence upon the inane thoughts and ramblings of Robert Kincaid. The film is beautifully directed, beautifully photographed and beautifully scored.
My only problem is with the misguided decision to cast Francesca's older children and flash back periodically to them reading through their mother's journals. The acting in these parts is mediocre at best, and they detract from the elegance and poignant mastery of Meryl Streep's central performance. The Francesca and Robert sections stand alone and require no interruption – these other segments cheapen the mastery of Streep.
Above all, this is a film which could have been dismissed as pure soap opera. But it transcends these potentially trite themes to make a universal story of love, selflessness, devotion and choice that speaks eloquently to the viewer, no matter what your age or experience. It's a truly heartbreaking tale of transitory experience and the power of memory. It will make you truly think!
Whilst Eastwood would have made the movie for production proposes Streep made it for value! I'm telling you now that this kind of certainty comes once in a lifetime!
He said/She said: This kind of certainty comes but once in a lifetime.
Watch it if you liked: The English Patient
Movie Hall of Fame: Yes
Indiana Jones and the Kingdom of the Crystal Skull
When I sat down at the theatre on opening night to watch Indiana Jones and the Kingdom of the Crystal Skull there were so many things that were going on in my mind. Would the movie live up to its predecessors? Can a 60 something year-old Harrison Ford still handle a bull whip and reprise his trade mark role, that most of us grew up with, successfully? Will George Lucas mess this one up as well, like he did with 2 of his 3 new star wars movies? I kept my fingers crossed.
After a slightly slow initial 10 to 15 minutes the movie really starts to pick up its pace, and by the time it reached its three quarter mark, I was definitely satisfied with what I had experienced. The film for the most part, maintained the same feel of the originals. There were some brilliantly choreographed trademark Indiana Jones action sequences which relied purely on old fashioned stunts and very little, if not no CGI. There were quite a few extremely hilarious scenes which blended in well with the action. You see Indy getting himself in and out of quite a few messy situations as he hunts for the crystal skull. Most importantly Indy (although 20 years older and wiser), is still the same old Indy.
Harrison Ford still has it!! He pulled off the role with so much ease that it's really hard to imagine that he hasn't stepped into the shoes of Indiana Jones in 20 years. Seeing him making his 1st entrance wearing the famous fedora hat with the Indiana Jones soundtrack playing in the background makes you feel so nostalgic that you literally want to give the movie a round of applause then and there it self. The supporting cast didn't do a bad job either. Cate Blanchett delivers yet another solid performance as the villain. Tell me, is there any character this lady cannot play? Shia Lebauf, although no where as good as "Short Round" in temple of doom, made a worthy sidekick and Karen Allen reprises her role as Indy's love interest Marion Ravenwood.
Three quarter way into it and movie started losing it. Firstly for the first time in the entire movie we see them introducing CGI to some of the latter action sequences which resulted in them in being over the top and very "un-Indiana Jones like." But then again I was willing to forget about it especially because the film had been fantastic this far. Then we come to the final 10 minutes, where the plot reaches its climax and we are finally told of the origins of the crystal Skull. As with the last 3 movies, here too we see Indy chasing yet another artifact which according to legend has supernatural powers.
They then start making deviations and if you are a die hard Indiana Jones fan you might be a bit disappointed with this particular element which at the end of the day forms the premise of the movie. There were so many more plotlines they could have considered! Ever heard of Pandora's Box or Atlantis? (To site a few)
Though the movie deserves a "thumbs up" as far as character, action, pace and humour are concerned the plot may leave a few die hard fans a bit disappointed. However, keep an open mind and watch this movie – you may still enjoy it!
Mailed in by: AW