With its distinctive colours of brilliant white and Venice blue, 'Paradise Holiday Village', a beach hotel in Poruthota, Negombo is an exclusive holiday resort of its own kind.
Formally known as Raani Village, the place is the favourite choice of both foreign and local guests for its guaranteed privacy in an atmosphere of peaceful surroundings, with luxurious facilities and friendly staff.
"This is a place for a large number of pilots who hunt for a calm and quiet hideout for a complete rest," says Director and General Manager, Anton S. Gomes. Added to this are mouth watering menus of sea food and delicious preparations of western, eastern and local meals and an array of international spirits.
Paradise Holiday Village is a fine selection for family outings where they could be independent in a homely atmosphere. "Fully furnished two roomed bungalows with fully equipped kitchens are popular selections by families," says Mr. Gomes
Twelve of these apartments with attached baths and private balconies are a part of 43 rooms that comprises 7 single roomed apartments and 16 luxury rooms.
Seven single roomed apartments too include living room, Kitchenette, attached baths and private balconies. Out of the 16 luxury rooms 12 are deluxe rooms with Jacuzziz in four rooms while the rest are standard rooms.
Same day laundry service, safety lockers, hot and cold water, TV sets and minifrdge are facilities common to all the rooms. Thus Paradise Holiday Village is a hotel on par with international standards making it the ideal selection for tourists, holiday makers, a place of complete relaxation for returned familes looking for sojourning or long term retirement stays, newly marrieds for honeymooning, for academics to read and relax, for nature lovers and to researchers who want to visit the main attractions in and around Negombo and its historical sites which date back to Dutch period era of Sri Lanka of the 17th century.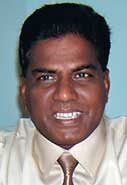 General Manager, Anton S. Gomes
Situated just less than 20 metres from the sandy beach, Paradise Holiday Resort is a perfect selection for lovers of the sea, the beach and sea baths. The restaurant with a well stocked bar and spacious swimming pool too are preferred choices among the guests.
Updated with the latest technology, guests can operate their computers with internet facilities from any place in the hotel. "A gymnasium and a game room will be added in the near future," says Mr. Gomes revealing his future plans to make it one of the leading hotels in Negombo.
Now the hotel, a popular place for weekend outing has special arrangements for its evenings on Friday and Saturday.
While Friday dinner is arranged with local dishes and calypso music, Saturday has barbeque with light music. The latest attraction at Paradise Holiday Resort is birthday parties and private parties where your loved ones can enjoy a homely environment.
The hotel within twenty minutes drive from the Airport, Katunayake is at No 154/9, Palangathurai,Kochchikade, Negombo and is a regular repeat resort for foreign guests and even locals. Paradise Holiday Resort could be contacted on 031 2274588, 031 2274589 and 031 4926300.