---
Bureaucratic bungling denied Pemlal's progress
By M.Shamil Amit
Moratuwa is prominent for producing high class furniture and most of the well known pop singers in Sri Lanka. Likewise in the field of sports, cricket takes pride having produced first class willow wielding men like Lasantha Rodrigo, Hemal Mendis, the late Wirantha Fernando who died tragically. Then there was Lantra Fernando to name a few. Along with them there emerged Pemlal Fernando. All had hopes that he would make to the national team with the least amount of trouble. But as usual due to people who had other ideas this opportunity was deprived to him. A stylish right hand batsmen and right arm leg spinner, he got into the national pool when he was just 16 years old. Pemlal was originally a fast bowler but changed to spin on the advise of the then coaches whom he says ruined his chances of fulfilling his ambitions.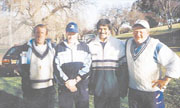 Keith, Wyatt, Max Shepard, Pemlal Fernando, Warren Smith pictured in Australia.
Pemlal started his cricketing career at the age of nine at Prince of Wales College, Moratuwa, an institution which has produced outstanding sportsmen. He first played for the Under 12 cricket team and went on to represent the school in all the junior and senior teams. He captained the Under 13 team in 1970 and Under 14 in 1972 and captained the 1st XI team in 1977 in which year Prince of Wales defeated their big match rivals St. Sebastian's. Two years prior to captaining the college team, Pemlal then only 16 years, was included into the national pool in preparation for the Indian tour. During that period only he was told to change to spin bowling as there was a dearth for spin bowlers. But he became successful in the change over. Yet there was a tug-o-war in including him to the national squad. While training for the Indian tour he was told to prepare for the tour but at the last moment they got down D.S.de Silva who had earlier informed that he was not available for the tour. With that his chances of making the tour vanished. The same year Pemlal was selected to represent the Sri Lanka schools team to tour Pakistan for the Ali Bhutto trophy which was captained by the late Anura Ranasinghe with Ranjan Madugalle, D.L.S.de Silva, Tilan Wijesinghe and Susantha Karunaratne being some of the players who went on that tour. But in the true spirit of the game Pemlal continued with the game and was burning the cricket field with his scintillating performances. After leaving school he played for the Moratuwa SC for ten years and later left to play for Colts CC. While playing for the club he went with Under 23 team to Tamil Nadu which was captained by Duleep Mendis.
Pemlal has also represented the Board President's team regularly until 1980. He has also been to Dubai, Abu Dhabi, Doha and Sharjah representing the Travel Trade SC and with Lanka Cavaliers which team he turns out for occasionally. He stopped playing first class cricket in 1988 and had to take a back seat due to other commitments. But he came back in 1997 as the cricket coach of the Air Force and coached them for two years. He was also appointed the Under 19 BCCSL regional coach in 1998. That same year he was coach of Panadura SC. At present he coaches the Police cricket team and the Commercial Bank.
Pemlal has experience in the administrative field too having been a member of the BCCSL sponsorship committee in 1998. He was the liaison officer to match referee Talat Ali (New Zealand test series), liaison officer to match referee Cammie Smith (Singer Akai Nidhas trophy), liaison officer to the Australian cricket team in 1999 and chief liaison officer for the Under 19 Millennium World Cup which was held in Sri Lanka.
Being the liaison officer of the Australian team helped Pemlal to get closer to Steve Bernard the Australian cricket manager who helped him to go 'down under' to improve his coaching. Steve Bernard made arrangements for Pemlal to train under cricket co-ordinater Max Shepard of the New South Wales Cricket Foundation and he is grateful to the Sri Lanka Cricket Foundation in New South Wales who was also responsible in making his coaching assignment a success. Pemlal is today a Australian qualified level 2 cricket coach and possesses a certificate endorsed by the Australian Coaching Council. And when the Sunday Times inquired what his aims are Pemlal was prompt in saying that he was denied of playing for the national team and his only ambition is to help youngsters and share his knowledge in order to produce national players. He is hoping to start a cricket school for the juniors towards which project he is working.
Looking at the other achievements of Pemlal he has been an all-round sportsmen, has captained the college badminton and soccer teams. He was a also a cadet. No wonder he was able to stomach all what he had to undergo. Pemlal is 43 years old and works as an Asst. Administrative Manager at Senok Tea in Hokandara. His wife Nilanthi works as a secretary in an international school and seems to be very supportive to Pemlal.

---
SriLankan Airlines to uplift image
By Bernie Wijesekera
The National Carrier - the SriLankan Airlines is very keen in promoting international sports to help improve the skills of the local sportsmen, said Victor Abeysekera, the Manager Corporate Communication. Abeysekera was interviewed by The Sunday Times at the recent Singer-SriLankan Airlines rugby 7s, staged in Kandy. He said the rugby 7s proved an instant success and help promote tourism via sport. Through the international media to show the travelling public that the nation is back to normal and day-to-day work is being done without let or hindrance. Imagine this year's Int. Rugby 7s saw 15 nations in the scrum. It also helps build understanding and bring about togetherness among all races Despite the recent holocaust SriLankan Airlines suffered, but still its wings are not clipped. They are determined to continue their good work for a better tomorrow, with an unstinted team effort.

The national Carrier has been promoting horse racing and professional (international) Japanese pro. Surf tournament. The Japanese Professional Surf Association has agreed with Lankan Airlines to hold its next year's tournament in Sri Lanka (in Feb.2002) This will be a tremendous boost for the sport and for tourism, which will bring 200 international surfers to the country.

One may get caught to a storm or an air pocket, that does not mean you are going to be grounded. That will be for a short time. The Sri- Lankan Airlines aim is to fly higher and play a vital role in promoting international sporting events, in this little Isle, a paradise.

We are in collaboration with the International Amateur Athletic Federation (IAAF) to hold an int. track and field meet next year. Some of the world's best athletes will be on show - like the Commonwealth Games. This will give an opportunity for the local athletes to take to the track with an international flavour.

This year there will be two international marathons. Next month (October) 6 or 7 and November 3 or 4. Best long distance runners will be on show. Its another way to bring about reconciliation through mass sports, Abeysekera added.
Golf at Digana
There will be an international golf meet on Oct. 20 and 21, 2001 to be staged at Digana, Kandy, Leading golfers from 15 nations will take off. It will also serve the local golfers (both amateur and pro.) to take to the greens. No sports could be developed without the support and encouragement given by the business community. Sri Lankan Airlines headed by its C.E.O. Peter Hill, is leading from the front in promoting int. sporting events. Sports and tourism are inseparable twins. This is what the SriLankan Airlines are doing via sports to rake in that much-needed foreign exchange to fill the country's coffers.

The Singer-Sri Lankan Airlines rugby 7s has gained international recognition thanks to Kandy S.C. It was well organised and highly commended by all participating teams.

---
Another masterpiece by Ajith Perera
Some months after Sri Lanka's triumphant 1996 world cup, Ajith Perera produced a volume titled ' The Golden Era of Sri Lankan Cricket". That was a gem of a book, completely portraying the island's most glorious period in international cricket. Now he has reached the top of the Everest with the recent launch of " Thinking Cricket".

Very appropriately the story begins with a tribute to cricket's greatest legend, Sir Donald Bradman. His is the fairy tale story of a country boy who rose to the pinnacle of his sport and became a legend worldwide until his death aged ninety three. Sir Donald was a perfectionist. This book "Thinking Cricket", enlightens the path to perfection.

Dav Whatmore in his foreword mention that, "failing to prepare is preparing to fail". Words of wisdom from the master coach. Preparation is the stepping stone to success in the middle. Being educated on how to prepare is essential. "Thinking Cricket" educate the reader on how to prepare.

One of England's famous cricketing sons, former captain Mike Brearley provides the preface. "Ajith Perera's book is about many things. He reminds us that learning to be a good cricketer is as much a matter of mental qualities as physical, as much emotional attitude as technical. He attempts to give, within a structure of management, theory, advice, thoughts, reminders, about the growth of a cricketer and the need for thought on every aspect of the game". That is the opening paragraph. In a nutshell it gives us an idea of what "Thinking Cricket" is all about.

This volume runs into two hundred and ninety A4 size pages, covers twenty one areas of the game and contains over are hundred black and white and coloured photographs. The lettering is large, highlighted where necessary and presented superbly.

Believing it not to be his strength, Ajith does not dwell too much on the very basic techniques. However, the illustrations together with the subject matter provides sufficient to grasp the essentials even for the beginner.

All aspects - batting, bowling, fielding, wicket keeping, running between wickets, leading the team, physical conditioning, mental preparation, are covered at length. Lesser discussed topics such as building an innings, nurturing the future heroes, taking wickets - the basics, practising the skills, your equipment, air travel are given adequate coverage.

The first chapter is titled, 'Your doorway to success'. Quite naturally any player who decides to give it a go does it with one main idea - to succeed, even should you be playing for the fun of it. The extent of your success will depend on ability, perseverance and the mental toughness to conquer all in front of you.

Preparation was mentioned before, and this opener prepares the reader to recognize why cricket is a great teacher, determine to recipe to an illustrious cricketing career, understand the value of 'Self discipline", examine reasons for deterioration of morality, identify what should be aims and goals, examine closely goals you must reach and sustain to fortify and foster your cricketing life, know the 'Ten commandments' to guide your cricketing life and help you make it fruitful and flourishing, make use of twelve suggestions towards self discipline and personality development of a cricketer.

"Thinking Cricket" caters to all those who happen to be connected with the game. No one is too big or too small to absorb the wealth within. Player, coach, administrator, parent, fan, they all have something to benefit by. It would be most appropriate for all clubs and schools to be in possession of one or more copies to be in the custody of the coach to benefit him and the players under his charge.

"Thinking Cricket" is not meant to be read once and kept aside. It is a manual that must be by your side to renew and revise, the most valuable aspects of the game.

Well done Ajith !

---
TCK softball cricket
The Annual Inter House soft ball cricket tournament of the Colombo Branch of the TCK OBA is scheduled for 8.30 am. at the CR & FC Hockey grounds on Sunday, 14th October 2001.

It will be played for the Frank Sirimanne Trophy donated by his erstwhile Opening Partner, S.B. Pilapitiya.

This event is a family day out;

Ladies - Cookery demonstration from 11.00 am onward by Chef Publis of Mt. Lavnia Hotel; Kids - Bouncers & Magic Shows; Gents - F&B at Club prices. All these and lunch for Rs. 200/= per head.

Make your bookings at tckoba_cbo@hotmail.com or contact Romesh, Suchitra, Keshan, Chandran, Sharam or Anil.

---
Bloomfield amass 378/4
Under 23 cricket
By M.Shamil Amit
Three centuries by Thilina Kandambi, Ian Daniels and Sanjaya Rodrigo in a total of 378 were the highlights of the Under 23 division one cricket match between Bloomfield and Saracens which got underway at the Bloomfield grounds yesterday.

Bloomfield made merry with the Saracens bowlers taking first lease of the wicket and made 378 for 4 wickets with a superb partnership of 206 runs for the second wicket between Ian Daniels and Sanjaya Rodrigo.

Bloomfield - 378 for 4 declared (Ian Daniels 111, Sanjaya Rodrigo 115, Thilina Kandambi 100 n.o, Roshan Peiris 50 n.o.; Upul Indrasiri 2 for 126)

Saracens 14 for 1 at close.
Chilaw Marians take upperhand
Chilaw Marians made 304 for 9 declared in their Under 23 cricket match against SSC which began at the SSC grounds yesterday. The feature of the innings were the two half centuries scored by Thushendra Zoysa and Under 19 poolist Charith Sylvesters. Ranil Dhammka had the best figures of 6 for 71. SSC were 19 for no loss at close.

Chilaw Marians - 304 for 9 declared (Thushendra Zoysa 64, Charitha Sylvester 52, Nimesh Perera 41, Praneeth Jayasundara 38, Arosha Perera 28, Ishan Muthaliph 15, Janaka Guneratne 15, Amila Gunawardena 21; Ranil Dhammika 6 for 71, Duminda Jayaweera 2 for 23) SSC - 19 for no loss-MSA
Tamil Union make 310/6
Two centuries by Malintha Gajanayake (120) and Ranga Dias (107) who were involved in a partnership of 190 runs for the third wicket was the feature of the Under 23 cricket match between Tamil Union and Seeduwa/Raddoluwa which began at the P.Sara Stadium yesterday.

Tamil Union - 310 for 7 declared (Malintha Gajanayake 120, Ranga Dias 107, P.Hadigalla 33, Samson Burke 22)

Seeduwa/Raddoluwa - 126 for 7 at close (I. Kumara 54, Dinesh Perera 54; Shane Perera 3 for 25, Lassana Dias 3 for 25)-MSA
Panadura sitting pretty
In the Under 23 cricket match between NCC and Panadura SC which began at the NCC grounds. Panadura were sitting pretty having bowled out NCC for 184 they were 119 for 4 wickets at close with Pubudu Wickrama unbeaten on 56. Earlier Charitha Buddika who has been called for national duty celebrated with match figures of 4 for 35 for Panadura.

NCC - 184 (Ryle Tissera 20, Pradeep Hewage 33, Kelum Fernando 42, Umal Tharindu 26 n.o.; Charitha Buddika 4 for 35, Rajitha Diluk 2 for 58, Amila Perera 4 for 59) Panadura - 119 for 4 at close (Dilruwan Perera 45, Pubudu Wickrama 56 n.o.) -MSA
Negombo CC make 258
Negombo CC made 258 in their Under 23 cricket match against Matara SC which began at the Kadirana grounds yesterday. The feature of the innings was the two half centuries score by Anuradha Ratnasiri and Mevan Fernando.

Negombo CC - 258 (Anuradha Ratnasiri 57, Mevan Fernando 50, Isusru Perera 31, Canary Crusz 39, Ravi Wickramapala 16; C.N.Komasaru 4 for 59, M.M.Suraj 5 for 58) -MSA