---
Exodus

Sri Lanka faces another brain drain as students, professionals and businessmen seek opportunities abroad
By Hiranthi Fernando and Nilika de Silva
Political and economic instability and the country's overall scenario of gloom have caused a sharp upsurge in the number of Sri Lankans seeking to migrate to foreign countries in recent months.

It's a growing phenomenon. So much so that some foreign diplomatic missions called on the public to slow down as the stampede at visa counters got out of hand.

The British High Commission in a news release last month requested Lankans to apply for visas just two weeks before their date of departure as its office could only process a limited number of applications a day.

The High Commission's request came in the wake of a sharp increase in the demand for student visas.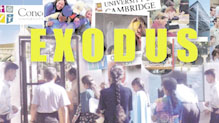 Officials explained that the reception could only accommodate 120 visitors in comfort and safety, even though there were long queues outside the High Commission every morning, with some people even taking their places the night before.
Apart from the increasing numbers of Sri Lankans applying to leave the country through legitimate channels for higher studies, employment or permanent migration, in recent months illegal migration has also gained momentum. Five boatloads of Lankan immigrants were nabbed trying to enter ports in the Mediterranean and in Australia. Last month, several more boats were intercepted in local waters setting sail to Italy.
Among the many seeking to leave Lankan shores are students opting for higher education abroad due to unstable conditions in the country, lack of faith in the system and limited opportunities in higher education. This year, 945 students obtained visas to Australia, while last year the figure was 880. For the UK, 1936 students obtained visas last year and upto the end of August this year, 875 students had received visas of the 2,412 applications received.
Going abroad, though, is far from easy. On the one hand, local students face a huge hurdle in the costs involved (see box story) as well as tough admission requirements for the most sought after courses such as medicine and engineering.
Australian authorities brought in stringent rules from July 1, this year for student visas. While earlier, a student was only required to show 1/3rd of his annual tuition fees with the rest being declared in assets, now students are required to show the total funds for their course of study in a bank account for six months. And the sponsor responsible for the funds has to be the student, parents or grandparents.
The educational requirements have also been upped. While earlier, a student who had sat for the A/Ls was considered eligible to apply for a student visa, now he/she must have two passes at this examination to be eligible.
"There has been a steady increase in the number of student visas issued," said David Pritchard-Gordon, First Secretary, Immigration, Australian High Commission. Student applications from June 2000 to July 1, 2001 added up to 1,000.
Since July 1, there has been a worldwide review of student categories and the requirements have been made more strict in an attempt to weed out the applications of those not genuinely interested in education. The new requirements have ensured that fewer applications are rejected, Mr. Pritchard-Gordon said. "Students are now allowed to apply for migration after graduation," he added.
"There is an increasing trend to go overseas," said Leslie Fernando, educational consultant of the Overseas Placement Centre, adding that students from India, Pakistan and Sri Lanka are considered 'worst risk students', by the Australian authorities. "This is because of visa violations, asking for political asylum, and moving from one college to another."
The US is also a popular choice for many Lankans. "Definitely, the numbers showing interest in studying in the United States are increasing," US-Sri Lanka Fulbright Commission Student Advisor, Nelum Senadheera confirmed. The students come in for one-to-one interviews seeking information to apply to universities in the US. In May, 150 students sought information, in June 210, July 260 and August 301, she said.
"The Commission used to organise seminars on a fortnightly basis but seeing the increase in interest, we are now holding seminars every week," Ms. Senadheera said. Apart from those who come in, large numbers phone in for information and send e-mails.
So why do they go abroad? Harith (20) from Kandy, the son of a professional hotelier having finished his A/Level education last year says he has "little faith in the system". Educational options are minimal in Sri Lanka, he said.
Another young person, unhappy with the system, Chathuri, a primary school teacher, said, "I have plans to leave next year for studies, and if I get the chance I will surely go. Nothing is certain here, everything collapses in a few seconds. I don't see a future."
"I would love to go abroad for studies because here the universities keep opening and closing, and it takes many years to complete a degree," said Fathima, a school-leaver awaiting admission to university.
The frequent closure of local universities since the original breakdown in the system in 1988/89 due to the JVP insurrection has resulted in a backlog of batches awaiting admission. Although the backlog has been gradually cleared, students still have to waste precious years due to problems on the campuses.
Aruni who sat for her A/L examination in 1998 was admitted to the Arts Faculty of her university in July 2001, only to see the university closed, a day after the opening due to a strike.
Meanwhile, parents of children leaving for foreign universities, though often sad that they may never return after completing university education, yet encourage them to set forth. After graduation, students opt for post-graduate degrees or seek employment and very often marriage follows.
With more and more foreign universities holding seminars in Sri Lanka with the hope of attracting students, parents see them as a bridge to their children's stable future. In September, the University of Newcastle conducted a presentation for prospective students at the British Council and the National University of Singapore also held well-attended seminars in Galle, Kandy and Colombo. Universities in Latvia are also offering the study of medicine in the English medium.
" More than 50 students in our Advanced Level class of 75 go abroad for their university education," Stafford International School Principal Noreen Welikala said. "UK is expensive but still popular with our students. Australia and the US offer scholarships and prestigious universities are much sought after. We have had students gaining admission to the University of Singapore over the past two or three years and India too is becoming popular."
Colombo International School Principal David Saunders said an average of 80 students from CIS had gone to universities abroad for studies in the past few years. "This year the figure is likely to increase to 90 since the Advanced Level class has expanded," he said.
"The UK is the most popular destination, with about 50 of the 80 students selecting British universities. About 15 go to the US, 10 to Australia and the balance five divided among Singapore, India and other countries," Mr. Saunders said.
According to statistics of the National University of Singapore (NUS), no Sri Lankan students were admitted in 1998/9, eight students gained admission in 1999/2000, and 26 students in 2000/2001. Already this year, 25 students have gained admission while 255 have applied. The standards required for admission to NUS are high.
Students apart, many professionals and businessmen are also increasingly looking at opportunities abroad. The recent trend to leave Sri Lanka is mirrored in the increasing number of advertisements ( an average of ten a week in one newspaper alone) offering services of experienced migration consultants and law firms to advise migration seekers on procedure.
Local representative for a Canadian consultancy said that numbers seeking migration have been on the rise in the last three months, and have in fact doubled in August. The main reasons cited by migration seekers are the unstable situation in the country, a search for improved prospects, and better education facilities for children.
A young double accountant, Ruwani, who returned to Sri Lanka with her family recently hoping to settle down here, has decided to migrate due to lack of employment suitable to her qualifications. The attack on the Katunayake Airport dispelled any doubts she had about her decision to migrate, she said.
Careem & Co. an overseas education consultancy firm has advertised their services for those seeking entry to England, US, Canada, Australia, Japan, Italy, Malta ("near Italy"), New Zealand, Cyprus and Russia. Charges for processing applications, obtaining approval and courier fees to universities in these countries are around Rs. 20,000. Assurances are given by the consultants that applicants will not be rejected.
Some advertisements regarding education hold out offers that students can remain abroad permanently on completion of their study programme.
The Student Placement Center of Canada in their advertisement offers "Employment authorisation with Immigration Canada after successful completion of studies". The local representative said the office in Colombo was set up only this August to meet the rising demand for travel to Canada for employment and studies.
Europe Lanka Group, another consultancy firm, conducts a free seminar for prospective migrants every Sunday afternoon, offering assistance in processing legal migration to UK, USA and Canada, for doctors, engineers, computer professionals, teachers, accountants, businessmen, and even CIMA and ACCA students.
Business migration is another method adopted by foreign countries to attract capital investment into the country. With large scale business migration, Sri Lanka loses capital and revenue as migration seekers set up their enterprises in other countries, creating employment opportunities in foreign lands.
A local representative of a recently opened consultancy firm said they handle two types of business migration. To obtain a visa under the business entrepreneurship programme, the applicant needs good entrepreneurial skills and prior experience with business ventures, along with a high standard of English. The principals in New Zealand charge NZ $ 2,500 to draw up a business plan. After the plan is approved in New Zealand, the visa is applied for, at a cost of NZ $ 10,300. The entrepreneur must then carry out the business plan for two years, after which he is eligible to apply for permanent residency.
For the category of business investment visas, the applicant has to show SL Rs. 80 million. After investing this sum in New Zealand, he is eligible to apply for permanent residency.
Whatever the categories, whether for study, permanent migration or business purposes, the fact that so many Sri Lankans are choosing to leave their motherland is indeed a loss to the country. Foreign countries also offer scholarships to outstanding students drawing large numbers from Sri Lanka. We thus face a heavy brain drain, with many students and professionals heading out of the country.
So what kind of reception can the many Lankans who leave their motherland each year expect? Most countries are, after all tightening their immigration laws. But, assures Alison Kemp, Second Secretary of the British High Commission, "the UK offers a warm welcome to all genuine visitors and students who enter the country legally. At the same time, we will take firm action against those who abuse our immigration laws, specifically those involved in human trafficking".

---
Costly degrees
The high cost of university education abroad is a serious problem for parents. Many sell properties and mortgage houses to send their children overseas for education, literally scraping the barrel to ensure them a secure future.

Leslie Fernando of the Overseas Placement Centre which processes student applications to several countries said tuition fees in Australia vary between Australian $ 8,000-12,000 a year, depending on whether it is a further education institute or a university. Tuition costs for a medical degree for the first year alone are about Australian $ 20,000, (close upon Rs. 1 million). Students are also required to show a minimum of Australian $11,000 to $14,000 per year for accommodation. The total cost of obtaining a medical degree at a prestigious university could be in the range of Rs. 11 million. Admission requirements for universities in Australia are similar to those in Sri Lanka.

Universities in UK are in the vicinity of £6,250 per year while colleges affiliated to universities charge around £4,000 to £5,000 per year. Living expenses required are about £ 5,000 per year. Requirements for medical studies in the UK are very high and it is not easy to gain admission. Fees for a medical degree range from a minimum of £10,000 (Rs. 1.3 million) per year.

Many students now opt for Singapore or India because of the lower cost of education and living expenses.