Awanka Herath wins Oneworld Trophy
By Tita Nathanielsz
A lively group of Airline Executives put together an absolutely successful Golf Tournament at the Ridgeways of the Royal Colombo Golf Club sponsored by Oneworld Alliance and the accolades were take by Roshan Moraes, Shantini Wirasinghe, Sonali Wijesurendra, Ashani Asirwathan, Manori Jayasekera, Ruwani Wijeratne and Arosh Senadhipathi. The opening day was swamped with incessant rain and a postponement became necessary. The next day play commenced under a blanket of low hanging clouds with penetrating streaks of gorgeous sunshine. The day was most enjoyable with the girls from the Airlines beaver busy dovetailing the arrangements meticulously. Tee Shirts & Golf Balls were freely handed over to the participants.

Awanka the Champ

Awanka Herath quite new to the game was in stunning form. He played the front nine superbly and held on to his strokes miserly through the back nine to collect an excellent score of 40 points and be judged the best for the day. He also won the "C" Division award beating Sidath Wettimuny the Cricketer turned golfer by 2 strokes. In this Division there was a high degree of chaotic play with Norman Gunwardenea, L. Jayasekera and Gerard Amerasinghe battling for the Booby prize which eventually Amerasinge won convincingly.

Gyi Wins

In the Class I Division Alain Gyi was outstanding with 34 points and I was delighted to learn from him personally that he has no plans of quitting or neglecting his talent. Papa David Gyi has permitted him a trifle more time on the Course and Alain was quick to volunteer that end 2001 he will be a scratch golfer. He has the talent. Murad Ismail a strong contender and a tenacious player came 2nd with 32 points. His first nine was good and his back nine a little untidy. Chutti Munsoor in this Division was riotous. He raised hell most of the time, hit the water and moved earth playing probably his worst game this year. He was out of shape.

Sumal Sparkles

It was not surprising that Sumal Perera was wearing a semi-permanent smile after close of play.

He struck a great 39 points picking 2 birdies and one putting thrice to complete a praiseworthy round and won the "B" Division Classic and receive a great round of applause at the award ceremony. Lalin Senadhira now with a slimmed down waistline came 2nd beating Nimal Perera with a better back nine.

Norman up front

Norman Chandraratne was delighted to beat arch rival K.K.U. Perera who was battling to suppress a mourn. He also beat a prominent senior Kiri Bandara Ambanpola. Chandraratne struck 30 point to Ambanpola's 28 to collect a handsome Oneworld Alliance Trophy.

Ladies

Urasha de Silva and Jackie Dias played great rounds and settled for 35 points each. Eventually de Silva was awarded the Trophy as her back was better than what Dias could produce.

Malik drives far

Probably the best and furthest tee shots seen in recent times came off the Clubheads of Malik Ahamadean. 262 yards is a great distance on weather affected turf. It was a great shot and he richly deserved the award for the longest drive.

Rohan regrets

Rohan de S. Daluwatte shed his uniform and medals, dropped his gun and took over golf clubs in the competition making his debut at the R.C.G.C. He walked tall, played some amazing irons, shocked himself with a few stunning putts and collected 42 points. A great score but unfortunately he could not qualify for an award because he had failed to submit 3 cards within the preceding 3 months to comply with the rules. He has decided to frame his Card and stand it in his living room or at his Bar.

BA Chief

The other pleasant player was Alan Briggs Chief Executive of BA for this part of the world. An enthusiastic golfer he was seen moving at a feverish pitch through the extremes of the fairways.

Prone to water he plunged into most of the ponds and eventually made confetti with his card after he got stricken with Aquaphobia. A happy personality and quite fun-filled he promised to return to Sri Lanka from his home base Delhi, India with plans to meet up with friends and take a few quick golf lessons from Sunil Mendis.

Award Ceremony

The ceremony presided over by Lalin Samarawickrema, Lalith Ramanayake, Joe Rajadurai, Kieran Bowers, Terrence Pendigrast, Roshani Moraes and Allan Briggs was one big hive of camaraderie and pleasant fellowship and to add a touch of class to the scene Shanthini Wirasinghe, Charmaine Mylvaganam, Cindy de Hoedt, Chandrika Rajadurai and Patricia Kamla Walkingshaw wore outstanding outfits. A great evening folded up quite late with

Oneworld Alliance at the receiving end of a harvest of accolades.

---
Rover pinpoints
In shambles
A leading club in Kandy which has been in the forefront promoting tennis, snooker and billiards is in shambles now, due to mismanagement.

Rover learns that a meeting had taken place at this club and strong words had been exchanged regarding annual accounts and a motion was brought forward for the preparation of quarterly accounts.

Then to make matters worse at 8 a.m. one morning a member of the fair sex had been spotted walking out of the club through the front door. The question posed is could she be a member of the club or could she be the wife of a member of the club ?
Talking point
It is reliably understood that this year's Masters Swimming Meet which was scheduled to be held on September 29 had to be cancelled due to the non participation of lady members.

It is understood that ladies boycotted the meet as the chairman and the secretary of the Swimming House Committee had manipulated the situation and had swung the vote against the ladies to give equal rights.

Gentlemen please re-consider to give ladies equal rights.
What purpose trials
The SAF Games being postponed is not the news but how the selected teams for a doubles combination being beaten by their opponents is now the talk of the town. The Tournament Committee and the Selection Committee found that when they pitted various combinations against each other, they found that their favourites were being beaten. Nevertheless they picked them for the tour.

But it all turned sour when the Games were postponed. Now they will have to wait and hope that the SAF Games will be held.

---
Old Petes impress
It turned out to be a rousing rugby final between defending champions Bombay Gymkhana Club and the newly formed Old Peterite Rugby Club, played at the Bombay Gym. Club grounds last weeekend. The host team after trailing 12-9 at the break fought a relentless battle to win the match against the gritty old Petes, which included many schoolboys.

They won the match by 34 points (two goals and four tries) to 24 (two goals and two tries). 16 teams took part. According to Camillus Abeygunawardena, who managed the team, it turned out to be a rousing contest - one of the best finals seen here in recent times. The President of the All India Rugby Union, Pramod Khanna in conversation said, the visiting team's performance was creditable as they were fielding a young team and it was their first stint abroad.

- BW

---
Kirsten's unbeaten ton sinks India
JOHANNESBURG, Oct 5 (Reuters) - Gary Kirsten with an unbeaten 133 scored his 11th century in limited overs cricket to steer South Africa to a six-wicket victory over India in their first one-day international on Friday.

Kirsten made his highest score against India as South Africa swept by India's 279 for five to reach 280 for four with 10 balls to spare. Man of the match Kirsten faced 153 balls and hit 13 fours in a chanceless innings.

With Herschelle Gibbs, who scored 40 of his 48 runs in boundaries, Kirsten laid the foundation for the win with a first wicket partnership of 114 scored off 108 balls.

It was tough on India's Saurav Ganguly and Sachin Tendulkar who had set a challenging total with an opening stand of 193 - a record for any wicket by India against South Africa. Ganguly scored 127, his 17th one-day century, off 126 balls with 14 fours and two sixes. Tendulkar's 101, his 30th century, came off 129 balls and included nine fours.

A pitch of consistent bounce and enough pace to hurry the ball on to the bat aided confident strokeplay. Jacques Kallis helped Kirsten add 93 runs for the second wicket, a stand ended in the 37th over when Kallis edged a ball from fast bowler Ajit Agarkar on to his stumps to be out for 39. Jonty Rhodes scored 20 before swiping across the line to a delivery from Javagal Srinath and being bowled in the 43rd over.

Four overs later, Lance Klusener pulled hard at a delivery from fast bowler Venkatesh Prasad, but sent it straight to Rahul Dravid at short mid wicket to be caught for 17.

Neil McKenzie, who was eight not out, finished the job with Kirsten.

India's opening stand lasted until the 36th over when Ganguly attempted to hit medium pacer Justin Kemp through mid wicket and skied the ball to wicketkeeper Mark Boucher. Two overs after Ganguly's dismissal, Dravid was caught for one at deep mid wicket off the bowling of fast bowler Andre Nel.

---
Kandy S.C. out of President's trophy
Kandy S.C. who won a rugby 'double' - the 'A' league and the Clifford Cup K.O has pulled out of the President's trophy K.O. tournament, according to chairman of the tournament committee, Ibrahim Hamid. Air Force S.C. who were placed ninth in the league will take their place. The following teams will scrum down Army, CH&FC, CR&FC, Police S.C. Havolocks, Navy, Kandy Youth and Air Force. All matches at Longdon Place - commencing at 5 p.m.

Quarter-finals - Oct. 11 - Army-Air Force, 1x12 - CR&FC - Havelocks S.C. 13 - CH &FC - Kandy Youth, 14- Police-Navy. Semi-finals - 160ct. winners of match (1) vs. match (2), 17 - winners of match (3) vs. match (4). Finals: Oct. 21 - Winners of match (5) vs. Match 6

- B.W.

---
Inter-School Cricket
Royal-Isipatana ends in draw
By M.Shamil Amit
Royal staged a gallant fight back to draw their inter-school cricket match against Isipatana which concluded at Reid Avenue yesterday. In reply to Royal's score of 98, Isipatana who were 100 for 4 wickets on the first day, went on to score 172 for 9 before declaring with Oshadee Nawaragodagedera scoring 45. Royal's paceman Tharaka Kottehewa had the best figures of 6 for 26.

Royal batting the second time, with a deficit of 74 runs, played with purpose to score 248 for 8 wickets at close with two half centuries coming from Suren Mendis and Chaminda Vidanapathirana. For Isipatana skipper Rohan de Silva had match figures of 4 for 45.

Royal - 98 and 248 for 8 at close (Suren Mendis 50, Chaminda Vidanapathirana 50 n.o., Ganganath Ratnayake 37, Tharaka Kottehewa 33; Rohan de Silva 4 for 45, Saranga Perera 3 for 57)

Isipatana - 172 for 9 declared (Oshadee Nawaragodagedera 45, Saranga Perera 26, Rashiru Totamuna 29; Tharaka Kottehewa 6 for 26, Ganganath Ratnayake 2 for 40)
Ekanayake: Solid 95
Kingswood skipper D. Ekanayake's knock of 95 and another knock of 57 by K.Dissanayake was the highlight of the drawn inter-school cricket match between S.Thomas and Kingswood which ended at Mt Lavinia yesterday. Kingswood continuing from their overnight score of 45 for 2 went on to score 223. Pramuditha Rodrigo bowled best for the Thomians taking 4 wickets for 30 runs. Thomians in their second innings were 105 for 4 at close.

S.Thomas - 266 for 9 declared and 105 for 4 at close (Arjuna Rajawasam 39, Denham Williams 29, Dilshan Gunewardena 28 n.o)

Kingswood - 223 (D.Ekanayake 95, K.Dissanayake 57, N. Jayawardena 15 n.o., I.Weeraratne 17; Pramuditha Rodrigo 4 for 30, Rashmilan Mohamed 2 for 51) -MSA
DSS held at Wijerama
The inter-school cricket match between D.S. Senanayake and Kalutara Vidyalaya which concluded at Wijerama ended in a draw. DSS taking first lease of the wicket scored 117 and Kalutara Vidyalaya in reply scored 150. DSS batting the second time were 44 for 2 wickets at close.

DSS - 117 (Roshan Kulatunge 16, Amila Dharmapriya 26, Navin Sumathipala 21, Tharindu Perera 21; M.Viraj 3 for 33, U.Indika 3 for 9) and 44 for 2 at close (Pubudu Perera 24 n.o.)

Kalutara Vidyalaya - 150 (D.Joseph 42, K.Geethangana 22, U.Indika 34; Udara Warna 3 for 27, Pasindu Liyanaarachchi 4 for 15) -MSA
St. Benedict's on top
A fine knock of 108 by Jeremy Saverimuthpulle which comprised ten boundaries and two sixes was the feature of the inter-school cricket match between St. Benedict's and St. Anthony's Wattala which began at Kotahena yesterday. St. Benedict's taking first lease of the wicket made 255 for 8 wickets before declaring with that superb century from Jeremy Saverimuthpulle. St. Anthony's in their turn were 93 for 2 at close. Upul Liyanage was unbeaten on 35.

St. Benedict's - 255 for 8 wickets declared (Jeremy Saverimuthapuule 108, Mahesh Perera 39, S. Gunawardena 22 n.o., A. Anandappa 22; Ajantha Perera 2 for 33; Romesh Dias 2 for 45)

St. Anthony's Wattala - 93 for 2 at close (Ronil Cooray 31, Upul Liyanage 35 n.o.) -MSA
Vidyartha 351 for 6
Vidyartha's run-making duo of skipper Harsha Nanayakkara and Kosala Kulasekera scored their second hundreds for the season as Vidyartha ran up a huge score of 351 for 6 in their match against Maliyadeva at the Police Grounds in Kandy yesterday.

On the first day Maliyadeva recovered from a perilous 20 for 5 to total 213. Priyankara top scored with 59, while medium pacer Kulasekera bagged four wickets in tandem with spinner Chandrasiri who also scalped four victims.

Vidyartha's batsmen once again showed their might with almost all the front-line contributing. The Nanayakkara-Kulasekera partnership for the fifth wicket yielded 200 runs.

Maliyadeva - 213 (S. Priyankara 59, S. Karunanayake 48, D. Malmeewala 34 n.o, J. Konara 31; K. Kulasekera 4 for 42,B. Chandrasiri 4 for 48)

Vidyartha - 351 for 6 at close (P. Indrajith 44, M. Nilam 33, H. Nanayakkara 134 (16 fours, 1 six), K. Kulasekera 106 n.o; I. Dharmawardena 2 for 74)

- AK

---
Top Sevens fare from HNB expected today
By Bernie Wijesekera
The much looked forward to Mercantile rugby 'sevens' in the private sports calendar was worked off at the CR&FC and Havelocks S.C grounds yesterday, leading contenders for the Cup entered the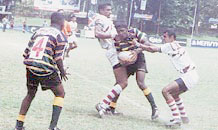 last eight.

For this year's tournament only 28 teams entered.

Last year's defending Cup champions Access Int. and runners-up John Keells 'A' have entered the quarters, Access take on Tri Star, while JKF 'A' play Hemas Group. Two strong teams with several players with a 'Sevens' flavour in Asia Capital and Hatton National Bank 'A' should provide top fare. Sri Lanka Sevens skipper, Sanjeewa Jayasinghe, Nalin Dissanayake and Jude Dimitri will play for HNB 'A'.

Today the matches will be confined to CR&FC grounds and will kick-off at 9 a.m. The main final will take place at 5 p.m.

Two strong teams - Sampath Bank and Aitken Spence are evenly matched. They should provide exciting running rugby.

Sampath Bank has in their fold players of the calibre of Duminda de Silva, Uganhara Karunaratne and Sajith Mallikaratchie.

The Plate and the Bowl championships, too will be closely contested. The Mercantile 'Sevens' is being sponsored by Mobitel. Chris Maloy C.E.O., Mobitel and Sriyan Manukulasuriya, Marketing Manager, Yes FM, will be the guests of honour.

Cup Quarter Final Line-up: Access -Tri Star; Asia Capital-H.N.B.'A'; Aitken Spence 'A' -Sampath Bank 'A'; Hemas Group -John Keells 'A'.

Plate: Hoodvian-Harcourt; Lanka 'Equities' -Mercantile Investment; Amana Investment -Tri Star 'B'; Aitken Spence 'B'-Ajantha Associates.

Bowl: Metropolitan Group - Suntel; H.N.B. 'B' - N-Car Group; Ceylinco Group - John Keels 'B'; Sampath Bank 'B'- Hong Kong Bank 'B'.

---
City Roundup
Mahanama in final
By Bruce Maurice
Mahanama MV entered the final of the Under 15 All Island 'B' division basketball championships when they defeated a spirited Wesley College by 97 points to 70 after leading 44-27 at half time at Colombo yesterday.

The main scorers for Mahanama were, R. Fernando 48, Tharaka Perera 14, Kuashika Perera 17, and Ashan Fernando 8. While M.M. Jalaldeen 20, Ujith Steinwall 17, Denuwan Perera 11 and Sudarshan Palanivel 11 were the main scorers for Wesley.

In the other semi final between St. Anne's, Wattala and St. Sebastians, Moratuwa the scores were deadlocked at 63 all at the final blast and the game went into extra time. The final scores were not available at the time of going to press.

Today the consolation final will be played at 3.00P.M. and the final at 4.30 P.M. at Mahanama Court.
Colts pile up 366
Colts CC piled up a massive 366 at the end of the first day's play in their Under 23 Division One fixture on their home grounds yesterday. At stumps BRC were 15 for no loss.

Colts - 366 (S. Kumara 81, M. Perera 70, K. Weeraratne 62, M. Pushpakumara 32, M. Wickramasinghe 43, S, Bandara 2 for 45, C. Soysa 5 for 85).

BRC - 15 for no wicket. (BM)

Ranaweera 126 for CCC

A cracking 126 by opener D. Ranaweera who scored 126 helped CCC to post a massive 391 for nine wickets on the first day of their Under 23 Division One match against Kurunegala YCC on their home grounds yesterday.

CCC 391 for 9 (D. Ranaweera 126, J. Mubarak 51, P. Seneviratne 53, T. Mendis 51, A. Bandara 3 for 51, M. Madusanatha 2 for 49). BM