Trees of terror
By Shelani de Silva
The sight of a massive tree lying across the road, blocking traffic after a storm is common enough for residents in Colombo. But even as we are dismayed to see another leafy giant go down, little do we imagine that it can take a life or cause critical injury.

For a young Thomian schoolboy, 15-year-old Indika Danushka Perera last week, there was no escape. Crushed by a falling Mara tree, he lay unconscious at the National Hospital's I.C.U. for one week, before succumbing to his injuries last Tuesday morning.

Indika's parents were given a 50% chance of their son's survival. The balance, the doctors had told them, would be from above. In the agonising days as Indika lay in hospital, they went to many places of worship in the hope of seeing their only son overcome this tragedy. But it was not to be.

Indika, a Year 10 student of St. Thomas's College (Prep) was travelling to school in a three-wheeler on September 26 when the accident occurred down Flower Road. His father was to drop him in school that morning but when he was delayed, Indika had decided to take a trishaw.

Roy Perera, Indika's father who had to go to Nugegoda, early had told his son that he would be back in time to take him to school around 7.30 a.m.

Indika who had missed school the previous day, had told his mother that he had to go and despite his mother urging him to wait another ten minutes for his father, had made his own way. "When my wife came out to the balcony, she had seen him about to get into the trishaw. She knew that she couldn't stop him, so she had asked him if he had enough money and he had replied 'yes'."

Mr. Perera recalls being puzzled that Indika had gone by trishaw, as he had never done such a thing before. 'I did not think about it too much, but had an uneasy feeling. I left soon after as I had to go to Fort and driving near Cinnamon Gardens Police Station, there was a huge traffic block, so I cut across to Guildford Crescent. At the Royal College roundabout, I saw the Fire Brigade vehicles, several people crowded around and the road cordoned off down Flower Road."

Little did Mr. Perera realise that his son was lying there crushed between the trishaw and the massive fallen tree.

But when he came home, his daughter broke the news to him. According to family members, Indika had been pinioned under the tree for about 45 minutes.

Indika was the school's Rugger Captain and an athlete who had excelled in sports from a young age. His family are still trying to cope with the shock and sorrow of his sudden death.

Nine years ago, a similar accident occurred in Thunmulla when a tree fell on Ajith Perera's car, leaving him paralyzed below his waist

Mr. Perera had been returning from work around 5.30 p.m., passing the Army Commander's house down Bauddhaloka Mawatha when a massive tree fell on his car, instantly killing his driver.

Mr. Perera, a qualified Chartered Chemist worked as a Technical and Quality Assurance Director at a Pharmaceutical Company. Today he is confined to a wheelchair and says the tragedy instantly changed his life. "The agony and the burden which followed was immense."

After nearly ten months of hospitalisation with little progress, fortunately for Mr Perera, who was then Secretary of the Royal Society of Chemistry of London, he was taken to the UK for treatment.

Ajith Perera has been in the limelight recently as he launched his book titled "Thinking Cricket'. An umpire before the tragedy, the book naturally focuses on his pet subject. Ironically the accident occurred just ten days before he was scheduled to officiate in his first Test match.

While fingers are pointed at the Colombo Municipal Council for not paying enough attention to the dangers posed by these massive trees, the CMC which has a Tree Management Unit, claims that lack of staff and expertise hinder their operation.

M. A. C. Fazal, Superintendent Engineer (North) told The Sunday Times that the CMC is in charge of maintaining the roadside trees but it has become a big problem due to lack of personnel.

Most of the Mara trees in the city were planted about 60 years ago and Mr. Fazal admits that such trees are not suitable for the city.

"At present we go for Na trees and other similar trees. The solution is not to cut down all the Mara trees but to avoid planting them," he said.

The Tree Management Unit which has around 15 to 20 officers, is equipped only with two cutters. The Unit functions during the day but during bad weather, an emergency unit is also on call during the night.

---
Healing colours
'Hand paintings that heal', an exhibition of paintings done by the clients of Sahanaya to mark World Mental Health Day (October 10) will be held at the British Council on October 12 and 13 from 9 a.m. to 6 p.m.
By Laila Nasy
Thilak was an intelligent young man. Great grades for his A/Ls, working as an audit trainee thereafter, while reading for a degree in law at the Sri Lanka Law College, his future seemed indeed rosy.

"But then I fell ill. I was breaking rest too much and started getting very depressed. My home people thought I could still pull through. But I knew I had had enough of everything..."

That was Thilak then. A look at his paintings today and you can't see a frustrated person behind them. A riot of colour, they exude a wonderful sense of joie de vivre.

Thilak is one of the many clients at Sahanaya who have found solace, comfort and peace of mind through art. For them, their work is more than mere sketches and drawings of landscapes and portraits. Instead it epitomises personal victories of silent mental battles fought on canvas with pencils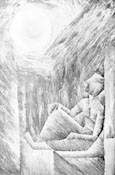 and paint brushes.
Art has given Thilak much-needed normalcy and acceptance among others. "I love to socialise, to get to know others and I enjoy being part of my art group because we talk and discuss how we can work towards the future," he says.
" I want my fellow beings, children, adults, pensioners to look at something beautiful and get satisfaction from it," says Thilak. But the greatest satisfaction is when people tell him, "Thilak what mental problem have you got? Your art is so great."
"Natya, sangeetha valata idiripat venna hari bayen hitiye," (I was always afraid to come forward in song and dance) Sunil says simply, having found in art his niche for self-expression. "It makes me feel good about myself."
A regular at Sahanaya, Sunil first came there in 1994. "I worked at Siddhalepa and then at W.M. Mendis before I fell ill." Thereafter it was daily visits to Sahanaya. His art is a mixture of landscapes and portraits. Anything beautiful that catches his eye is good enough to put down on paper.
Art, so much a part of life has become a source of income helping him to get back on his feet. On certain days he helps a friend. "He does art cut-outs and can do with an extra hand. I get paid for it."
Art for Sanjeewa is almost a spiritual exercise...a manifestation of his strong beliefs. Such is his devotion that his themes constantly revolve around religious symbols. The temple, the bo leaf, a full moon.
Painting at times on canvas or on paper using paints, pencil or charcoal as a medium for two whole days per week at Sahanaya is therapeutic. "I come in the morning around eight and leave only in the evening. Drawing relaxes me a lot."
For Gihan art is freedom. A yellow tree, with a red hollow... conventionality is well out of the window. Art has given him a free hand, the much needed space to be creative, different and to do as he pleases without being questioned.
"I used to draw from my small days," says 25-year-old Chrishan and recalls the 'Vision On' programmes he watched as a kid. But his liking for the creative side developed into a necessity to cope with the pressures life threw his way.
"My father died when I was 15," Chrishan recalls. An only child he was devastated by the loss "and then I fell ill." At Sahanaya he was re-introduced to his childhood passion which has seen him through the trying times.
"I like developing my own style." And his faithful daily attendance all the way from Kalutara speaks much for his passion and devotion for the subject. "I'm going to do some engineering drawing," he says, adding that his father was an aircraft engineer and he must try his hand at what his dad did. "I can't draw humans very well but I must develop that too."
Mrs. I. Withanachchi, the Co-ordinator, Skills Development at Sahanaya says that art is one of their most successful methods of therapy. "There have been a few who have been cured completely.
'The Army boy' as he was known is their proudest success story. "When he came to us he couldn't utter a word," Mrs. Withanachchi recalled. Held in an underground bunker for seven years as a prisoner of war of the LTTE, the trauma and suffering he endured had been immense. Referred to Sahanaya he soon came to be part of the art group. His initial pictures were bleak, revealing his inner trauma and suffering. Nevertheless gradually he began to open up and talk to the rest in his class. Gradually a change came over his art. The war scenes gave way to scenery and those who worked with him saw him heal before their eyes.
Most of the clients at Sahanaya suffer from schizophrenia and are generally referred to them through a Doctor. "When they first come most are shy and are withdrawn and quiet. They don't like to express their feelings," says Mrs. Withanachchi.
However she says the art group helps break the ice. "When they start sharing their problems and feelings they discover that the others have the same feelings and problems as they do and it helps reduce the stress."
Their Mental Health Instructor, 'Miss Anuradhini' as she is fondly known to her clients, has first hand experience of their progress.
"When they start they don't feel too good. They say 'I don't know whether I can finish it...I don't think I can manage to do this'. But once they successfully complete it, the satisfaction they derive is immense. It restores their faith in themselves, their ability and skill," she says.
Coming away we look at the paintings one last time. Here is victory staring us in the face, framed and ready to be hung.
(Names have been changed.)

---
Fighting loneliness through love and care
By Ruwanthi Herat Gunaratne
They brought you up, they cared for you and now they are desolate. They are the elders among us, who in fact constitute 10 per cent of our 18 million population.

It is a number that, thanks to modern medicine is rising. That is the positive side of the story - but the fact remains that elders need constant care and attention.

The more fortunate elders are cared for by their own families. But the majority face many hardships such as housing problems, insufficient income, loneliness etc, in addition to various illnesses.

But the officials are now responding to their needs. The Ministry of Health has launched a day-care and mobile clinic scheme in districts such as Gampaha, Galle, Matara, Anuradhapura, Ampara and Moneragala. Introduced in March 2000, the scheme has according to Ministry officials, managed to address the problems of the elderly to some extent.

The day care centre is set up in selected villages, where the members of the Primary Health Care Facility together with religious leaders form a Multi-Sectoral Committee, to establish the centre. The project is funded by NGOs and the villagers themselves.

Once the elders start visiting the day care centre they are provided with a free monthly medical check-up and dry rations. The elders are allowed to cook and enjoy their own meals with others of the same age and background. This community centre thus battles a major problem facing the elderly today - loneliness.

The Mobile Clinic, initially funded by the WHO - visits elders who are unable to reach the day care centres and provides them with free medical advice. "The main idea in this remains prevention," said Dr. Deepthi Perera, Director of the Department of Health dealing with Youth, Elderly and Displaced Persons.

To combat feelings of lethargy, the elders are encouraged to take on fund generating activities at the centre. At Ragama, the DMO has introduced an activity where the elders there make prescription envelopes for the hospital with discarded material.

The Social Service Ministry has also launched a card system for those over 65. This yellow card as it is commonly called is somewhat similar to an identity card and entitles the holder to priority in health care, travel, bank services etc. Unfortunately though the majority of elders do not possess this card and find it extremely difficult to go through the red tape involved in obtaining it.

Said Pinchamma, 75 and Somawathie, 67, "We get all the necessary medicine from the National Hospital - but the problem is that we have to stand in queues for hours." They both suffer from arthritis. The Health Ministry and the Social Services Ministry both seemingly have got their priorities right. But the obstacles are unfortunately yet to be overcome.