Shory
story
Ragged!
He could see no human beings any more, only monsters with masks on.
By Punyakante Wijenaike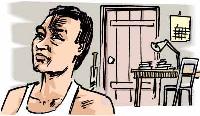 His room was his sole refuge from the world. It held his whole life within its four small walls. His books on the bookshelf, his little study table, his clothes, radio and worn-out cricket bat. Outside the locked door his father was calling to him urgently. The wood of the door was thin. He could hear his sister weeping, his mother sobbing. Beyond his home on the hill was the bigger world, the Technical College he had entered with high hopes. He had always been a quiet, soft- spoken boy but within him there had been strength to pass exams and do well in life. That was why his father was shouting to him to come out, to face the world again.

Couldn't his father sense he was no more within the shell that was his injured body? He lay in a curled up fetal position because of the searing pain still in his loins. He stared up at the ceiling. He had done no harm to anyone in life. Where then had been the Gods when they broke his body?

He lay there yet felt he was not there. Just the pain that was tingling in his loins.

'For my sake son, please go back to College. I have spoken to the Principal. He won't let it happen again.'

He felt sick next. Those monsters would only get worse if the Principal had been approached. And he couldn't fight all of them by himself after his body was broken. He couldn't face them.

What had he done to deserve this?

'Sandeep!' shouted his father in anger now. 'Open this door and come and face the world!'

He was not opening doors to anyone after this, not even for his father. 'Forgive me nangi,' he whispered to himself ' I cannot help you with the O'level exam. Please study on your own.'

The picture he held at bay with all his feeble strength came flooding back into his mind again. His body felt it was on fire as he remembered. Burning with shame and humiliation along with the physical pain he had undergone.

The first day in College. They surrounded him, his batchmates. He had smiled his shy smile. Were they going to welcome him into College? Make life easy for a fresher?

He had hoped for a modest and quiet entry into the college. He knew there would be ragging but he hoped it would be mild. He was prepared to be ragged. But what happened to him went beyond his expectation. It turned into an entry to hell.

The circle of boys round him had pressed in. Soon he felt faint with the heat of their breath on his face. He stood it because he owed a debt to his parents for pushing him this far in life. Hands seized hold of him, stripped him of his dignity. They pulled off his brand new white long trousers that had lent such dignity to him.

'To become a gentleman in this college let's see if you have the equipment,' they had chanted. Next he felt a searing pain through his loins and passed out.

But they brought him back to his senses, oh yes. He must be conscious to undergo ragging. He was not going to cheat out on his torture by fainting. He had been made to walk round and round in a circle, covering the naked pain with his hands. Hoot and jeers rang round him and he passed out again.

He had woken up again in a hospital under the curious eyes of nurses and doctors who treated his testicles. And then he was sent home a muted, broken figure. Back home it was worse. He had to face his parents' eyes of horror and his Nangi's tears at what they had done to her beloved Loku Aiya.

He had fallen at his mother's feet and hidden his face from shame in the folds of her sari like he used to as a frightened child.

'Amma will you forgive me if I do something wrong?' he had pleaded. 'What is there to forgive in you? It is those devils who did this to you who should be punished.'

Still he kept looking up at her.

'If I do anything I should not do, will you forgive me?'

'Are you going back to fight those devils?' roared his father.

He kept his tear-worn eyes steadfast on his mother's face.

'Will I have your forgiveness?' he repeated lifelessly.

'A mother can forgive anything a son does,' she had said crying herself. Then he had gone into his room and she had followed him with a full glass of milk. 'Drink this my son. It will make you feel better. You have not eaten anything for many days.'

It was after she had left that he locked the door.

And now he would not open it again for anyone. They would have to break the lock to find him, if they wanted him again.........

Pain kept shooting up his loins.

He got up trembling and reached for the glass of milk left on the table. Yes, he had got his mother's forgiveness for leaving this world. He could see no human beings any more, only monsters with masks on. His father wanting to save his pride was trying to compel him to go back to that.

He couldn't face anyone, he couldn't face life any more. Holding the glass of milk with one hand he popped the Kanero seeds he had gathered quietly into his mouth with the other. Then he took a swallow of the milk to make sure they went down.

---
Clothes Line
You are who you are
Do you know what it is like to be a teenager and fat. It's a fate I wouldn't wish on my worst enemy (maybe I would, if I really really hated her).

The guys are the worst. They comment on every part of your anatomy and you can't say anything for they speak the truth. After all you are generously proportioned. It's very rare to get compliments. Never 'you're beautiful' always 'you will be if you were thinner'.

You come to hate crowds. You try to be as inconspicuous as possible, but it's not the easiest thing to do.

You can't brush past a guy without hearing a comment like "Thank God I am not injured," or "I don't want to be trampled". They call you names and recommend diets. Their favourite is a wide eyed look with, "What do you eat?" It hurts a lot. But the only course you have left is to ignore them. You even hate strangers whom you never see but who forever leave a mark on you with their thoughtless comments.

If you have friends who are guys you wonder if they are ashamed to be seen with you. After all anyone would prefer a beautiful thin girl, to a fat one - even if she is pretty. You are self-conscious to eat in public and mostly you try to avoid that situation because it's a golden opportunity for funny comments or so they think.

But friends are great. I mean real friends, who look through the outer coverings and see you for who you are.

And it's a wonderful thing to be accepted for who you are no matter what you look like. Well I do have that. I know who my real friends are after all.
(Me)

---
Here comes Ubu Rex
By Ruhanie Perera
In a mood for a mind adventure? There's an opportunity coming your way from April 5 to April 10. It's a chance to see quite normal tools being used for extraordinary purposes and hear senseless words given meaning to, purely through the way in which they are presented.

It's Ubu Rex, directed by Tracy Holsinger, based on the playwright's horrible maths teacher. Written at the age of 15, Ubu Rex was Alfred Jarry's way of getting back at his master, Herberg, who is melted down to the character Ubu and is tormented by all sorts of misadventures. The script is written in Italian pantomime style and has a lot of room for improvisation, including a lot of physical comedy and the usage of masks and mime.

As an experimental theatre company 'Mind Adventures' has done some fairly diverse productions, to which Ubu fits perfectly. Added to being of a rather "hysterical quality", it will satisfy all those who for some time have been hounding Tracy to direct a comedy.

She came across this script in London, while she was in college. "Actually I was 'supposed to' study it in college, but I never really read it. Not long ago when I was going through my old stuff I came across it and decided to read it." And she simply adored it mainly because it was something new and in many ways a 'start' of sorts for Tracy.

And for 'starters' she's dealing with a cast of 15 boys ranging from the ages of 19-27. "I've not dealt with so many boys before and it takes some getting used to. Unfortunately they have a tendency to get injured at the drop of a hat."

Added to that she has not dealt with this type of theatre before. "I've been in it and I've watched it, but I've never had to direct something like this."

But a script of this nature just calls for a new approach, with its abundant usage of the technique 'Pata Physics', where imaginary solutions are found for problems, it's the perfect script for the vivid imagination. "In fact at the beginning my biggest problem was that I had far too many ideas," admits Tracy, "but I've toned them down quite a bit."

Where this particular script is concerned the biggest challenge for Tracey was finding the ideal way to approach it. "We've practised since February and having approached it in five to six different ways, the play has finally evolved into something we want." With her constant changing of situations and throwing the cast into the deep end Tracy's convinced that she's scared the cast. "That, I feel was mainly due to the fact that they were not used to this type of theatre. Now they are a lot more confident and things are falling into place."

"Uba Rex" says Tracy "is a very 'audience-friendly' type of play. I think it's suitable for just about anybody, even swear words are made up words in typical schoolboy style." In order to accomodate the close interaction the cast will have with the audience it will be performed on the lawn at the British Council. The cast sometimes practise amidst all the 'joggers' at Independence Square. "The response is interesting," says Tracy who has noted that there are people who take time to watch their performance, or at least jog around the area so that they can see what the cast is up to. The most crucial factor for both the director and the cast is that their audience is open to new ideas.

According to Tracy, Ubu Rex detonates all conceptions of good taste in theatre and all the rules, pre-conceptions and traditions are casually thrown out of the window - "isn't that cool!".

It sure sounds like a lot of fun and that's just the director's point. Just imagine what it would be like to be a part of the cast...but that's another story.