---
Shame on you Robbie
Robbie Williams col- lapsed at the end of the MTV Europe Awards last weekend. Williams who is currently the UK's most successful solo male artiste passed out at the MTV post show party.

Meanwhile the print media in the UK reported on Sunday November 18 that Robbie Williams was seeking medical therapy for sex addiction at a very high price.

While the story about Williams passing out at the MTV show has been officially confirmed the latter part about him seeking treatment was splashed by the tabloid press.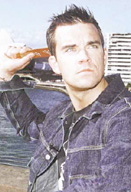 Robbie: In need of therapy
It has been reported over the last weekend that All Saints singer Nicole Appleton is expecting a baby by her current boyfriend Liam Gallagher of Oasis. Liam's marriage to Patsy Kensit was dissolved on September 22nd. Nicole Appleton was the on and off girlfriend of Robbie Williams. Little wonder than that Liam Gallagher launched verbaly abused Robbie Williams at the recent Q Awards.
Christina Aguilera, the Latin singer had to pull out of a concert in Mexico City last weekend due to illness, believed to be linked to exhaustion. Recently, Aguilera has had a series of concert cancellations or pull-outs. But she also has a hit song called 'Come On Over Baby (All I Want Is You)'.
US songstress LeAnn Rimes has scored her biggest strike in the UK this week. The 18-year-old landed straight in at the No: 1 position of the singles chart with her song 'Can't Fight The Moonlight'. This is LeAnn's debut No: 1 in the UK. Her first chart entry was 'How Do I Live', which peaked at No: 7 in 1998. The song spent 15 weeks in the top 20. Her next visit to the singles chart was in March 1999 as her duet 'Written In The Stars', with Sir Elton John peaked at No: 10.
LeAnn Rimes has become the first country musician to reach the top of the UK singles chart in 20 years. The last country star to enjoy that feat was Kenny Rogers whose song 'Coward Of The County', was a No: 1 in February 1980.
Please Don't Turn Me On' is the latest Artful Dodger single to hit the market. It follows the track 'Woman Trouble' back in July which peaked at No: 6. The Artful Dodger on the current release is supported on vocals by Lifford. The rhythm that Artful Dodger invented in their first song is carried through on this song too.
Toploader was the last band to play at the Wembley Stadium which is now being demolished. The pop rock act have just added another single into the chart called 'Dancing In The Moonlight'. Toploader with a favourable press and fan base could be one of the acts in the running for awards when the season begins next January.
Over 1,000 fans of the Backstreet Boys gathered in Japan to see the all boy group but many were injured in the ensuing crush. The injured received medical attention at a nearly hospital.
While the High Court in London heard how Sir Elton John spent over £200,000 on flowers, the latest rankings of the top earning entertainers placed him at the pinnacle for the year 2000.

---
Clothes line
Itching to say something but no one wants to listen to you? Something which annoyed the life out of you or which restored your faith in humanity? Comment, criticism, praise or food for thought - here's an invitation to hang the laundry of your thoughts on 'The Clothes Line'. Write to us and tell the world what's on your mind, in not more than 350 words.
Send in your submissions to,
Clothes Line
Mirror Magazine
C/o Sunday Times
No. 8 Hunupitiya Cross Road
Colombo 2
Email: clothesline_lk@yahoo.com

How should women behave?
Today while going through the emails I happened to set my eyes on one of the most interesting articles - 64 charms of a woman. Every word in the article was an insult to women. A gush of memories flushed my brain. Occasionally in films, dramas, classes, social gatherings and once, even on a bus I've heard men blame everything on women saying "she got me hooked in the firstplace". When questioned many may insist that it is just a joke, but more often than not they mean every word of it. I'm not being one of those fanatical feminists but it's uncanny the way men are unaware about their 1064 number of cunning stratagems. Perhaps as a result of men being so engrossed in pointing out 64 charms of women and blaming, they forget about themselves. A woman may be innocently waiting at a bus stop, but one can count more than a dozen so-called-charms and accuse her of luring men. Will men change their attitude if we cover ourselves from head to toe, march instead of walk, always stand at attention, not laugh, not smile or frankly behave more rigidly than a military personnel on duty?

Lee
---
Love your dog
I'm writing this on a very cold and very wet morning. Outside the window the rain is falling like white sheets. My neighbour's dog is locked out in the balcony, getting wet. He was whining and banging at the doors. But now maybe because he's soaked to the bone, he's quiet. Earlier he was peeking through the window keeping his paws on the sill, but the windows are shut now. I can imagine him, lying in a pool of water, shivering, with rain drops falling on his face, dripping down on his nose.

I am studying for my University exams due in two weeks' time. But it's difficult to concentrate when a bewildered, sad, cold and neglected doggy-soul lies just a few metres away. Street dogs lead better lives. Don't ever keep a dog if you can't love them.

Shu's Pal
---
It's lonely being an only child
Being an only child is a lot more hard than living with a brother or a sister. Of course you will get what you want but is it enough? I'm glad that at least I have caring, sharing and loving parents that I can turn to.

But I miss having a brother or a sister. Parents might be friendly,but that is not enough Sometimes there are things that you can't tell your parents and little tidbits in life that can be only shared with a brother or a sister. A brotherly smile or a sisterly hug sometimes can be worth more than jewels. Sometimes when your feelings are so locked inside , the only thing you have is a piece of paper to scribble it. But will it ever compare with the feeling of having a brother or a sister? So parents, please think before settling for an only child.

An only child.
---
Time will tell
Once I was waiting to be thirteen. To be a teenager. Then again I was waiting to turn eighteen to be an adult.

All the years passed by turning me into a teenager and also an adult. The years were filled with fun, adventure...unlimited freedom.

The years ahead - the future- which waits for me.

To qualify for good living, to cope with society, to choose wisely with more responsibilities, more problems.

Looking back can be done more willingly, "back to the good old days". But the future waits ahead ...

What will I do? Where will I be? Only time can tell!

Simmie
---
Think of others as well
A reader replies -
To 'Jen', the writer of the article 'Advancement for development (November 5).
Dear Jen, I do understand your exasperation and your views on the youth of today. I also agree with you when you say that Sri Lanka needs to develop and evolve according to modern times. I believe most of all that Sri Lanka needs to strike a balance between her rich traditions and her potential to achieve great heights. Unfortunately Jen, your solutions as to how Sri Lanka should do this is, to put it lightly, naive!
First let us keep in mind that over half of the 19 million people in this country are below the poverty line and more importantly there is a war which has been raging for the past seventeen years and 'English movies' are the last thing on these people's minds. Jen, for exactly whom do you wish to 'import cool clothes from the States etc.."? Only for a fraction of the people who can afford it. The 'latest English movies" will do nothing for the man who doesn't know from where his next meal is coming. I am sorry that you are tired of seeing the same 'music videos...all a hundred times already" but this is the whole problem with our countrymen: we tend to think only of ourselves and don't give a second glance at the poor man on the street. More than avoiding 'culture shock for those going abroad', Jen, first we need to find ways that the people in this country can obtain basic necessities and face others with dignity. All your solutions for advancing apply only to a handful of us who can afford it. Stop: look around and listen- don't you hear the cry of a hungry child? Will you turn him away because you need another pair of capri pants in another colour?
Anika L.