---
Anniversary annihilation
Typhoon McGrath causes Caribbean calamity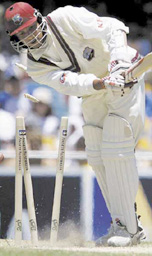 BRISBANE, Saturday (Reuters) - Glenn McGrath finished with the amazing match figures of 10-27 as Australia beat the West Indies by an innings and 126 runs today to win the first cricket test and equal the world record of 11 consecutive test victories.
Australia sealed their win 47 minutes before tea on the third day when they dismissed the hapless tourists for 124 in their second innings to complete their biggest winning margin over West Indies in 70 years.
McGrath was named as man of the match after taking 4-10 in the second innings to add to his first innings haul of 6-17.
Australia's comprehensive triumph saw them match the West Indies' 1984 world record streak of 11 straight wins and presented them with the chance to set a new mark when the second test commences in Perth on Friday.
But for all Australia's achievements, the match was still a major disappointment, not the least because it was watched by the surviving members of the Australian and West Indian teams that contested the famous 1960-61 tied test.
They were invited back to the Gabba to commemorate the 40th anniversary of a match that is credited with reviving the game at a time when cricket was being dragged down by slow over rates and dull tactics.
With cricket currently engulfed in match-fixing and betting scandals there was a hope that this summer's series could again help save the game's battered image but the one-sided nature of the first test suggests that is now unlikely.
West Indies started the third day at 25-2 in their second innings, needing another 225 to make Australia bat again, but never threatened to stage any sort of a comeback.
Opener Daren Ganga threw his wicket away in the fifth over of the day and the rest just followed at regular intervals over the next three hours.
The only West Indian to show any resistance was Shivnarine Chanderpaul who batted almost four hours to finish 62 not out.
Only two others made it to double figures while four players made ducks, one less than in the first innings total of 82.
After losing Sherwin Campbell and Brian Lara to McGrath the previous night, the West Indies were hoping for a good start to the third day but immediately found themselves in deeper trouble when Ganga departed without adding to his overnight score of eight.
The 21-year-old had batted almost an hour on Friday and a further 15 minutes without scoring when play resumed on Saturday when he inexplicably charged down the pitch to Australian leg spinner Stuart MacGill and was stumped by wicketkeeper Adam Gilchrist, who finished with eight dismissals for the match.
Jimmy Adams and Ramnaresh Sarwan both fell to Brett Lee, who top scored with 62 not out in Australia's 332, in the same over before Andrew Bichel got Ridley Jacobs in the last over before lunch to send the tourists to the break at 81-6.
Chanderpaul brought up his 21st test 50 after the re-start but eventually ran out of partners.
McGrath returned to the attack to dismiss Mervyn Dillon and Marlon Black then took a high catch off Courtney Walsh to clinch the victory.
---
Scoreboard
West Indies first innings 82 (G.McGrath 6-17)

Australia first innings 322 (Brett Lee 62 not out)

West Indies second innings (overnight 25-2)

S.Campbell c Gilchrist b McGrath 0

D.Ganga st Gilchrist b MacGill 8

B.Lara c Gilchrist b McGrath 4

S.Chanderpaul not out 62

J.Adams c Gilchrist b Lee 16

R.Sarwan b Lee 0

R.Jacobs c M.Waugh b Bichel 4

N.McLean lbw b Lee 13

M.Dillon b McGrath 0

M.Black c Gilchrist b McGrath 2

C.Walsh c McGrath b MacGill 0

Extras (b-8 lb-3 nb-4) 15

Total (58 overs) 124

Fall of wickets: 1-1 2-10 3-29 4-62 5-66 6-81 7-98 8-117 9-119 10-124

Bowling: McGrath 13-9-10-4, Lee 18-9-40-3 (nb-1), MacGill16-5-42-2 (nb-3), Bichel 11-4-21-1

Result: Australia won by an innings and 126 runs

Man of the match: Glenn McGrath
---
Australia recalls Jason for second test
Australia have made one change to their squad for the second cricket test against West Indies after winning the first match by an innings and 126 runs on Saturday. Fast bowler Jason Gillespie was recalled to the 12-man squad at the expense of middle order batsman Damien Martyn, who was chosen as 12th man for Brisbane. The second test starts in Perth on Friday.

Gillespie has not played a test for Australia since breaking his leg in a collision with Steve Waugh in Sri Lanka 14 months ago.

West Indies captain Jimmy Adams said the tourists would name their team next week.

Australia - Steve Waugh (captain), Michael Slater, Matthew Hayden, Justin Langer, Mark Waugh, Ricky Ponting, Adam Gilchrist, Brett Lee, Andrew Bichel, Stuart MacGill, Glenn McGrath, Jason Gillespie.
---
Some tips to uplift Football
M.S. Hassimdeen.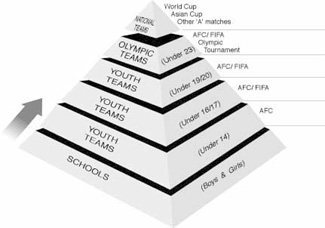 In Sri Lanka National Football, the undermentioned teams are involved:

National Teams World Cup Asian Cup Other 'A' Matches

Olympic Teams (U 23) AFC/FIFA

Olympic Tournament Youth Teams

AFC/FIFA (U 19/20) Youth Teams AFC/FIFA(U 16/17) Youth Teams AFC (U 14)

Schools (Boys & Girls)

The AFC has designed the above pyramid to establish a progressive and systematic development of football in the Asian countries which will contribute to the high quality and progress of Asian Football.

Therefore, I would like the FFSL to consider the above very useful and important programme for the near future to establish.

With the implementation of 600 schools under 12 football programmes, I am sure that we are moving towards the right direction as mentioned in the above pyramid.

However, I would like to propose a detailed programme in this regard.

The firm foundation of football anywhere in the world is established by the youth, young boys from the age of 10 to 18. Without the participation of youth, no country can progress far in football. Therefore, as Sri Lanka moves into a new millennium, we have to turn and focus on youth development at all levels.

What I expect the FFSL to do?

01. Set up a youth development committee who will be responsible to draw up a Youth Development Programme together with the Director of Youth Development.

02. The 10 Provincial Co-ordinators who have been already appointed to pay more attention on the 600 schools Under 12 football programme which is in progress.

03. Sri Lanka Football Association to conduct the school tournaments for boys Under 12, 14, 16 and 18.

04. Introduce a national competition for the following age groups - Under 14, 16 and 18. They should be honoured and awarded by the Football Federation.

05. Organize Coaching Camps for each age group in different parts of the country.

06. Select talented players and prepare them for the Under 14, 16 and 19 teams for participation in the AFC competitions.

07. Appoint qualified and experienced coaches to handle the Youth National Team Under 14, 16 and 19.

08. Coaches appointed to submit a training programme to the Director at least 06 months before the tournament.

09. FFSL to focus and pay adequate attention on the Asian Youth Tournaments to be held in year 2001 for youth Under 16 and 19.

10. Initial training for these youth could be conducted during weekends under competent Coaches.

11. A Football Academy to be introduced to all age groups once the new football headquarters and the training centre is built.
South African Tour
---
A Huge Challenge-Dave Whatmore
By Marlon Fernandopulle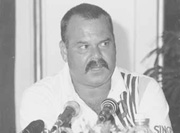 In 1976 Davenall Whatmore made his debut in First Class Cricket in South Africa representing the Derrick Robins Eleven.It was a big day and a challenge for the promising youngster who was keen to make his mark in the Big League.Twenty four years later Whatmore faces a simillar challenge.This time as the Coach of the Sri Lanka Team, which embarks on a tough eight-week tour to South Africa, eager to maintain their unblemished record in the One dayers and improve on their performances in Tests.

After propelling Sri Lanka to their 1996 World Cup during his first stint as Coach,Whatmore came back as Coach last year when Sri Lanka's cricket plunged to an incredible low. He not only arrested the situation within a few months, but put the Lankans back on the winning track in both Tests and One day games.His second stint as Coach has already brought in One day victories in the Aiwa Cup,Singer Triangular and the Coca Cola Championship, while Test Series victories have been recorded against Australia,Zimbabwe and Pakistan.

Speaking to the Sunday Times on the forthcoming South African tour the Lankan born Dave Whatmore said ."It's a huge challenge for the team as well as for me.The players are aware that the conditions are going to be different to what we have been facing in the recent past and have their eyes open.Nevertheless the Convincing triumph in Sharjah and the fact that we have beaten them at home has given us the confidence to face an opposition like South Africa".

With the South African tour in mind the Sunday Times sought the views of Whatmore on some important aspects of the tour during an interview with him. Excerpts from the Interview.

Q: How would you rate the South Africans?

A:They are a very tough side and play their cricket very hard.They have a little bit of skills involved as well and so it's not going to be easy.They are also known to be aggressive as we found out when they were here.So we could expect more aggressiveness when playing in South Africa.

Q: What type of wickets will you expect in South Africa?

A: The wickets are certain to favour the quick bowlers more than the seamers.A bit of swing could be expected as some of the grounds are widely open.However I expect more bounce than seam on those tracks.

A: How confident are you that Sri Lanka will be able to perform on these tracks?

A: Our team has got the ability to perform in different conditions.What matters is only how quickly we can adapt to those conditions.It' s a big collective effort and a big push that is required.Our goal has always been to be a very competitive unit on the field.We are no strangers to beating South Africa, and so we will try to do that in their own back yard.

Q: How do you think Murali will perform on the South African wickets?

A: Like in Zimbabwe Murali will have to work very hard for his wickets.He will definitely extract spin on any surface he bowls on.The bounce will certainly be to his advantage as Murali likes to see the ball bounce.He is so committed when he bowls that it is not if, but, when will he get his next wicket.In my opinion any ball he bowls is a wicket taking ball, you just cannot discount any of his deliveries.

Q:We have had a couple of huge successes in the One dayers but the same cannot be said for the Tests matches.Any particular reasons?

A: In Tests we are not far behind.In fact we are ranked number three.The problem is that we have not been very consistent at Test matches.To me, it will only be a matter of time before we begin to show consistency in Tests.We have some match-winners in our team and I am confident that we will soon make a real impression in Tests as well. Sanath Jayasuriya has been very consistent with his batting lately.

Q: Has their been any change in his technique?

A: He has made a slight adjustment successfully. However I now feel that Sanath is a lot more comfortable with the captaincy and the duties and pressures that come along with such positions.In the early days of his captaincy his performance with the bat dipped a bit and that's a fact.Inorder to develop as a Captain you need some time.Today Sanath has shown and is showing definite signs of absorbing all those pressures of a captain, and that is truly reflecting in his batting.

Q: You have been associated with a lot of success with Sri Lanka Cricket.What's the secret?

A: I encourage every player to perform and shape their own destiny.This will give them a sense of ownership in whatever they do.It also makes everyone a part of it, and also helps them to defend more vigourously
---
Trained coaches a must for football leagues
By Gamini Perera
The introduction of the National Youth Football Development Programme (NYDP) by the Football Federation of Sri Lanka (FFSL) is both commendable and far-sighted.

Hard on the heels of this laudable venture, the FFSL should now set its eyes and concentrate on enhancing and improving the leagues affiliated to it. If one studies the development of football in our country, it will be observed that the Football League has contributed more than their share.

However, it is observed that the leagues have hitherto been a technically starved sector.

Although the incumbent parent-body has given some sort of encouragement and financial assistance to the leagues, it is no secret to state that through their own love for the sport, enthusiasm and the genuine flair to be in competitive football that the Football Leagues have thrived in the past.

High standard

In fact, we would have had not only a strong and viable network of Football Leagues, but also, a technically high performing standard, if only the leagues received their share of technical assistance from the parent body.

The FFSL, even at this late juncture, should ensure that a concerted effort to push in a Technical Programme for the development of football in the league be affected.

A concept to provide trained coaches for the many clubs that form a league, should be gone into with all seriousness. This, then will be a laudable effort, both to the players and the leagues.

Year and in year out in the distant past, the leagues conducted their annual domestic tournaments as a matter of routine and not as a matter of refining the sport. This form was changed after the present controlling body took over, as they gave more serious thought to the leagues.

Needless to mention, if only the leagues were given trained coaches our national and international performances would have been certainly something to talk about.

Studied plan

The respective leagues should have a trained coach to handle the sport and a studied plan should be implemented to train coaches from ex-national players.

It is our thinking that the powers-be will not only limit it to a trained coach per league, but create small pockets of trained coaches in each league.

The end result will be to provide a trained coach for every club in every league. Such benefits for the leagues will be mainly instrumental in creating a greater sense of responsibility among the football leagues.
---
Premier Pacific sponsors international Golf
Nimal Perera Chairman of Premier Pacific International who are reputed Luxury Apartment Developers shuns social intercourse but when the subject is golf he sneaks out of his shell to freely express his extreme desire to help the game develop. Perera is an excellent golfer. He came to the Royal Colombo Golf Club a year or two ago after several years in foreign lands. His handicap was 17 but with sheer determination and love for the game he has come down to a manageable 12 handicap and plays to this handicap comfortably.

This year his company takes over the sponsorship of the North East Monsoon meet enveloping 2 week ends and on the last day which will be the 26th November. He will add a special promotion and a special competition for very special awards.

The trophy will be more posh and handsome than last year's and the several other awards will include exotic cruise trips, exciting destinations and stunning prizes to take home.

The practice tees are choked to capacity with aspirants brimful of hope and there are also those who trust to luck and seek help from the omnipotent. The plans for the evening are loaded with lavish gifts for everybody at cocktail time which will be laced with classy food, the best from the French wine valleys and without doubt the pride of Scotland. I will be there. By Tita
---
Greenlight for ITF U-14 Tennis
The greenlight has been given to the Sri Lanka Tennis Association by the International Tennis Federation to host the ITF South Asian Under-14 boys' and girls' championships at the National Tennis Centre Courts at Green Path from January 27 to February 10, 2001.

The SLTA hosted the Asia/Oceania Group 3 championships this year. The Under-14 championships will see participants from India, Bangladesh, Pakistan, Myanmaar, Bhutan, Maldives, Nepal and Sri Lanka vie for honours.

Joining the fray will be a team from the Central/West Asia.

Each country would be allowed to send upto six players, 3 boys and 3 girls while Sri Lanka as the host nation is allowed to enter 10 players, five girls and five boys.

The ITF South Asian Championships will include a two-day training camp and two tournaments which will cover a two-week period with Suresh Menon, the ITF Development Officer of Asia assisting in the training camp.

A special feature of these tournaments will be that every player, win or lose, plays a match each day.

At the end of the event all players in the draw are ranked in order of merit. Last year Mahesh Seneviratne was placed sixth in the girls' event and narrowly missed being selected to participate in the ITF South Asian team.

Based on the players' performances at this event, selected players will be invited to participate on the ITF South Asian team at the East Asian 14 and under championships which will be held later this year.

Adults Coaching Clinic

The Adults Tennis Coaching Clinic, a promotional programme of the Sri Lanka Tennis Association will be held from November 7 to December 7 at the SLTA Courts.

On weekdays the clinic will be held from 10 a.m. to 11.30 a.m. and weekends from 6.30 p.m. to 8 p.m. under lights. This clinic will be held for those over 18 years of age both male and female where tennis racquets and balls will be provided.

The course fee will be Rs. 2,000/-. For further information contact Boshan Dayaratne - 077313198 or Ganendran Subramaniam on 565332 or the SLTA Office on 686174 or 075334062.
---
Chandika, Kalpage excel in Australia
By Bernie Wijesekera reporting from Victoria
Two Sri Lankan allrounders Chandika Hathurusinghe and Ruwan Kalpage are turning out for Prahran C.C and FTG Footballers' CC in district cricket. Both players despite the uninviting weather at the start of the season gave impressive performances. Chandika is playing for Prahran CC where Dav Whatmore, Owen Mottau, Aravinda de Silva and Asanka Gurusinghe played. Chandika still rarin' to go bowled his 10 overs with rare accuracy for 20 runs and scored 58 runs against last year's champs, NorthCote. It's given to understand he has to return home due to an illness to his infant baby. Kalpage, playing for F.T.G. (Mahanama's old club) finding his touch captured 4 wickets and lashed 65 n.o, against Upper F.T.G last year's Champions.
---
Jayantha Herath wins La Marque carrom men's singles title
Jayantha Herath won the men's singles title at the La Marque Private Limited men's carrom championships held in Nawala.

Sarath Perera finished as runner-up, while G.D. Gnanarathne and Mohammed Kamil won the men's doubles title with Ravindra Prasanjith and Chamil Cassim as runner-up.

Twenty-seven slicers took part in the championships which was sponsored by Firoze Cassim the Managing Director of La Marque men's doubles competition and Tuan A. Booso the men's singles championships.
---
Dilhara, raw pace and steep bounce
By Leonard Ratnayake

Promising right arm fast bowler, Ranga Dilhara Fernando had a fine start for SSC this season.

In the first week of the Premier League limited overs tournament he gave the national selectors a reminder of his ability by capturing eight wickets in two games. In the week that followed, he added seven more to his tally to make it 15 wickets in four matches.

The affable 21-year-old fast bowler, who is a product of De Mazenod College, Kandana, forced his way into the national side to face Pakistan at the recent Centenary Test Match at the Sinhalese Sports Club. His selection followed an impressive series against Zimbabwe "A".

He captured two wickets in the match and bowled adequately without being an impressive bowler. However, it was a surprise when he was dropped for the second Test. Though he was disappointed to be left out of the team, Fernando remains philosophical: "The opportunity to play for Sri Lanka came out of the blue. I wanted to do well. I think my efforts were successful"

Fernando has the classic fast bowler's build. He stands 6.2 feet tall in his stockinged feet with broad muscular shoulders and wide hips. He looks a natural, but actually only started playing the game when he was 16-years-old. Until then he concentrated on basketball.

He was selected to play for a Board XI one-day game against the touring Indian side. It is an opportunity that he will not easily forget. That day he captured the prized wicket of Sachin Tendulkar. "The wicket of Tendulkar, whom I bowled, was a real inspiration and gave me a lot of confidence. For the first time I really believed that I could go a long way in cricket."

Fernando's bowling action is simple but powerful. He bowls from a straight run and with an open chest. When he arrives at the crease he gathers himself before unleashing his slingy arm action. The result is raw pace, steep bounce and movement into the batsmen. On his day he is the quickest bowler in Sri Lanka.

His bowling philosophy is also simple: "When I bowl, I just concentrate on landing on the spot. Bowling at the stumps has been successful for me so far and a large percentage of my victims have been clean bowled."

Fernando is no mug with the bat either. However, he has concentrated on his bowling in recent times to get into the side. He now plans to work hard on his batting.

Arjuna Ranatunga, the man who also nurtured Nuwan Zoysa in his early years, is credited with identifying Fernando. Impressed with the boy's natural ability, Arjuna wasted no time in summoning him to the Sinhalese Sports Club for practices. The challenge now ahead of him is to come back into the national side. With his natural pace it is likely that he will tour South Africa where he will be very useful on the hard bouncy pitches. He himself is making no predictions, but is nevertheless intent on making his bowling do the talking.

© CricInfo
---
Springing into action
There's a spring in the Sri Lanka cricketers' steps these days. It comes not only due to their success in Sharjah.

Those who followed their performances on TV will agree that paceman Chaminda Vaas's shoulders seemed to have widened and there is more power in his knocks, as was witnessed in the two huge sixes he powered into the Sharjah car park.

Sanath Jayasuriya bats with more purpose and there is a wider array of strokes from Marvan Atapattu. Mahela Jayawardena's repertoire of strokes has widened and it is once again a delight to watch him in full cry.

Murali of course is simply getting better and better with his bowling and the bowling of Nuwan Soyza is as strong as ever. Russel Arnold has matured into a good bowler and with his batting capabilities should be able to rock the South Africans when Sri Lanka undertakes a tour there in December.

Skipper Jayasuriya and the cricketers were happy and in true Jayasuriya fashion he said that it was 'team spirit' which enabled them to return undefeated from Sharjah.

"Every individual contributed to the win. The team is enjoying a good run," said Jayasuriya of his team.

Coach Dav Whatmore was in a jolly mood. The man behind the scene said that it was simply a matter of maintaining good standards.

On a darker side some cricketers commented that they get warm welcomes only when they win.

Surely they do not expect the people to be happy when they lose!

Expressing his views about this complaint, cricket chief Thilanga Sumathipala said that the cricketers should understand the difference between victory and defeat and only achievement would bring rewards.

"The Board decided to give Muralitharan an incentive of 10,000 US Dollars because he achieved a rare feat and Jayasuriya went very near but failed to achieve a record and he was not rewarded, that is how it goes," explained Sumathipala.

"The players should be satisfied with what they get in defeat from their fans here. In India if you lose it is a different story. Even their houses will be set on fire," added Sumathipala.

The return of the national cricketers has added glamour to the on- going premier league one-day tournament.

Sri Lanka's next assignment will be in South Africa where they will play three tests and three one-day internationals. L.R.
---
Easy win for Agriculture Dept
By V.T. Rajah
Pelwatte Sugar Industries Sports Club inter-department cricket tournament commenced when Agriculture Department beat Finance Department by 21 runs, played at the Pelwatte Grounds, Buttala recently. Factory and Personnel Departments are the other two teams participating in this tournament organised by the Pelwatte Sugar Industries.

Agriculture Dept. batting first scored 204 runs in 37.4 overs when Bandula scored an unbeaten 40 runs. Finance department were able to score only 183 runs in 33.4 overs in spite of a solid 42 by Wimalasena and 41 by Ajith.

Chief Scores:

Agriculture Department 204 (S. Kasun 14, Dushantha 30, K. Oscar 12, M. Anil 33, Bandula 30 n.o. Roy Batepola 4 for 34, Wimalasena 2 for 38 and Sudantha 2 for 29)

Finance Department 183 (Roy Batepola 22, A. Ajith 41, Wimalasena 42, S. Fuji 16, Kasun 3 for 32 and Palitha 3 for 19)