Extra special talent search
You have heard of enough and more talent searches, and perhaps have taken part in a few, and maybe even won. Fulfilling and thrilling as they may be, sometimes being in the audience is much more fulfilling than being on stage. Such an occasion comes along on December 2, when you can applaud and appreciate the talents of others, to be precise, a special group of people. On December 2, the Interact Club of St. Peter's College, Colombo will hold a talent search for the physically handicapped and orphaned children of the Jeevani Lama Nivasaya and the School for the Deaf and Blind, Ratmalana.

"The idea came through our parish priest. He said, 'you are doing all sorts of things from the Club, why not do something with these children?' So we got together and decided to do it this way," says Interactor Richard Murcott, Project Chairman.

The Interactors are being helped financially by the Rotary Club of Colombo East, and the project is to be held in the College hall from 3 to 6. 30 p. m. The day holds many activities for the orphaned and deaf and blind children between 8-15, such as an oratory, singing, poster and instrumental music competitions. The funds collected from the project are to be used to sponsor the education of underprivileged children. Interactor Richard hopes that his peers from other schools and interact clubs will attend, to support the talents of these 'speial friends'.

U. G.

---
Scar
The 100 word page on " Scar" appears this week.

We are very pleased with the large numbers of new writers who are contributors to this page. We would like to remind all those who write in however, that their work may be edited and to send in their contributions only if they agree to that condition. We also urge writers to remember the 100 word limit to their work for this page.

The theme for the next issue is " ESCAPE". Please send in your work before the 22nd of December to :-

Madhubashini Rathnayake,
C/o The Sunday Times,
P.O. Box 1136
Colombo.
---
A tell-tale
The withered will not bloom again,
Neither will they scent the grumbling air.
They will only be memories,
Memories rustling on the bare ground,
Like the discarded coats of Autumn.
Pirouetting,
Dancing in the wind,
To where they came from.
Leaving behind a scar on the bark,
Revealing its past existence,
To the strangers of tomorrow.
(Sachithra Somarathna )

---
Scar
You bore it all
The hurt and the pain
Beatings from a cane.
You always smiled
When you explained
How you got the black-eye
'Walked into a door' you said
'More like walked onto his fist' we said
One wound healed and another took its place
When will we see your wound-free face?
Eyes reflect the scar inside
Mother - I cry when I look in your eyes.
(Neelima Bhardawaj)

---
A touch
I watched you walk through life
Your handsome face
Divided neatly
By a jagged scar,
Pale and almost invisible now
Except when you raged
And it glowed red
I watched your once compassionate face
Turn harder with every stranger
Who stepped away from you.
Your eyes glowed
With every friend who murmured apologies
And quietly left.
Then I saw one
Who could not see
Touch your face, her fingers
Lingering
Along the gorged line
I heard her say,
"You are hurt ? Can I help?"
Then I saw your face,
Divided neatly into two,
Shatter
Into a million pieces.
(Ruwanthi Ariyaratne)

---
The unseen scar
The scar doesn't show
''twas 20 years ago
That it happened.
Crash!
Thunder in the air.
Thudding of my heart,
Pounding in my ears,
and then... ..nothing.
Shocked, numbed,
I felt nothing.
Gradually,
I felt searing pain
shoot through my bones,
A fire burn my body.
Wild thoughts leaped
Around my mind
Like waves
In an angry sea.
I screamed out to my God,
His soothing hands
caressed me.
And slowly, very slowly
I healed.
The scar doesn't show,
'tis deep in my heart
that was crushed,
when my world crashed
that night he betrayed me.
(Priyeni McLeod)

---
Trade-off !
The stranger touches my arm. " How did you get this scar?" he asks. I explain. How I fell and broke my arm. A bone did not set properly, and so they had to operate. An operation that left a herringbone pattern on both sides of my left forearm. "It is not exactly visually appealing, is it ?" I add lamely.

He nods, and then breaks into a smile. " It hasn't spoilt your face though. You have been very lucky."

Lucky? And then suddenly it dawns on me, as if light breaking through the dark. If I hadn't flung up my arm in front of me even as I fell, it would have been my face that would have been ravaged instead. How lucky I had been!

(Prianthi)

---
The Scar
In lamplight I see your scar
Now twenty years old
Marked against your strong face
Bringing character to your profile.
You cried when it happened.
A boy with his compass struck you at school.
Many times I gently brushed it.
In awe of its strength.
With it you've done many things
Seen places, made friends, played matches.
The scar - a symbol of hard lessons life teaches.
The scar - a testimony of hardships we go through
making us who we are.
The scar - shows signs of life
Like tears, like sweat
Like blood......
J.P.
---
The scar in my heart
'I'm sorry.....
I need some space,
And I think it's best for both of us'.
He said... in the smoothest tone.
As I struggled hard
to fight back my tears,
all I could say was.....
" I understand".
And I turned and fled
not knowing where I headed
Out of the room,
through the dark halls,
and down the narrow steps.
Oh! but I missed one step,
fell flat on my face.....
"Are you okay ma'am?"
A stranger asked.
"I'm fine, I'm fine.
It's just a few scratches,
will heal and be gone
in no time at all"
I said.
"It's like noting my scarred heart,
Betrayed and fooled.....
(K.N.Rupasinghe)

---
SCAR
I walked through a door
With hope and expectation;
Disillusionment left its scar.
I placed a generous trust in people
Nurtured out of my own sense of truth;
Duplicity left its scar,
In a spirit of spontaneity
With good faith and much zeal
I brought together
A man and maid
Long past the prime of youth;
ingratitude left its scar.
I'm constrained to stalk an invisible goal
It eludes me but inexorably lures me on;
The bitter-sweet strain
Leaves no scar
But cements a facade
Over scarred tissue.
( Thilaha Yoganathan)

---
Yesterday's mark
Cal-amity
yesterday... I stopped
looked back, at all the other
yesterdays..... and said for the last
time - Let it go.

Why cling to a hope that's hopeless
a dream that goes no further ..... and
so after a whispered " if only"......
"If only" for the thousandth time
I stopped to let the dream go.....

Today..... I just stopped a while
as usual and looked
instead at tomorrow......
And there burning steadily
on all my tomorrows...... was the scar.

(L Seneviratne)

---
Total Care - changing with change
By Laila Nasry and Ruhanie Perera
It's is as quiet as a monastery - except for the fleeting sounds of the cars travelling along the busy highway. Soothing lilting music wafts through the dimly lit corridors. The sterile rooms exude an air of absolute cleanliness. It is a place where tranquility reigns supreme, inspiring one to walk on tiptoe and speak in whispers. A haven for the souls wearied by the hustle and bustle of everyday life. A place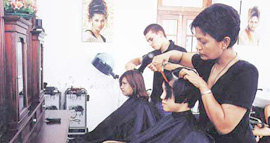 where one can sit back and relax while 'total care' is taken to ease both the mind and body.

'Total Care' is the newest addition to the Ramani Fernando chain of salons. Quite unlike her other regular salons, this is more on the lines of a mini spa. Established three months ago, 'Total Care' is a new concept. Having experienced the pampering by spas abroad Ramani felt there was a need for such a place in Sri Lanka. "People need a chance to unwind - and the response has been great."

Set up in a once dilapidated 100-year-old colonial type house, it took her two years to bring it to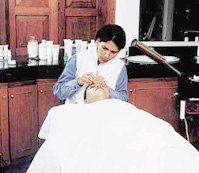 what it is today. The success of the place is partly due to the atmosphere, she says. "We use soft music, aroma candles and decor to help us acquire that atmosphere."
Added to the trademark hair care, there is a wide range of treatment available. For instance facial treatment, bodycare combining algo therapy and aroma therapy, manicure, pedicure, re-varnishing, therapeutic wax treatment, accrylic nails, nail art, foot reflexology and sauna facilities. The facials differ according to individual needs. Ramani and three of her assistants conduct consultations for those who are undecided on what kind of treatment they need. The treatments are on par with international standards as they use specialised exclusive products from the Sothys (facial clinic) and Thalassothys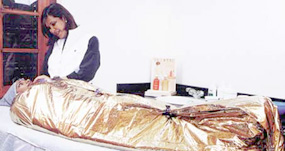 (body clinic) range.
These types of treatment have gone down well not just with the young, but also with the working crowd and housewives. The treatment is not limited to women, but is extremely popular with men who want to look good and feel good. "It's not a case of vanity, but more about well-being." A favourite among foreigners, they find the care given better than those received abroad.
"People are aware of what's in the market. They want the best and are willing to spend for it." Ramani sees to it that the people get their money's worth by giving them the best possible care. Much of the care comes from experienced hands who have been with Ramani for almost ten years. "We organise annual training sessions for our staff conducted by international experts. Added to that I go abroad for refresher courses and get treatments done at foreign spas."
Incidentally also celebrating 25 years in the beauty business, Ramani says she had no idea she would come this far. "I started off in a box room with just one chair and one sink. Now you can't start like that because the competition is great." She sees a greater need for change, offering her clients the latest in beauty care. Thus she hopes to expand in the future in the field of beauty care by establishing a new section solely devoted for men.