Contents
---
Lankans join EUCO
World renowned European Union Chamber Orchestra (EUCO) will be performing in Colombo on Monday November 27 and Tuesday, November 28 at the Bishop's College auditorium.

The orchestra will stage two completely different programmes each day. This is the second time, that EUCO is performing in Sri Lanka. They were here in Colombo last year.

EUCO will feature the work of Sri Lankan composer, Lalanth de Silva, during their first session, which will be a Christmas concert.

The highlight of EUCO's second concert in Colombo, will be the blending of Sri Lankan musicians with EUCO for one item. The concert will feature, Vivaldi (Concerto Grosso for two Violins and Cello), Elgar (Serenade for Strings), Greig (Serenade for Strings) and Mozart (Divertimento K. 137).

During this piece, some of the most advanced string players of the Sri Lanka Symphony Orchestra will join EUCO on stage.

Danish Violinist, Lavard Skou Larsen, Music director of EUCO will be the soloist for EUCO's concerts in Sri Lanka.

During its visit to Sri Lanka, EUCO will also conduct a Workshop for Sri Lankan musicians. This Workshop is organised by the British Council.

---
'Fantasia 2000': New style entertainment
"Fantasia 2000' a specially designed entertainment event will come alive at S.D.S. Jayasinghe ground in Dehiwala from November 30 to December 3.

'Fantasia 2000' will be a carnival with many novel creations in entertainment. There will be different areas where people can enjoy with their families or by themselves. These areas are specially designed according to the age groups. This is first of many such carnival projects organized by the Lions Club of Thimbirigasyaya 306c in association with Shri FM and Swarnavahini.

There will be a children's area where children can enjoy fun bouncers, kiddie's rides, games, Disney characters etc. Adult area is for the people over 21 years with soft gambling, beer, DJ promotions etc.

Family area will constitute of roller coaster, galaxy jet rides, films on giant screens, discotheque, games etc.

Daily fashion shows, fire limbo displays, circus, magic shows, selection of Fantasia Queen will also be held at the carnival.

Very special musical shows on all four days of this carnival with Galaxies on November 30, X Periments on December 1, Marians on December 2 and Gypsies on December 3 with popular guest artistes will also be there at this carnival.

Lots of prizes and surprises will be on offer at this carnival to entertain the party loving audiences of Colombo.

Project Chairperson of this event is Lion Soma Edirisinghe.

---
Marie de Rosairo at the JAIC Hilton
Marie de Rosairo, a Jazz veteran who is now in Sri Lanka is billed to perform at the Union Bar & Grill Room at JAIC Hilton during the month of December.

Marie de Rosairo, popularly called the local Shirley Bassey will be joined by Dilukshi Sirimanne on keyboards, Lucky Manickavasagar on bass and Roylie de Andrews on skins.

Marie enjoys herself singing through the wide repertoire of songs made popular by Ella Fitzgerald, Dinah Washington, Billie Holliday and others too numerous to mention. She takes on many a unrehearsed request in her stride and recreates in her own inimitable style, be it a soft balled or a jazz hit.

Marie was at the CROWN PLAZA HOTEL in Istanbul, Turkey for the last five years and she will be seen and heard every Monday evening (December 4, 11 and 18) from 8pm onwards at the Union Bar & Grill Room.

---
No politics for me, says Meena
By R. Kandasamy
Unless you were lost in the snows…locked up in prison… or in a marathon meditation session, you would have heard that Meena is receiving bouquets after her guest appearance in Thenali with Kamal Hassan.

Meena is no stranger to the Tamil filmgoers. She has made a name for herself as an actress of substance with stirring portrayals.

Having acted with all leading heroes in South Indian cinema ranging from super star Rajanikanth, Kamal Hassan, Arjun to the youthful newcomers is immaterial whether they are popular or not.

"But I love working with new heroes because they make me comfortable, meaning that I feel somewhat free when I act with newcomers. I tend to be somewhat reserved when I act opposite reputed heroes...maybe that's how I feel". It was rumoured that Meena was slotted for the lead role in Muthalwan, but it finally went in favour of Manisha Koirala.

"There is no truth in it", Meena says adding that Arjun had in fact recommended to director Shankar that the role ideally suited me, but there was no controversy beyond that.

Although Meena's mother is a well-known political figure Meena has no intention of going into politics.

"That is one area that interests me the least and I can assure my fans that I would never take to politics", she claimed.

Finally she was pleased about the release of Raj Kumar after being held captive for over 108 days.

"I was really happy when I heard about his release. He is a great man our film industry cannot afford to lose. I hope he bounces back to business soon", a beaming Meena said. Meena could clearly look different, sound different or just be different.

---
'Magi': Woman of courage
"Magi" featuring a courageous middle aged woman will be telecast from today on ITN at 7.30 pm.

The sixteen episode drama has most of its scenes filmed in Tangalle and Hungama and is the first directorial venture of veteran actress Sriyani Amerasena.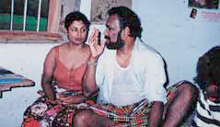 The teledrama revolves around Magi a head strong fisherwoman earning her daily bread working at a fish market in the Hambantota area. Battered with a broken marriage, Magi's struggle to stand on her own and provide a bright future for her only daughter is the story here. Fighting against all odds the drama highlights the battle the woman wages singlehandedly to overcome all obstacles.
The cast of 'Magi' includes Lucky Dias, Sriyani Amerasena, Dilani Abeywardena, Rebecca Nirmali, Milinda Perera, Samanth Lanerolle, Roshan Pilapitiya, Nihal Perera, and several others.
Directed and produced by Sriyani Amerasena, Somadasa Maldeniya assisted her while the production executive was Wasantha de Alwis.

---
'Pem Kekula' goes back to a hilarious past
By Susitha R. Fernando
'Pem Kekula' latest in the hilarious comedy film series is to be released in the fourth circuit.

The comedy woven around the journey of three fun loving businessmen seeking a time to re-live their good old days finds themselves trapped in a hilarious situation involving a young couple.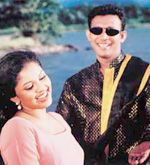 Saliya and Sumudhu are young lovers for whom it was love at first sight. This boy and the girl combine earns a pittance by singing in a hotel, but finds they cannot settle down due to shortages both in funds and comforts. Meanwhile three businessmen Jerome (Sanath Gunathilake), Indrasena (Robin Fernando) and Jayathunge (Wilson Gunaratne), packed their wives on a pilgrimage and plan a trip out of Colombo. The trip is organised by Saliya and Mahendra to Hikkaduwa eager to make a quick buck out of these three men seeking fun. The fun filled trip turned to a battle for love, when the three attempt to win the heart of Sumudhu the girl friend of Saliya. They keep it as a secret from each other. Who will be the winner? The film will have many rib tickling scenes before its happy end.
Shooting on location in Marawila at the Club Palm Bay hotel and Ranmali Beach Hotel in addition to other surrounding areas comes under the direction of that popular comedy filmmaker Roy de Silva.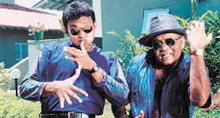 Pem Kekula breaks new ground by getting a few acclaimed character actors to do the roles hitherto done by accepted comedians.
The film stars popular actors and actresses like Sanath Gunathilake, W. Jayasiri, Robin Fernando, Sweneetha Weerasinghe, Angela Seneviratne, Dilhani Ekanayake, Sanoja Bibile and introduces to the silver screen the upcoming who has made a name on the small screen acting in "Damini" and Wilson Gunaratne who is doing the popular character of 'Kodithuwakku' in "Nonawaruni Mahathwaruni". In addition there is Wilson Karu, Ronnie Leitch, Upali Keerthisena, Mangala Premaratne and Kumari Dissanayake.

---
'Sisila Ima': tale of two doctors
Teledrama 'Sisila Ima' to be screened soon deals with the life and times of a village lady doctor.

The leading role is dome by Malani Fonseka, a veteran in the cinema industry.

Directed by young Thusitha Jayawardena who grabbed the awarded for the best upcoming director at the Sumathi Tele-film ceremony for his directorial venture "Dawala Kethu".

The backdrop for the story is the life in the coastal village of Weligama in Matara of an unmarried middle aged Ayruvedic doctor, Elizabeth and a young doctor played by talented Palitha Perera who comes to work in the village hospital.

Dr. Sidath Weligankoratuwe on his first appointment to the village hospital at Weligama takes up residence at 'Elizabeth's house. She dabbles in black magic and practises ayurvedic medicine and is much respected by all the villagers.

Though in her middle age now, the traces of her former beauty seem to have not left her.

The arrival of the young doctor makes Elizabeth to begin dreaming of her past and kindles hopes of reliving it.

Taking advantage of her weakness this young doctor manages to extract all she knows about the ancient practices. Attracted to Dr. Sidath, Elizabeth shares her knowledge she had taken much trouble to protect all her life.

Dr. Nirmala who is engaged to Sidath breaks Elizabeth's world in two leaving her with only sweet memories of the past.

In this situation what could Elizabeth do ?

The cast includes Hemasiri Liyanage, Mahendra Perera, Chamila Ratnayake, Chitra Wagista, Melani Ashoka, Tissa Udangamuwa and Milton Perera.

---
'Largely Latin Show'
'Largely Latin' concert will come alive at the western garden of the BMICH on December 1.

Billed to perform are several Sri Lankan born musicians who have risen to international repute, two foreign stars, and a bevy of accomplished local performers, carefully selected for their musical style and technical virtuosity, the organizer said.

The international contingent to 'Largely Latin' comprises Sri Lanka's Dylan Lye, Hussain Jiffry, Dulip Wijesinghe and Sunil de Silva.

The international contingent will also include vocalist Carrie Gibson and keyboardist Stan Ganapolsky. Both are from Canada and have performed with Buddy Miles among other world renowned musicians.

The local contingent, which will perform guest spots during the four-hour extravaganza comprises Alston Joachim (bass); Harsha Markalanda (keyboards); Ravibandu Vidyapathi (percussion); Revel Crake (guitar); Shiraz Noor Amith (drums); and the Caribbean expatriate vocalist Suzanne Wallace.

Hussain Jiffry - (Bass/Vocals/Arranger/Composer) born and raised in Colombo, Hussain has become one of the most sought after bassists in Los Angeles.

In 1982 while performing with a local band in Sri Lanka, Hussain was offered to tour Europe with R & B Band, and eventually spent six years on the European club circuit. In 1988 he moved over to Los Angeles to study music at the Musicians Institute in Hollywood, California. He graduated from MI in March 1989 receiving the school's highest award, the Vocational Honors Diploma.

Hussain is a Faculty Member of the Los Angeles Music Academy and has written the Latin Styles curriculum.

During the past ten years Hussain has gradually grown busier and more in demand as his reputation has spread as a player, writer and producer. He regularly tours with Sergio Mendez and has also toured and recorded with Whitney Houston, Dione Warwick, Michael Bolton, Freddie Ravel, Stephanie Powers, Pocket Change, Tom Scott, Robert Kyle, Chaka Khan, Carol King, Gloria Gainer and Tito Puente.

Sunil De Silva (Percussionist)- Born in Sri Lanka, Sunil de Silva got his first major break when he was invited to perform with the famous SAVAGES, which toured Vietnam.

Sunil who now lives in Australia has played on over 280 CDs and Albums, including the latest of INXS and MIDNIGHT OIL and has won all Major Music Instrumental Awards in Australia, including: Best Studio Player, Best Jazz Percussionist and Best Latin Percussionist. He currently performs with Doug Williams' new band, LR MIX and as well as the COOGEE BROTHERS.

Sunil has also performed with Renee Geyer, Marcia Hines, James Morison, Tommy Emmanuel, Jenny Morris and Wendy Mathews and has toured with Prince, Paul McCartney, INXS, Midnight Oil, Germaine Jackson, Peter Allen, Tears For Fears, John Denver and Bob Marley.

Dylan Lye (Guitarist/Vocals/Band Leader Guitarist/vocalist) - Dylan Lye, moved over to Hongkong with the Jetliners in the early eighties to perform at the Regent Hotel.

Dylan has performed at many leading venues in Hongkong, Macau, China and Singapore with reputed international musicians and has even headed Quintels comprising international musicians touring Colombo on a couple of occasions.

Dulip Wijesinghe (Bubu) (Drums/Percussion/Vocals) - born in Sri Lanka, Bubu has performed extensively in Hongkong with the Jetliners. He has backed many local and international artistes including Glen Frey (Little River Band). Simon Gallagher and Georgie Fame.

Bubu works in the Macau and Hongkong circuit, making an impression at the Jazz Club, JJ's (Grand Hyatt) and BB's. He has also performed with the Anthony Fernandez Big Band, SNJO Japanese Big Band, the Venezulan Salsa Band and the Hongkong Academy of Performing Arts' 56-piece Orchestra and regularly teams up with the Dylan Lye Quintet.

---
'Traks with Sylvi'
A husband and wife duo, Ravi and Sylvia, popular musicians from the 70's era returned to the island from Australia, forming a duo named "TRAKS with SYLVI" with a wide range of' songs with a difference.

Catering to all types of audiences, Sylvia and Ravi have been performing with several leading bands and have toured many countries.

After a break, they are back again in the music scene. Ravi who is a veteran drummer has been playing for many popular bands in Sri Lanka and now handles keyboards and vocals with his wife Sylvi whose voice had an endearing attraction to audiences both in Sri Lanka and abroad.

Sylvia has sung with several bands, which were very popular in the 70's namely Manhattans, Sound Waves, Tony Felice Combo, Fireflies and Super Bohemians.

They still say, they love to sing the songs of the 70's.

---
Annesley & Indrani join the Gypsies
Two years ago when Annesley Malawana and Indrani Perera staged their first concert at the BMICH they were overw- helmed by the capacity packed audience in the hall that day and the resounding ovation they received. So by popular demand the duo have decided to stage their second concert in this series which will be held on December 2 at 7.00 pm at BMICH.

But this time with another super outfit. The duo joins with Gypsies to give more to their fans this year.

Popular in Sri Lanka as well as abroad, Annesley and Indrani will sing almost all their major hits and some brand new songs. Their major hits have always had special appreciation from music lovers both young and old.

The duo will also be releasing a cassette and a CD titled "Annesley & Indrani in Concert" on this day. The C.D. which will be available at a special price on this date is produced by Sarath Kotalawela for Torana label.

As usual there will be guest artistes who will bring added attraction to the show. They will include Sohan Weerasinghe, Errol Fernando of Los Cabelleros fame, Ronnie Leitch & Corrine. There will also be some superb dance items by Channa Wijewardena's troupe. The modern stage sets and lighting will be done by Nimal Bulathsinhala and the compere for the show will be the evergreen Vijaya Corea.

All proceeds of the show will be donated to 'Gothami Lama Niwasa - Panadura' where children whose parents were killed in the North/East war are housed and looked after.