---
Makeover magic
We are always quite cautious about change, but never so much as when it comes to the way we look. Changing that old boring haircut you've been having forever takes more than a little self psych-up, and a somewhat thick skin in order to survive neighbourhood opinion. Never mind that your old hairstyle doesn't even suit you; you've always had it and can't see yourself in any other.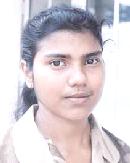 Before
But would you say no if you get the chance to get a free new hair look from one of the leading salons in the country, even if it means that your waist length hair will be chopped off mercilessly? Obviously not. This is the time when you swallow your anxiety with one determined gulp and think "adventure!"
28-year old Nisanka Sudhara, the one who made it this week in the "Mirror mirror on the wall" competition, also found herself in a 'Will I, Won't I' situation when the beautitians at Salon Nayana suggested that she cut her hair short. And short hair for Nisanka meant a huge changeover, for her hair came upto about two inches above her waist. As any one of us would have reacted at what seems to be such an outrageous suggestion, at first Nisanka simply said 'no' .
But Kanchana at Salon Nayana, explained to Nisanka that a short haircut suited her face best.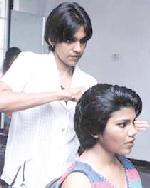 Nisanka has full cheeks and a very narrow forehead, therefore long hair and hair that falls midway down her face, gathering about her cheeks, only made her face look too full.
"You need to balance it with a suitable haircut, and the best thing is to have short hair, so that you get an even look,' explained Kanchana. "We can keep the length and straighten your hair but it will not suit your face," she added.
The perfectly logical explanation was enough to convince Nisanka. She said a resolute 'okay' and soon her makeover got underway in Kanchana's sure hands.
Nisanka's hair, which was not very healthy, was first shampooed and conditioned. Then Kanchana swiftly snipped off the cherished locks amid occasional winces from Nisanka. But Nisanka's misgivings did not last long, because as her hair got shorter her face began to lighten-up.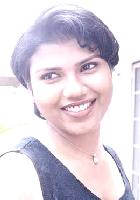 After
Before the final touch-ups were done to Nisanka's hair, which would bring out the real difference, Nisanka's face was attended to. Her eyes were too deep-set, so her eyebrows needed to be thinned by threading, which made her eyes look clearer. Her upper lip was also threaded.
Although her features were not sharp, Nisanka's skin which was in excellent condition was a plus point. Skin colour foundation was applied on her face, and a reddish brown lipstick on her lips.
Then Kanchana returned to Nisanka's hair. Having slapped in some mousse which helps in styling hair, Nisanka's hair was blowdried.
Nisanka watched with crossed fingers as her hair, now drying up, took a shape she had never expected. And it was evident that she liked it very much.
No other makeover winner would have been so thrilled as Nisanka was, for the totally new haircut changed her entire appearance. I'm sure she congratulated herself for being bold enough to have a go at it, and what's more, she has the perfect right to do so.
U. G.