Visakhian 'Fusion'
By Kesara Ratnatunga
It was a typical pre-performance scenario. People on stage running through their lines to no one in particular, the director sitting a couple of rows from the front patiently observing and making adjustments. The different casts waiting for their turn on stage idling in little pockets, engaged in conversations of their own while the organisers rushed around busily doing things that needed to be done. It was the rehearsal for 'Fusion', a theatrical extravaganza organised by the Interactors of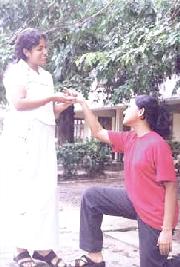 Visakha Vidyalaya.

The Interact club of Visakha Vidyalaya organises similar events every year to raise funds for their school and community service projects. An upsurge of interest in drama prompted them to use theatre as this year's theme. Roping in the support of the Interactors of Bishop's College, St. Bridget's Convent and St. Peter's College, the Visakhians have planned out five one-act plays.

"The plays are mostly comedies," says project chairperson, Shashika Withana, who with the help of eight other members of the Interact club comprising the project committee, is coordinating this event.

"Comedy is something that everybody enjoys," says Indu Dharmasena - no stranger to the world of theatre - who is helping out with direction. She is also staging one of her own plays, which will consist of a combined cast from all the schools. With her expertise in the middle of things, the audience is guaranteed to be kept clutching their sides.

Bishop's College presents 'Visitor from forest hills'. Act 3 of the internationally acclaimed play 'Plaza Suite' by Neil Simon. centred around a wedding reception where the bride Mimsey Hubley played by Anjuli Guneratne, suddenly decides to lock herself up in the bathroom. In sheer desperation, her hyperactive Jewish mother Norma Hubley (Shashikala Jaya-singhe) and father Roy Hubley ( Ruwanthi Herath Guneratne) exhaust all means trying to coax her out. The cast also includes Kaushalya Fonseka who plays the role of Borden Eisler.

Visakha Vidyalaya goes on stage with 'Husbands Supplied', a play about an organisation that supplies women with husbands. Mrs. May played by Meneka Gunewardana, who is a supposed expert on men, runs the bureau ably assisted by her secretary Miss Jones who hasn't a clue about men, played by Thanuri Ellawala. One day five female customers turn up, as usual looking for husbands, but things start to happen when a man enters the scene. The cast also includes Dinusha Chandra-thilake, Vimali Manannwatte, Sashikala Wijesiriwardana, Shehara Perera, Swanthi Peris and Dinithi Gonzalkorala as the man.

'Suppressed Desires' is a combined production and a play about psychoanalysis. The characters Henrietta (Chamindri Wijethilake), Stephen (Mario de Soyza) and Mabel (Charini Perera) are thrown together in an interesting interaction with a flavour of humour.

St. Bridget's and St. Peter's will also join in the action with two more plays.

The organising committee along with the rest of the Visakhian Interactors have spared no effort nor expense to make this event a success. "I have virtually nothing to do because the girls are doing all the work," says the the staff advisor of the Interact club, Ranmini Gunawardena.

'Fusion' is sponsored by Sevana Lotteries (National Lotteries Board), Hatton National Bank and Coca Cola. Media sponsorship is by The Sunday Times.A large percentage of the proceeds from this event will be donated to 'Ranaviru Sevana' while the remainder will be used for a school development project as well as for several community service projects that have been planned by the club.

'Fusion' goes on the boards at the Lionel Wendt Theatre on September 8 and 9 from 7 p.m. each day. Tickets priced from Rs. 100 to 300 will be available from August 29, at the theatre.

'Fusion' is not only a fund-raiser but aims to bring young people together for a common cause, which is one of the principles of the Interact movement. "We hope to promote inter-school relations through 'fusion'," say the Visakhians. Judging by the smiles, energetic enthusiasm and camaraderie of all the participants, they seem to have effortlessly achieved this goal. " Interact is for young people so we're thinking of a young audience" says Indu about the whole show. "It's purely for entertainment." If that's any inkling about what to expect on show-night, I dare say it's going to be a cracking load of fun.

---
The Flying Gorillas
Based in London, The Fly- ing Gorillas are a company of six professional musicians and dancers presenting dynamic theatrical performances for audiences from 5 to 105 years old. The company was formed in 1997 following a research project for Middlesex University, led by directors Susana Garicia and Nigel Warrack, with the Guarani tribal communities in Misiones, Argentina. The outcome was Tango Argumentino, a performance inspired by children's games and dances, combined with comedy and live music.

Using their own language of rhythm, music and gibberish, The Flying Gorillas explore ideas of friendship, tolerance, argument and understanding. Featuring the exciting Tango, the brilliant Smelly Foot Dance and the incredibly difficult Iguana Four-Step, Tango Arugumentino has an all-acoustic score using saxophones, clarinets, steel pans, didgeridoo, musical saw, Chinese percussion, rhythm bananas and some spectacular belching.

The Flying Gorillas will perform in the British Council garden on Monday September 4, at 6.30 p.m. Admission is on a first-come first-served basis with priority given to children.

A workshop for children

The Flying Gorillas will conduct a workshop for children between the ages 7-11 in The British Council hall from 4.00 p.m. to 5.30 p.m. on Monday 4 September. A limited number of places are available. Registrations will be accepted on first-come first-served basis at the Arts Office of The British Council. It is essential that the workshop participants are present at the show and stay until the very end of the performance.

The first part of the workshop will consist of warm-ups using taped music from various different countries, games and exercises with an emphasis on co-operation. In the second part the children will learn their part of the show in which they form an army of flying gorillas and help to tame a two-headed monster using dance, song, comedy and organized shouting.

---
Adventures down south
Aditha Dissanayake on an arhaeological dig
Me being the unob trusive sort, quiet but game for anything, my friends at the archeology department of our University do not mind having me tag along with them on their excavations.They are at Kirinda, trying to reconstruct the life of the man on the street in the last millennium.
I watch with fascination the process of removing the two clay pots from where they have been imbedded for over a thousand years. Before removing them the Professor gives a lecture on their importance. His explanations are clear and precise. Yet my mind fails to grasp what he says. My eyes are on the red ball of fire just above his head. My cheeks feel the cool wind that comes swirling across the paddy fields. My ears are on the twittering of a magpie. By the time I bring my eyes and ears back to the Professor he has finished his explanation.
Later a request is made of the Professor on Saturday afternoon. "Could we take time off to wash clothes?" After noticing for the first time how dirty his flock had become, the Professor reluctantly agrees. While the clothes are drying on bushes and trees and on every other flat surface in the garden, everyone who has a "so and so" in Colombo to send "reports" to, goes in search of pay phone booths.
Only Mangala and I are left at home. We decide to see Cauda Bole Alice. We could make it for the six-thirty show.
It is six-forty-five when we reach the cinema hall. But even by seven there are only the two of us in the entire theater. "There has to be at least twenty in the audience for us to show the movie, the proprietor tells us apologetically. We spend ten more minutes waiting hopelessly for eighteen others to show up. When it becomes obvious that only the two of us are interested in seeing Alice on that Saturday night, we trudge back to our lodgings disappointed and disheartened.
When on Sunday we get the news that six more of his students will be joining us, Nilu who is a volunteer and I, decide to seek shelter elsewhere. But alas, there is no room at the inn for us. The receptionist at the Tissa Rest House stares at the two of us for awhile before deciding the hotel is fully booked. "It is because we look disheveled and came by bus that he refused." grumbles Nilu. I try to pacify her but lose heart when we see a couple who steps out of a brand new Toyota Corolla being given a room.
We are out of earshot of what they tell the receptionist. "They had probably made a reservation" is the only argument with which we can console our wounded pride.But a few minutes down the road we come across another "Rest", much more beautiful than the first and less expensive. We realize we are luckier than Joseph and Mary. Our barn turns out to be a palace.
Nilu and I are offered a package - bed, dinner and breakfast for such and such an amount. But here too we get treated differently from the foreigners and other Sri Lankans. It is obvious that our attire - cotton shirts, pants and slippers, evoke little respect from the room boys and the waiters, though the white skinned are dressed even shabbier than us. Nilu and I make it a point to jabber only in our mother tongue and instead of using fork and spoon to eat rice and dhal and papadum, we ask for finger bowls.
The face of the man who serves us is long enough to reach the floor. He does not know how ravenous we are after spending the day with the professor and his team tracking six abandoned ponds in and around Kirinda. In the morning when we decide to stroll towards the town to buy the paper the manager sends a room-boy after us to remind us that we must check out before twelve in the afternoon. It is obvious that the hotel staff is convinced we have never stayed in a hotel of their calibre in our whole lives. Nilu, who has travelled far and wide and had even seen the Ritz, (though she had never been inside) mutters "apartheid" under her breath. I drag her off before she could snap at the boy. He was only obeying an order. Come Monday it was time for Nilu and I to head back home.
We arrive at Kataragama at six in the evening and decide to attend the pooja. Finding a tray of fruits is no problem. They are there for sale, ready made. The bus begins its race towards Colombo at midnight. I feel I know what Michael Schumacher must go through when he does the Grand Prix.
My mind is too agitated for me to think of sleep. The coconut I had offered to the deities had rolled aside unbroken. What does this signify? "It signifies that you had not thrown the nut hard enough for it to get smashed," says Nilu. I try to believe her, for I had made only one wish before dashing the coconut on to the cement - I had asked the deities to make me do something useful to the world through my writing.I hope it was the lack of force in my arms that made the coconut role away in one piece! But my heart still skips a beat whenever I think of that unbroken coconut.