---
Time slots for sale as polls draw nigh
By Shelani de Silva
With the State Rupavahini forced to abide by election laws to give equal time for political parties contesting the forthcoming polls, private TV channels are grabbing the opportunity by offering paid time slots for candidates.
Elections Commissioner Dayananda Dissanayake held discussions with SLRC officials on Thursday to discuss the schedule formulated by Rupavahini. With 42 political parties contesting the polls SLRC is to work out a method to give equal time slots to all parties.
SLRC Chairman D E W Gunasekera told The Sunday Times that the Commissioner is likely to draw lots among the parties after nominations close.
"We presented our scheduled program to give equal time for political speeches which was to begin on Tuesday, but the Commissioner requested us to start from September 10," he said.
He added that SLRC's news coverage was not bound by the election law and the Commissioner would not monitor the coverage.
The Sunday Times learns that the Elections Commissioner is to call a meeting with heads of both State and private TV channels to discuss the time allocation.
Meanwhile Independent Television Network (ITN) has introduced for the first time a program titled 'Profile of a candidate ' which will be telecast four days a week from September 12.
The program which will be for ten minutes will allocate two minutes to each candidate.
Chairman of ITN Newton Guneratne told The Sunday Times that the program will be telecast after the news bulletin.
"It will cost Rs. 20,000 for two minutes during which time the candidate can address the people. This is a very reasonable fee considering the normal rates, where it costs Rs. 14,000 for 30 seconds. We will also accept ten second photo slots, which would cost from Rs. 6,000 to Rs. 8,000 rupees. We have already got applications for these' he said.
There will also be a special program where representatives from the PA, UNP and the JVP will answer questions from a panel of professionals.
Meanwhile MTV and Sirasa have decided to go for slots, which will be, listed as paid advertisements.
News Director of Sirasa TV, Nimal Lakshapathy told The Sunday Times that on principle they will not have any political programs.
"We will follow the normal practice of accepting advertisements. The cost is close to Rs. 40,000 for 30 seconds' he said.
He added that a request would be made to the Elections Commissioner to make provisions to release the election results to all media simultaneously so that they do not have to use unofficial results.
Swarnavahini Programme Director Rosmund Senaratne said they were planning to hold a meeting with party representatives to work out a plan.
"Airtime would have to be paid for, but we want to work out a systematic plan," he said.

---
ANCL, SriLankan petitions to be taken up
A number of petitions filed by employees of the Associated Newspapers of Ceylon Limited (ANCL) and SriLankan Airlines Limited have been fixed for argument this Wednesday before a Divisional Bench of the Supreme Court.
The Bench, presided over by S.N. Silva C.J., will consider whether actions by ANCL and SriLankan Airlines constitute executive and administrative action in response to a preliminary objection raised by the management of the two institutions that they are companies whose actions are not subject to judicial review under the Constitution of Sri Lanka.
The Divisonal Bench has been constituted in view of previous decisions of the Supreme Court which have held that both institutions are accountable for violations of fundamental rights of their employees.
The petitions against ANCL have been filed by employees who allege that their notices of retirement by the newspaper company has been both sudden and discriminatory amounting to a violation of their constitutional right to equality and the right of engaging in their lawful occupation, trade or business. The employees have further urged that this action taken against them is a strategy adopted by the Board of Directors of ANCL to get rid of long standing employees of ANCL in order to retain a coterie which consists of supporters of the People's Alliance Government.The management has responded that the orders of retirement complained against have been made as a matter of policy and commercial consideration by the management of ANCL.

---
Mission to save the lagoon
The Negombo lagoon, famous for its prawns and crabs, is dying slowly due to pollution by various killers including polythene.
To save and renew the lagoon the fisher folk of Negombo will launch a shramadana clean-up campaign today assisted by youths and social groups.
The volunteers including Catholic priests will venture out in more than 50 boats fishing for the polluting polythene and other offensive substances.
Plans by a gem trade company to build a hotel on one of the two islands on the lagoon were dropped following protests by civic action groups, which expressed fears that the lagoon would be further polluted.

---
Fowzie challenges Ashraff again
By Nilika de Silva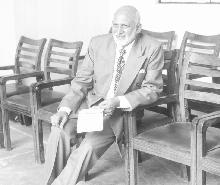 Minister A. H. M. Fowzie — blasted by President Kumaratunga in the row over the Ashraff affair — was characteristically smiling through the crisis as he waited in vain for ministerial colleagues to turn up at the Colombo District Secretariat to hand over nominations on Friday. With only the party symbol of a chair for company, Mr. Fowzie waited till noon and went away. Ten minutes later, Ministers Kingsley Wickramaratne and Indika Gunewardena turned up with the PA lists for Colombo district.
Minister A.H.M. Fowzie already in the thick of controversy has reiterated his challenge to SLMC leader M. H. M. Ashraff to go on his own, under the SLMC symbol and win more than five seats.
"If he can contest 10 districts on his own why can't he contest the balance. We all know that he has no say in these areas and he can't even go there without Government security. That is why he is backing out," he said despite being blasted by President Kumaratunga for behavior that was damaging the People's Alliance. Brushing aside the presidential reprimand and flinging another challenge in the direction of Mr. Ashraff, Mr. Fowzie said, "I challenge him to contest with me, one to one. We will both resign from our places and see the outcome."
Dismissing Minister Ashraff's request that he be not appointed to the National List, Minister Fowzie stressed that he had not desired such a thing. "Maybe when I am 80 years old, I will come on the National List, but right now I am young and able to contest and win," he said.
On Friday the two rivals met face to face for the first time after the showdown at the Libyan Embassy. "When I saw Mr. Ashraff, I embraced him and told him 'you and I are brothers, but politically I will always oppose you' " Mr. Fowzie told the Sunday Times.
---
Come Oct. 10, will he wear the crown or not?
A man whose ancestors are claimed to have rubbed shoulders with kings of Sri Lanka and the political party he founded continued to make headlines for a second week.
But, what portended to be a political storm for the ruling People's Alliance Government has, as many confidently predicted, ended as a storm in a tea cup.
Muhammed Hussein Muhammed Ashraff, the SLMC leader, who wrote more than sixty pages in letters to President Chandrika Bandaranaike Kumaratunga in the past week, including the resignation of his Cabinet portfolio and the withdrawal of his party from the People's Alliance, will not go after all.
That is not withstanding what the SLMC told the whole world, through its website, that leader Ashraff has urgently arranged a pilgrimage to Mecca and quoted political analysts as saying the journey was "aimed at getting away from the government circles who would try to influence him."
This week he was back from Mecca and was also back with the People's Alliance. That for the moment allows both Mr. Ashraff and the SLMC to continue their tryst with the PA Government.
Who is Mr. Ashraff and what is the Sri Lanka Muslim Congress ? Titled "Family Background of the Leader", this is what the SLMC's own website has to say about Mr. Ashraff.
"Muhammed Hussain Muhammed Ashraff, was born on 23rd October, 1948, into a well respected family with a long and illustrious history in Sammanthurai, a village in Sri Lanka's Eastern province, as the second child of three girls and one boy. Being the only male child in the family, he was precious to his parents, the sisters and to all dear and near.
"His ancestral family – The Kariyappars by name – is believed to have had connections with the kings of Sri Lanka and have had considerable influence over the political affairs of the day. Members of this ancient family have held the leadership of several of the Muslim villages in the Eastern Province.
"Following the same tradition, Mr. Muhammed Hussain, the proud father of the leader was also a Village Headman, more suitingly the local community leader, better known as Hussain Vidhanaiyar.
His name and memories are well embedded in the minds of the elders of the area, and well spoken of even to this day.
He was a staunch believer in education and promoted it to the best of his ability. "The academic achievements of the leader are nothing but the result of the dreams of that forerunner."
If the official account is correct, there is more than justification for Mr. Ashraff being called King maker. It has apparently been a trait in the family tradition of brushing shoulders with kings of yore. Today, it is the high and mighty in the country's political firmament.
Now for the SLMC. It was recognised by the Commissioner of Elections as a political party in 1988. This was three years after Mr. Ashraff, who was living in the predominantly Muslim town of Kalmunai, suddenly left to Colombo. The move surprised many of his supporters in the area.
When a journalist questioned him regarding his move to Colombo, Mr Ashraff in his characteristic style likened it to the Hijrah of Prophet Mohamed. The Prophet migrated from Mecca to Medina to escape harassment of the leading tribe in Mecca. When the journalist pointed out that in the case of the Prophet, he sent his followers first and then followed them to Medina whilst Mr. Ashraff left Kalmunai without informing his supporters, he did not respond.
The SLMC has had alliances with practically all major political parties since its emergence 12 years ago. In 1977, Mr Ashraff and the SLMC campaigned for the Tamil United Liberation Front (TULF), who campaigned for a Tamil Eelam. There were occasions when he vowed that even if the late TULF leader, Appapillai Amirthalingam, could not achieve Tamil Eelam, he would do so.
During the 1988 Presidential elections, Mr. Ashraff and the SLMC supported United National Party's Ranasinghe Premadasa to Presidency. Those were times when the name Bandaranaike was not likeable to he and his party.
On one occasion when Mrs. Sirimavo Bandaran-aike, flew to Kattankudy in the company of late Badi-ud-din Mahmud and now Minister, Alavi Mowlana, there was a stone throwing incident reportedly involving SLMC hooligans.
Mr. Ashraff himself raised a religious cry claiming that he had asked for a ruling from The Jamiathul Ulema whether he could support a woman to become the leader of the country.
The SLMC has benefited from various forms of fund raising.
At one time, in 1994, it was involved in an unusual alliance with the Liberal Party, which received funding from the German based Friedrich Ebert Stiftung. This led to another peculiar arrangement, the appearance of Liberal Party member, Asitha Perera, in the national list of the SLMC.
There was also the case of a businessman who had 40 cases of default against him. He found his way into the SLMC national list amidst allegations that he paid ten million rupees – a charge which the SLMC members privately denied.
One Tamil newspaper quoted Mr. Ashraff's response when queried about this businessman's appointment "He is a businessman – We did a little business with him." However, he did not say what the business involved.
With no religious bias or malice, one could say Mr Ashraff has three hats – one to cover his head, one that he tosses in the political ring and the one he talks through. With campaign contributions from the rich and votes from the poor, he has played Kingmaker. Whether he will continue to wear the crown, only the October 10 elections will show.

---
General Elections 2000
MPs who took cars home
By M.Ismeth
One hundred and seventy eight former MPs including Cabinet Ministers have made use of the duty free facility to purchase vehicles under a government decision to allow import of vehicles on concessionary terms.
A number of Ministers, key opposition ex-MPs and an MP who served for a period of one week are among those who have obtained the facility. On Thursday the Department of Fiscal Policy and Economic Affairs of the Treasury submitted to the Director General of Customs the list of the 178 MPs who have obtained permits for duty free vehicles.
When The Sunday Times contacted the Director of the Department of Fiscal Policy and Economic Affairs P.G.P.Abeyratne she said she would not comment on the duty free vehicle affair.
Some of those who declined the offer are Leader of the UNP Ranil Wickremesinghe, Anura Bandaranaike, Ravi Karunanayake, Mangala Samaraweera, G.L.Peiris, M.H.M.Ashraff, D.M.Jayaratne and a few others of the 225 MPs in the last Parliament.
Those who availed of the opportunity are as follows:
PA: Prime Minister Ratnasiri Wickramanayake
Speaker K.B. Ratnayake, Ministers Ronnie de Mel, S.B. Dissanayake, Mahinda Wijesekera, Sarath Amunugama, Lakshman Kadirgamar, A.H.M. Fowzie, Anuruddha Ratwatte, Richard Pathirana, Mahinda Rajapakse, Reggie Ranatunga, Lakshman Jayakody, Sumedha Jayasena, Alavi Moulana, D.P.Wickremesinghe, Nanda Mathew, S.A.R. Thondaman, Jeyaraj Fernandopulle, Mrs. Hema Ratnayake
Deputy Ministers Wilson Kuruppuarachchi, Lionel Gunawardena, Prof.Wishva Warnapala, Salinda Dissanayake, Milroy Fernando, Dr. Jagath Balasuriya, Tissa Karaliyadda, Jayatissa Ranaweera, Jagath Pushpakumara, Anura Priyadarshana Yapa, Noel Padmasiri Kariyawasam, Prof.A.V.Suraweera, P.B.G.Kalugalla, Ediriweera Premaratne, Mrs Nirumpama Rajapakse, Jeevan Kumaratunga, Reginald Cooray, Chandrasiri Gajadheera , Athula Nimalasiri Jayasinghe , H.M.Weerasinghe, P. Sumathipala, Felix Perera
Messrs. Harendra Corera, Susil Moonesinghe, Mrs. Srimani Athulathmudali, C. Katriarachchi (MP for one week), A.Senalankadhikari, D.M. Dassanayake, E.A.Samarasinghe, Jinadasa Nandasena, Ediriweera Weerawardena, Neil Rupasinghe,
Wijitha Wijemuni Zoysa, C.B. Ratnayake, Nandasena Herath,
T.B.Mahalekam, Upali Gunaratne, Pandu Bandaranaike, Ariyaratne Walpitagama, K.P Silva, Nanda Gunasinghe, D.M. Seneviratne, Loku Banda Jayasundera, Bandula Yalegama, M. Herath, H.R. Mitrapala, S.D.R. Jayaratne, P.B. Dissanayake, Kumar Welgama, Heenmathaya Liyanage, Janak Mahendra Adhikari, Kesaralal Gunasekera, A.D. Gamini Tilakasiri (MP for two weeks), A.P. Ratnayake, S. Ganeshamurthy (MP for a week)
M.N.A. Majeed, T.B. Ekanayake, Bharatha Lakshman Premachandra, M. Amaraveera, I.M.G. Piyasena, A.M.M. Premachandra, D.S.R.S. Premaratne.
UNP: Messrs: Gamini Atukorale, Sunil Ranaweera, H.R.Wimalasiri, A.M.S. Adhikari, Lakshman Seneviratane, D.H.N.Jayamaha, Mahinda Samarasinghe, D.M. Ariyadasa, Upatissa de Silva, Ananda Kularatne, W.J.M.Lokubandara, Upali Amarasiri, Festus Perera, Harold Herath, P.Harrison, A.R.M.A.Cader, U.L.M.Farook, Sarathchandra Rajakaruna, John Amaratunga, Sarath Ranawake, A.H.M.Alawi, D.M.Bandaranaike, Mrs.R.Pulendran, Gamini Rajapakse, Rupa Karunatilleke, Lucky Jayawardena, Piyasoma Upali, Ravindra Samaraweera, Dinesh Dodangoda, Dr. Karunasena Kodituwakku, Rohan Abeygunasekara, S.A.Z.Moulana, Gamini Lokuge, Kabir Hashim, A.H.M.Azwer, Sarath Kongahage, P.Dayaratne, V.G.Jinadasa, R.M.R.C.Bandara, G.S.Goonewardena, V.Puthirasigamoney, Pradeep Hapangama, Susantha.G.Punchinilame, M.H.Mohamed, Wijayapala Mendis, H.G.P.Nelson, J.C.Alawathuwawela, Rukman Senanayake, Ariya Rekawa, Lakshman Yapa Abeywardena, Gemunu Abeysundera, Alick Aluvihare, Cegu Izzadeen, Earl Gunasekera, Mrs. Renuka Herath, Dixon J.Perera, Y.Bakmewewa, Imithiaz Bakeer Markar, R.M.R.M.Bandara, R.M.Ratnayake, H.M.A.Loku Banda, Mano Wijayaratne, R.A.D.Sirisena, Dr.Rajitha Senaratne
A.A. Reginald Perera, Chandradasa Galappathy, Amara Piyaseeli Ratnayake, Tissa Attanayake, Tyronne Fernando.
CWC: P.P.Devaraj, R.Yogarajan, A.M.D.Rajan, S.Rajaratnam, S.Sathasivam, Muthu Sivalingam, V.Sennan
EPDP: K.Vigneswaran, S.Sivathasan, T.Baskaran, P. Gunasekeram
PLOTE: V.Balachandran, D.Sidharthan
TELO: A.Adaikalanathan
TULF: R.Sampanthan, Joseph Pararajasingham, S.Senathiraja, K.Thuraisingam, P.Selvarasa
SLMC: I.M.Illiyas, M.M.Zuhair, M.L.A.M.Hizbullah, S.S.M.Abu Bakr, A.L.M.Athaullah, U.L.M.Mohideen
Other: Vasudeva Nanayakkara

---
PA does not need our support, says Srimani
By Tania Fernando
Srimani Athulathmudali of the United Lalith Front (ULF) has said she withdrew from an electoral deal with the PA, as she felt President Kumaratunga had failed to honour the agreement they signed.
"We felt the PA does not need our support," Mrs. Athulathmudali said.
She said that when her candidates were sent for the signing of the nomination papers, they were kept waiting for more than one hour and later turned down, which was not in accordance with the agreement signed with the President.
Mrs. Athulathmudali had signed an agreement with the PA on August 28.
Mrs. Athulathmudali said after the initial meeting she had with President and other party leaders on the 20th, they had another meeting of party leaders on the 28th, of which she was not informed of, hence her decision to withdraw.
"This decision was taken not in order to jump parties, and neither did I call Mr. Ranil Wickremesinghe or any representative of Puravesi Peramuna", she said.
Meanwhile, senior UNP sources said that Mrs. Athulathmudali had called Mr. Wickremesinghe requesting to be nominated from the National List, which she denied. The Vice President of the ULF Lal Gunasekera is allegedly seeking nomination on the PA National List.
"He is working under his own steam, but he has not informed me of any decision", she said. She said that if he wants to go ahead he should resign from his post in the ULF.

---
UNP to start off in the hills
With the UNP's ceremonial launching of its manifesto for the general elections, the party will hold its inaugural meeting in Kandy on Wednesday in keeping with its customary campaigning procedure.
UNP General Secretary Gamini Atukorale said that religious observances would be held at the Dalada Maligawa to bless the party leaders.
The UNP leaders are also tipped to pay a courtesy call on the Mahanayakes of the Asgiriya and Malwatta chapters. Meanwhile, the UNP electoral organizers have been instructed to hold 30 pocket meetings during the run up to the polls and to visit all houses in each of their electorates.