---
A bridegroom's wish
By Ayesha R. Rafiq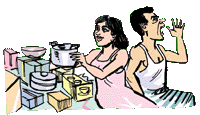 Ah, June. The month of weddings. The time when brides are going ballistic over last minute preparations and bridegrooms are biting their nails. This is the time to have your gift list ready for the hundreds who will be asking you what you want. Priorities on a brides list would of course be household stuff like toasters and rice cookers and anything else that's designed to make her life easier.

But nobody ever asks the bridegroom what he wants, do they? While his newly wedded wife squeals in pleasure over the adorable kitchen jars or matching oven gloves and apron sets, or wrinkles her nose over an ice-cream maker, the husband watches on bored. After all, why would the tenth tea-set interest him?

So, if you know a guy who's getting married in the near future, get some of your gift ideas from here. And trust me, this is authentic.

For Yusuf Rahim a 19-year-old for whom he says marriage is far down the road, his ideal gift would be anything and everything to do with computers. "Actually I'd prefer it if people gave me cash so I could go out and buy any computer stuff I want, because they may not know what I want", he says. The only problem he says, is that it's awkward to ask people for money when they ask you what you want.

But Harsha Pamunuwa has a solution to this. Everybody who knows him knows that he's into CD's and books. So anytime they ask him what he wants, he says 'gift vouchers' without batting an eyelid. 'That way people can decide on how much they want to give, and I can choose what I want, and everybody's happy' he says, ever helpfully.

Jehan Bastiansz is getting married this month. But it doesn't look like marriage is going to mellow him. An avid car racing fan whose hobby was promptly curbed by his wife to be, he refuses to give up. At 26 years what does this husband to be want as wedding gifts? 'Model cars' he pipes up enthusiastically. He's even willing to tell people where they can go buy the type of cars he wants. "I've already got a remote control car and two model cars from my friends. My favourite so far is a Ferrari model car which was turned into a phone. It's so cool, I just love it," he gushes. And if anybody reading this knows him, please take note, he says.

"My wedding is driving me broke," a 24-year-old who didn't wish to be identified wailed to me. I have had to give gifts to the bridesmaids and my bride to be, in addition to bearing a huge part of the expenses. I wanted to give my wife a really nice honeymoon, but I don't know what I can do with the little money I have. So I hope people will give me some cash gifts so that I can give her a trip to remember" he sighs. Now that's a good reason if I ever heard one. Guys like this definitely deserve what they want, don't they? Not surprisingly, several of the guys said the best gifts they could think of were cash gifts, so maybe all of you reading this should take a hint from this, huh?

Vasana de Alwis' dream wedding gift would be a sophisticated tool kit. He loves turning out things such as cupboards and stools and book racks, and he says a good tool kit would help a lot. Right now he makes do with the old tools he has, "but a nice kit with brand new electrical instruments would really be my dream wedding gift, and I could even turn out some really nice furniture for my wife."

Now, while all of these are relatively simple gifts to give, 21-year-old Hemaka Damminda may not be so easy to please when his turn to get married comes around. Why, because his idea of an ideal wedding present would be exotic fish. His hobby is collecting fish and his house resembles something like a mini aquarium. "I hope when I get married, people gift me with rare fish that I don't already have. They're pretty expensive for me to buy often, but if at least a quarter of the people I invite for my wedding gift me with rare and exotic fish, then I'd be more than happy," he says.

Now keep in mind, this covers but a minute number of the diverse interests of guys, but next time you're invited for a wedding, give a thought to what the bridegroom might like, and you may want to do your little bit to make his day a happy one too.

---
New life
By Aditha Dissanayake
Renaissance!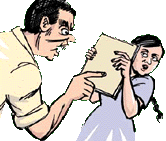 My university life began with that word. Clad in tight blue denim pants and a white Heathcliff like cotton shirt, the lecturer who wrote the word on the blackboard was a far cry to the sari-clad, bespectacled teachers I had known at school. "Can anyone tell me the meaning of the word?" She had asked, looking at us with her friendly sparkling eyes. "New birth". I muttered the words to myself but had not the courage to say them aloud. Dressed in an old cotton frock with the coconut oil from my hair tickling down my forehead (the dress code of a fresher four years ago) my confidence levels had reached way below zero for me to desire the attention of the beautiful figure in front of me. When no answers were forthcoming she had made the explanation herself.
"Renaissance means new birth. As an undergraduate here at Kelaniya you are beginning a new life. You have now got the chance to be yourself- do your own thing. There is no one to prod you in the back. You are on you own." These may not have been her exact words, but that is how I remember them and they were what kept me going through my four years as an undergraduate.
Ragging. Why talk about events one wishes to forget? Then again, how could one forget the kind seniors who had risked their own lives, so to say, in order to save the freshers, and the lies one had invented in order to draw the sympathy of the hard core raggers. The usual line of questions would be answered with an imagination Jonathan Swift of Gulliver's Travels would have admired.
After the "nama mokadda, gama koheda" (what is your name? where do you come from?) formalities were over then came the more intimate questions.
"What does your father do?" A senior would ask in a baritone loud enough to tame a snoring elephant. "He is a retired teacher" you would whimper, hovering behind the cardboard file.
"Speak up. What does your mother do?"
"She does not work."
"How many brothers and sisters?"
"Seven."
"Munichchi wechcha kenek innavada"? (Have you got a boyfriend?)
"Yes"
"What does he do?"
"Pariganaka (Computers)"
"How many dirty words do you know?"
silence.
"Have you gone deaf? Let us hear the dirty words you know"
"Umba, bung, bolung, thopi"
Only those? You don't deserve to come here. Now listen to these......... mmmm enough for today. "Place the file on you head, get in line, march to Siberia." What happens on the playground at the back of the convocation hall is best forgotten.
The books in the library enchant me. Running my fingers through them, taking them into my hands, reading bits and pieces from them, piling them up together for the final decision I forget the time pass. Often the last due date on a book would make me gape in surprise, for some of them had not been borrowed since the 1970s. A cold shiver would run through me as I cast an inward glance at myself. Could it be because I am a nut that I alone want to read a book no one else has read for over twenty years? Then I would begin to wonder who the other nut who borrowed the book on March 8 1979 might have been. I console myself thinking it might be my favourite poet Reggie Siriwardena though this is highly unlikely, or one of my own lecturers in their undergrad days.
The library is my retreat. It is my church, my school, my home. But often, mid-afternoon drowsiness drives me out into the open in search of a cup of tea.
There are three canteens. One is the 'gym'. One is called the 'staff canteen' though students frequent it more than the staff while the other is called the 'Hilton'. I have not been to the Hilton since two sympathetic seniors bought me lunch there, during the ragging season. In order to escape Siberia when two second years stopped me (not knowing whether they were raggers or anti-raggers), I concocted a story about not having had breakfast and of having travelled from Galle at four in the morning and of having only twenty rupees to see me through the day.
They bought me a cup of tea and a piece of cake for five rupees from the Hilton. Since their dress and behaviour revealed they could well afford to feed me, I was not particularly ashamed of my deceitful blabbering. On the contrary, I found myself wishing the cake had been softer and wondering if they would buy me a 'halape' too if I continued to look doleful.
I had not stepped inside the Hilton since then. The staff canteen was my domain because the tea tasted better and was served in bigger cups than at the 'gym' where it came in porcelain mugs slightly bigger than a thimble. But I enjoyed being at the 'gym' on my own with Marx, Lenin and Engles staring at me from the walls, among so many of my own age. Without joining them I enjoyed their company. And even though I was a loner, in that hot, semi dark atmosphere, under the yellow florescent lights, seated on a plastic chair and cradling the extra sweet cup of tea in my hands I felt a close kinship with scholars like Homer and Socrates. I felt I was one of their descendents.
At school I had obeyed my teachers the way a private in the army obeyed his commanding officers. I had been a dutiful student and had constricted myself to what was set out in the syllabus. Now as an undergraduate I found things were different. As I had learnt on my first day, I was free to do as I pleased. And all of a sudden all the vistas of knowledge were open to me. At the end of my first year I had to make a choice - I could specialize in English or do the general degree.
I chose the former. No one else in my batch did the same. Once again I became a loner. During those first days as "the English Special First Year", I wondered if I had stabbed myself with my own hands and was slowly bleeding to death. To be continued