Working beauties
By Ruhanie Perera and Laila Nasry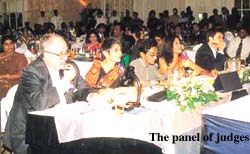 The sound systems exploded, the lights flashed and through a smoky haze they made their appearance. Out came the 'working girls', all dressed for success in their chic power suits and perfectly coiffured hair, strutting to the tune of 'nine to five'.

May 26 was definitely a red letter day for the 14 contestants vying for the Miss Working Girl crown. It was their toughest and most challenging assignment (sans a pesky boss), which called for them to 'perform' and 'prove' themselves. It was now or never.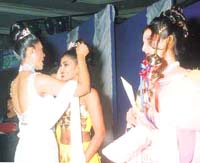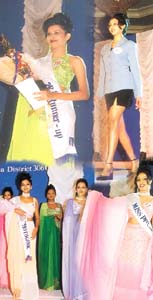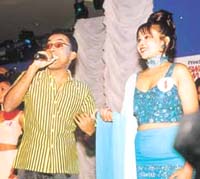 The first round entailed general introductions with each contestant giving her name, age, designation, place of work and hobbies. It was a diverse group of contestants with their professions ranging from the banking sector to the field of advertising, from being dancers to beauticians. Apart from their choice of profession, their diversity - starting from their choice of clothes right down to their personal interests - was apparent as the audience watched clips of the mini-pageants.
Miss Photogenic, the first of the mini-pageants saw the girls put their best 'face' forward. Next came the clips of Miss Talent. They seemed to have lots of fun, as they broke away from their 'working schedule' and let their hair down doing what they considered their forte. It was an event when the spirit of dancing and singing reigned supreme. The contestants who preferred to swim against the tide showed off their talents at original activities like card tricks, news reading, fabric painting and jewellery making. Finally came the clips of the mini-pageant where the most beautiful 'soul' was chosen - Miss Personality. With the conclusion of that presentation, all that was left was names of the winners to be announced.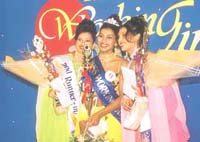 Once again the girls made their apearance. All probably wondering just which one of them would walk off with the first lot of sashes and bouquets for the evening. This time they were in their evening wear - variations of the sari, in every imaginable shade and style. It was obvious the creative genius of Michael Wijesuriya had been working overtime. Once the girls had taken their places and the suspense- heightening drum roll had been given the winners of the three mini-pageants were announced.
Petite Anjula Rajapakse walked away with Miss Photogenic. Uschi Perera 'danced' off with Miss Talent, along with songbird Kishali Waidyasekera and dancer Wasana Danthanarayan as first and second runners-up respectively. Kishali was called forward once more as Miss Personality, obviously she was everyone's favourite gal.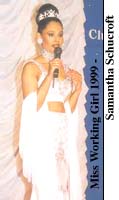 Question time was a moment for spontaneity. Some answers came fast, others came slow but steady and some touched on serious issues. The funniest response came from contestant number five - Julianne. When asked what she would do if if she was trapped in a highrise building which was on fire, her answer was that she'd pray for a handsome fireman to come and rescue her. An answer that got lots of laughs from the audience.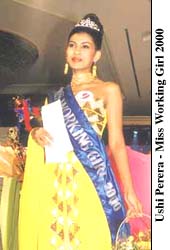 The reigning Miss Working Girl, Samantha Schucroft made her final entrance. Then she took her place on the side of the catwalk, all ready to crown her successor. The time for the moment of truth. Who would be Miss Working Girl 2000...
Drum roll...pause... and the names of the winners were announced. Wasana Danthanarayan was second runner-up and Kishali Nilukshi Waidyasekera first runner-up. Two contestants having made it,12 beating hearts were left , of which one heart skipped a beat as her name was announced - Uschi Perera, Miss Working Girl 2000.