Fooling around
By Ayesha R. Rafiq
Five young guys playing The Fool. Hardly anything remarkable, you may say. (Was that sarcastic?). But it does become something else when The Fool turns out to be an Australian band, and one of the young guys is a Sri Lankan, albeit with a tongue twisting surname.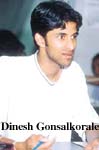 Yes, 26-year-old Dinesh Gonsalkorale is a lean-mean guitar-toting machine. Well, he's not mean, but he is lean and he does play the guitar.
For Dinesh, who winged his way to kangaroo land 11 years ago, his dream has come true. "I always wanted to play in a band, but three years ago if anyone told me I'd be playing in a band I would have laughed...hard. But this is the ultimate. It's fun, it's rewarding, and I'm still waiting for girls to start throwing things at me on stage," he grins.
And with a name like The Fool, attention grabbing can hardly be a problem. But a choice between The Fool and Bad Mojo (whatever that means) ended up with The Fool being a popular favourite. "Let's just say our creativity ends at song writing," Dinesh said abashedly. The Fool by the way is the name of a graphics group,which had done graphic designs for the Beatles (the group, not the bug). Dinesh and his fellow band players are all Beatles fanatics and hence the name.
Dinesh is the only Sri Lankan in this all-male Australian band. "We gig mainly at pubs," Dinesh tells me, "and by now we've played in most of Sydney."
The band is hardly a professional one, Dinesh admits, as the players are self-taught and they learn as they rehearse. Although they've come a long way from two years ago when they first got together, the music has some way to go before it hits big time.
But what's inspiring about Dinesh and the band is that they are so enthusiastic it's hard not to catch the bug. They are working slowly but steadily towards their goal of 'making it big', an inspiration to any others who might be struggling with similar dreams.
"I'd rather be big outside Australia than in Australia right now. If you notice the Australian artistes who have made it big like Kylie Minogue and Natalie Imbruglia have first made it outside and then come back to Australia when they have the funds to promote themselves," says this ambitious young man.
But he does concede that whether they make it big or not, the pull for him is the sheer magic of making music, the wonder of strumming a guitar, hitting a few keys on a keyboard or a drumroll here and there and knowing that you are making music that is making people move their feet.
"So far our biggest hit has been when we played near, note near, not at, the football stadium in Sydney," he grins good naturedly. "It was certainly a long shot from our first gig at this really rough pub. You know, the kind where the people look like they want hard head banging music and we had gone prepared with a couple of ballads, and you know," he laughs at the memory.
The Fool has also cut their first CD 'April Fool's Day' which features a healthy mix of blues, funk, ballads and mood songs, most of which they have drawn from their personal experiencMano Chanmugames.
Oh, and here's a bit of advice for anyone involved with someone musically gifted. Be nice to them, or you never know, you might be the next subject of a song about the vices of women or the idiocy of men.

---
Night to remember
By Laila Nasry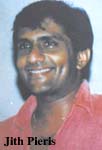 June 8, 9, 10 promise to be dates to remember when 'Memories II are made of this' will come alive at the Lionel Wendt. Organised and produced by Jith Peris as a fitting tribute for the millennium, and presented by a diverse group of artists, most of them professionals in their chosen fields, it promises to bring back a 'those were the days' feeling for most who will be present to take that special trip down memory lane.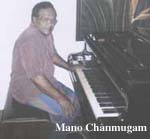 Mano Chanmugam a whiz on keyboards who performed at the previous Memories concert, is once again at hand to 'trill' the audience. The genius of Mano lies in his precision and flair and the solo performance lined up for the audience promises no less.
Saturday, would be a different beat with music lovers treated to some fine music by Beverly Rodrigo who is in the midst of success having recently released a CD which is currently a best seller in Sri Lanka.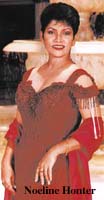 As last time, the toast of the evening will be Noeline Honter an established voice on the local music scene which needs no introduction, will bring alive the musical CATS and other old time hits. There is no beating her powerful resonating voice, which is bound to keep the audience enthralled.
No show is complete without the audience going 'foot loose' and 'Memories II' is no exception. The Jive, the Cha cha and other gyrating dances of the 60's will be swung out by the champion dancing duo Yohan and Chanez, together with other perfomances by Yoshita Abeysekera. The dances which also include a formation dance are choreographed by Naomi Rajakaruna.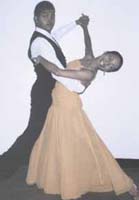 The show also consists of instrumentals with the youth having a 'hand' in the violin and flute concertos. Trained by Ananda Dabare they are ready to put on a great show.
The audience will have their fair share of singing when Kevin Franke, Sanith Wijeratne and others take to the stage with popular old time sing alongs.
Bertram Charles together with Allan Outschoorn who will play the box guitar, Mano Singanayagam and Eshantha de Andrado will also render more old time hits. Singing together for the first time the guys "have no problems with harmonising". It's the first time they are singing to an audience like this having sung before at interact functions and the school chorale. Their songs have a youthful tinge to it "being slightly upbeat, however they are songs anyone could relate to".