---
Mayhem, madness, melee
By Leon Berenger and Chris Kamalendran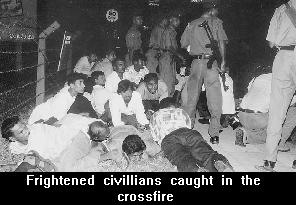 There was gunfire everywhere when we arrived at Cotta Road junction shortly before dusk on Friday — the eerie silence broken only by the wailing sirens of the ambulances rushing the dead, dying and the injured to the Colombo National Hospital.
The only signs of security were a few lightly armed policemen including traffic officers who had taken up shelter, or firing positions whatever they choose to call it in the deserted streets, as jittery residents opted to stay indoors as chaos reigned in their backyards.
Nobody knew exactly what was going on except that there had been a bloody mighty explosion at the Cotta Road junction, right opposite the Ayurveda Hospital followed by repeated gunfire from automatic assault rifles and that several people died with scores more injured.
The first to arrive from the combat forces were commandos from the elite Special Task Force followed closely by the army and others. In minutes the troops who also were not fully aware of what had taken place spread out and slowly inched their way towards the scene of the attack.
Moments later we arrived at the bloodied junction where we saw a ghastly sight of mangled human limbs thrown all over the place and adding to it were some dozen wrecked out vehicles that had taken the full force of the blast.
With the arrival of the troops the people were encouraged to spill out on to the streets and the story began to be told.
Several eye witnesses told police that a group of ten suspected LTTE operatives, armed to the teeth with machine-guns, rocket launchers, grenades had launched the attack from a nearby thicket situated alongside the road after their presence was detected by a house owner.
The police were informed and went there to check, but they were gunned down and all hell broke lose.
First there was the huge blast and then there was rapid gunfire. We saw at least five of the LTTE gunmen, clad in dark blue attire and armed with machine guns, some of them with tripods.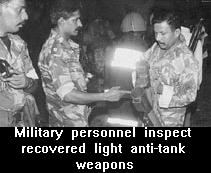 An eye witness, Dr. Samarage who was visiting a friend in the neighbourhood said: "They (LTTE operatives) were so cool, as they kept firing from waist level but there appeared to be no particular target. It appeared that it was a withdrawal tactic to keep any pursuers away.
Then the sound of gunfire slowly faded away only to be replaced with the screams of the dying and injured who had been caught up in the thick of the attack.
And then the people rose. Within minutes rescue workers were removing the dead and the wounded from the many vehicles that were hit by the explosion and later rushed them to hospital in passing vehicles.
"I removed the lifeless bodies of at least two people, who were attired in full office dress from a van. There were several others too in the same vehicle and they all appeared to be dead with large open wound to their heads," said T. Kirindeniya, who operates a bookie in the area said.
Several others who were close to the area when the attack took place described a similar scene, while in the nearby Castles Street Hospital several mothers in late stages of pregnancy were rushed to the Colombo National Hospital as they suffered shock from the chaos taking place outside.
Later as night fell, the army stumbled on to another suicide bomber who had died from bullet wounds. The jacket of explosives was still tied onto his chest. A couple of rocket launchers, grenades and a Chinese-built T.56 assault rifle was also recovered from the thicket.
Russel Fernando is the owner of the Cyclone discotheque and bar and he was perhaps the lone survivor from the group of motorists who were caught up in the blast.
"Everything happened so fast that I only knew of the blood everywhere, but it did not belong to me. I swerved my car over the centre island and drove and drove as much as I could from the scene, and later I realised that all four wheels were punctured.
I was lucky to escape, even though my car was riddled with 11 bullet holes", he said.
The heavy LTTE armoury clearly indicates that the target was not just a busy roundabout in the metropolis but something very much bigger and more important and the parliament which was taking up the defence budget was not very far away.
---
Heartbreak after the horror
By Faraza Farook and Tania Fernando
If the scene at the Rajagiriya explosion site was horrific, what we saw at the National Hospital immediately after that was heart-breaking. We met a bank officer, himself injured but looking for his wife, and many others who were desperately trying to either contact or find their loved ones.
While travelling home after a hard day's work, little knowing what fate was ahead of them on a busy Friday evening were innocent victims who got caught up in the explosion and shooting at Rajagiriya.
Directing traffic during this peak hour on Friday evening was 23-year-old police constable D. A Ratnayake. Still recovering from the shock he said: "All I saw was pieces flying and suddenly a shrapnel hit me. Shocked at what I witnessed I fell on the road not knowing what else to do". Ratnayake suffered injuries to his left arm.
It was a full-scale emergency at the National Hospital in Colombo, where casualties were rushed. Family members who were separated during the blast were trying to find out how their loved ones were doing. The wounded people in ward 72 were desperate to contact their families. They were all sharing one mobile phone belonging to an injured victim, to inform their loved ones of their fate. Among them was a 27-year-old bank officer who did not want to be named. He was travelling to Battaramulla with his wife after work when the tragedy occurred.
His left arm and right foot were injured. He also had injuries near his abdomen. "I don't know what happened. I was going home after work, and suddenly there was this blast, I carried my wife and ran away". His wife also a bank officer was said to be in the ICU. Longing to find out as to what had happened to her, he was desperately calling nurses and doctors to help him find out about her condition.
Trying to help him, we went to the ICU to see what information we could get about his wife also in her 20s. A medical officer near the ICU volunteered to help, but was not able to locate her, as names were not known at that time. Although we tried to put his mind at ease, all we were able to tell him was that the hospital staff could not identify her.
Some of the casualties at ward 72 told us that all they remembered was an explosion followed by shooting.
Tri Star Apparels General Manager Daya Gunasekera (55) was another casualty, wounded in his right hand.
Mr. Gunasekera, a father of three children aged 21, 18, and 15, was calling his family to inform them of his plight, "I was in the car and was just opposite the Ayurveda Hospital on my way home. First there was a blast and then the windscreen cracked. There was crossfire and I jumped out. There was blood splattered all over and petrol leaking and my car is totally damaged".
Despite the situation he was in, remembering his daughter's 18th birthday on the following day, brought a smile to his sad and weary face. An hour after the blast, panicked family members rushed to the hospital. Among them was a doctor who was looking for his wife and his ten-year-old child. He said his pregnant wife was at Castle Street Hospital at the time of the blast, and he was not aware of their whereabouts. "I looked for them in the whole hospital, even among the dead bodies", he said to the nurse at the reception. While he was trying not to panic, the pain was visible on his face.
This bomb that exploded between two Hospitals and 25 yards away from a children's park at Rajagiriya, killed 23, among which were five policemen. Pregnant mothers at the Castle Street Hospital, near the blast site, had some mothers transferred as their pressure shot up due to shock, along with patients from the Ayurveda Hospital.