PSD chief now admits security lapse
By Gunasinha Herath
In the aftermath of the Dec.18 Town Hall bomb blast in which 25 people were killed and more than 90 including President Kumaratunga were injured, The Sunday Times of January 2 reported in its lead story, that Presidential Security Division top brass were wanted for questionong over security lapses at Town Hall.
The very next day the President appeared on state television Rupavahini and in a controversial 'talkathan' charged that The Sunday Times was misrepresenting facts and trying to create a rift between her and the PSD.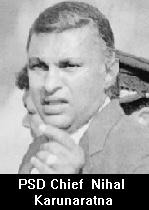 But now three months later, in a dramtic turn of events, Director of the PSD- Assistant Superintendent (ASP), Nihal Karunaratna in an interview with our sister paper 'Irida Lankadeepa' has said he accepts there was lapse in PSD security and personally accepts about 75 per cent of the responsibility. Excerpts:
Q: Minister Mangala Samaraweera has said that the PSD also should take responsibility for the December 18 bomb blast in which President Kumaratunga was injured. What do you say?
A:We have provided security to the President for the past five and a half years during nine election campaigns except for the north and east. During the last election campaign the President attended 27 meetings within 43 days and it was only in the last meeting an incident took place',
Our officers were tired by this time as they had provided security for 27 meetings in a short period. Despite this we were able to minimize the damages. However I have to take 75 percent of the responsibility for the lapse in our security. I cannot escape from this.Since the investigation into the explosion is continuing, I cannot elaborate, but I will say exactly where the lapse occured after the investigation is concluded.
CBK on Jan. 3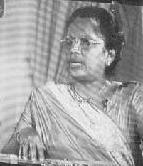 The following is the statement made by the President during her television speech on 3/1/2000:
'Yesterday's and today's papers are trying to cover the UNP-LTTE axis and say that the PSD is trying to kill me. It was Ranil's uncle's paper that started attacking the PSD...... What are they doing? This is not a joke. What Prabhakaran could not finish; they are trying to dishearten and demoralise the PSD and finish the job, by Ranil's uncle's papers. This, my friends, is the free media in Sri Lanka.'
---
He cares for front-line heroes
By Leon Berenger
Trincomalee - The police are doing it a different way in this volatile eastern port city of Trincomalee and the end result has been successful, encouraging and above all loaded with humanity, for the men manning the lonely bunkers on the edge of the battle fields.
These men are the lower rankers of the police and auxiliary force (home guards) who are holding on to vulnerable ground in far flung-villages in the Trincomalee district where LTTE operatives are known to be in sizable concentration.
But despite all these uncertainties the bunkers must be manned night and day to protect public lives and property, and the hundreds of men and women who have been given the responsibility of such a task are the least known and the least paid.
It need not to be mentioned that the LTTE's first targets are the bunkers on the frontlines and it is only after fighting themselves through this line would they hit their target which would invariably be a security force installation or a village.
Hundreds of police, homeguards and members from the other security forces have often paid the supreme prize with their life to protect somebody else.
But the bravery of these men and women is not publicised as it is known mostly behind the Forward Defence Lines or FDLs. They rarely get the credit for any good work done like fighting off an enemy attack on a helpless village deep inside the jungle.
But now one man wants to change all this and bring some respect to these lower rankers whom he describes as heroes who help to give each and everyone of us a good night's sleep.
H.K.K. Pathirana is the Senior Superintendent of Police (SSP) for the Trincomalee District and he has almost single handedly taken a number of steps to weld the police and homeguard units into a close- knit group while at the same time trying to make them happy even in the face of war, uncertainty and sometimes even death.
And so SSP Pathirana with the help of his Department and wellwishers has today successfully created a 'Police Village' that provides a certain degree of relief to the men and women living there.
It was only the other day in late February that some 400 homeguards from the far-flung villages were entertained for one full day with everything from lunch and dinner to all sorts of beverages ending with a baila night with music provided by the Trincomalee Police band that includes an all-female dance troupe.
"They all enjoyed themselves, as they felt that they were all a part of the security system that is fighting the war together irrespective of rank or unit. They now know that we care for them and that their welfare is of supreme importance to us here in the higher echelons", Mr Pathirana said.
He hopes to make such events more regular not only to the homeguards by to the lower rankers of the police service as well.
Now the Police Village does not stop at this but has very much more on offer for its rank and file. Included are barracks, a welfare grocery shop, hospital, mess hall that serves alcoholic beverages as well, an open air stage along with a courtyard, a tailoring shop, a Montessori and even a kiddies park-just to name a few.
The Montessori serves exclusively the off-spring of police officers where even the teachers are woman police constables (WPCs). The children are from all sides of the ethnic divide and they are taught to study and even pray together within the precincts of the Police Village.
Down at the hospital police officers who have been grounded with illnesses such as malaria, influenza and related diseases are attended by police nurses and attendants. All in all it's a home and home affair even in times of sickness, Mr. Pathirana added.
"When serving in an operational area such as Trincomalee it is important that the morale of the men on the ground should always be kept high if good results are to be achieved. We consider this model village as the first step in this direction, and hope it will be a success story", SSP Pathirana said.
---
S.B. defender and D. M. family draw fire
By Dilrukshi Handunnetti, Our Lobby Correspondent
Young Deputy Justice Minister Dilan Perera seems to have mastered the art of shooting his mouth at will and even sticking his neck out for the wrong cause. Having his own style, Mr. Perera obviously thrives on treading on ground where angels fear to tread and demonstrated this last week by staunchly defending Minister S.B. Dissanayake's impassioned call to close down Parliament and give any dissenting judges the marching orders.
The exuberant young politician, took courage in both hands (when what he chose to defend only received public wrath) last week during an adjournment debate on the explosive remarks on the judiciary and Parliament made by Mr. Dissanayake.
Defending a seemingly impossible stance taken by the minister and his headline grabbing alleged vituperative utterances, Mr. Perera for the second time elected to bowl full tosses at an enraged opposition by sticking to his guns.
If the early remarks resulted only in mild provocation, the lawyer turned legislator perhaps proved a few monumental political truths by heaping scorn on the opposition with gusto and painting Mr. Dissanayake in a near saintly manner with the right to freely express himself.
Given the politics of opportunism here, perhaps it is little or no wonder that vitriolic remarks by ministers find equal defenders.
Sparking off a fresh debate, the Uva member viewed the Dissanayake saga only as being representative of subtle sinister moves to curb the minister's freedom of expression (and damn the consequences) and bring dispute to the PA administration.
"The motives are clear. Even some of the so-called leftists have today turned on the government with hatred and are picking holes," he thundered and drew an immediate response from fiery Vasudeva Nanayakkara who accused the deputy minister of suffering from political amnesia.
"A constitution must necessarily reflect the will of the people, or else it has no binding effect practically. This draconian piece of legislation was introduced sans a consultative process unlike the new draft which is being subjected to extensive debate and discussion, while defenders of democracy were napping in opposition" he said heatedly.
With arms flaying, the deputy minister gave vent to his feelings and lambasted the opposition amidst loud protests which drowned his voice and made affairs of the House momentarily chaotic.
People elected the PA primarily to end the war and do away with the existing authoritarian Constitution. It is the cardinal duty of this government to honour the promises and to duly replace the '78 Constitution with a new one which is in keeping with the aspirations of the people, he noted.
"The masses are with us", he said and the opposition broke into a chorus of flouting laws, rigging elections and now threatening the very foundations of democracy — all PA's original sins. Undaunted, Mr. Perera continued that it was the will of the people Mr. Dissanayake represented when he called for the replacement of the present constitution. "We are prepared to do a lot to have it introduced. That's our commitment" he breathed amidst an increasing din.
"Do you represent the masses by threatening to close down Parliament and sending Judges home" queried a visibly moved Vasudeva Nanayakkara.
Whether warnings couched in softer words were truly representative of public feeling or otherwise being a debatable point, the deputy minister's remarks (equally threatening and devastating to the layman's mind) only symbolize the depth of political arrogance manifest in a government which vowed to remain people-friendly at any cost.
What was more revealing was not his stoic defence but how the young deputy countered the lofty pledges to uphold democracy by his own minister Prof. G.L. Peiris who repeatedly assured the House that extra-constitutional or judicial moves were not being considered by the government when introducing a new constitution.
If Dilan Perera threw caution to the wind in his dramatic speech, it was UNP's D.M. Bandaranaike who reminded the House during Committee state debate on the votes on the Ministry of Agriculture and Lands of yet another truism of our body politic — its plaguing nepotism.
The betel chewing Kurunegala member quietly exploded a few bombs in the House by stating a few home truths concerning minister D.M. Jayaratne's practice of 'gnathi sangraha' — and listed with glee a number of family and extended family members employed under various institutions coming under him.
"It is a complete family affair. No wonder there's no 'waga sanwardhanaya' as there was only 'pavul sanwardhanaya'. Amidst scoffs and unparliamentary noises from cheeky opposition members, the MP could not conceal his mirth as he claimed that the Minister who generally overstepped his boundaries with abandon, went too far when he uttered that even the Buddha approved of favourite treatment of one's kith and kin.
"Perhaps this government is full of people who shoot their mouths off. After misquoting the Buddha, the minister put his misconception into actual practice by employing his entire family in his ministry" Bandaranaike noted.
To an amused House he read out a series of names — coupled with dramatic pauses — ranging from the minister's wife, sisters-in-law, brothers-in-law, aunts, brothers, nephews and cousins in 'Jayaratne and Co'.
"I can read names till the conclusion of sittings for the day," noted Mr. Bandaranaike warming to his theme and casting a doleful eye on the two deputy ministers Chamal Rajapakse and Salinda Dissanayake who sat in pin drop silence. The tragedy was not this. The minister clearly did not believe in sharing. So it was 'gnathi sangraha ' only for him while even the crumbs did not go to his lieutenants, he exclaimed.
Following him was UNP's Anuradhapura member P. Harrison who fired his salvos next with increasing flippancy. In his opinion the government has been reduced to the role of 'joker' than 'kingpin' in handling agricultural affairs of the land.
"There were imports flooding the country. Here is a government which crowed about a regime which in stark contrast to the previous UNP rule, would not make farmers commit suicide. It is no longer an issue of unrecoverable agricultural loans. It's a case of all food produce going a waste due to deficiencies in the marketing system" he noted.
It was a tragic-comedy too, when a helpless deputy minister Janaka Tennakoon also had to hold placards and hit the Dambulla main road with farmers — throatily urging the government in unison to purchase onions and ensure a living for onion cultivators of his electorate.
Painting a vivid picture of the Anuradhapura situation, Harrison accused the government of adapting a dual policy — one which calls for increased food production to avert future famines and a disastrous food importation policy which kills the local industry.
"This country today imports from kurakkan to kankun, but the minister is too busy absorbing his entire family and therefore forgets what he should be doing to resurrect the sagging agricultural sector" he opined.
While both the food importation and agricultural policies came under opposition fire, it was Rukman Senanayake who provided food for thought with some startling facts and figures of the local agricultural industry.
There was a general decline, he noted and claimed that production had drastically reduced. While rice production has fallen by a mammoth 78%, potatoes by 62%, chillies by 51%, kurakkan by 31% and in general, everything experienced a sharp decline, he noted with concern.
Your policy of food importation is killing the local producer. Today, rice was either dirt cheap or destroyed by farmers who are unable to sell them at all. And the millers are also having a tough time" he noted.
The grandson of the illustrious D.S. Senanayake with a passion for Raja Rata sounded hurt that an agricultural country like Sri Lanka has adapted drastic importation policies which literally sent the farmers to their graves.
"Polonnaruwa has over 95% of its population growing paddy. Such industrious people have to now starve because they cannot sell paddy at a reasonable price. Have a plan, reduce importation and restrict that to short periods when local production is low " he urged.
And he ended with another truism — that while other countries had policies to protect the local industries, Sri Lanka only had policies which effectively killed local industries.