---
Girl swim wonder Bonita
Devananda's loss, Ananda BMV's gain...
By Annesley Ferreira
The loss for Sri Devananda Ambalangoda was the gain for Ananda Balika Vidyalaya, Colombo when Bonita Wimalasooriya, the 16-year-old who no doubt will go places in swimming like what R.M. Dhammika did proud to her town and Sri Lanka.
The daughter of a labourer, Bonita has the physique resembling the same of Dhammika who is happily married now.
Speaking to Bonita after her win in the 63rd two mile sea swim at Mount Lavinia she introduced her mother to me who related her tale of woe.
"My husband is a labourer with no permanent job, his earnings is not steady, as he keeps the home fires burning by white washing houses, earning much during festive season specially."
Bonita's mother said that her elder son who is sitting for the 'A' Level is being looked after by her sister. Her 'mahage' which is built with wooden planks is now much decayed.
Her daughter got a chance to study in Colombo at Ananda Balika through the support of Mr. Francis.
"I live with my daughter on the advice of the school authorities at a boarding at a cost of Rs. 1,000/- which is paid for by the Samurdhi Fund. Thanks to the PA government, the other expenes too are met by this Fund."
Bonita is a Grade 11 student at Ananda Balika and like Dhammika got the benefit of swimming in a pool only this year, having earlier trained in the river and Indian Ocean.
Her regular training in the seas has enabled her to hit a winning note in the millennium, winning the Fishtail race two weeks ago, the two miler and capped it up winning the 63rd Mount Lavinia swim.
"I am looking forward to making it a triple of wins with the Ambalangoda sea swim today (Sunday March 12) and possibly make four in a row at the Kinross swim in two weeks' time."
Bonita's win was all the more creditable where she swam over after 55 male swimmers were sent off earlier than the females.
Her timing was 1 hour 1 minute 26 seconds and was awarded the Dennis Flamer-Caldera Challenge Trophy.
Ananda Balika MV much heard in Badminton, Hockey and TT was able to win the Mayor's Challenge Cup in this sport for the very first time as women's champions through Bonita and Iroshani Kaushalya who was placed overall 7th aggregating 24 points.
Much would be heard of Bonita's feats and be a possible medal winner at the next SAF Games like Dhammika since she is learning the basics at the Ananda College pool.
Wellwishers could assist this girl's dreams of improving her skills through donations for a better cause and a donation of a small piece of land to help her family build a house of their own.
The Sunday Times Sports Desk wishes Bonita all the best in bringing glory to herself and her country.
---
It's big match fever
The month of March is now firmly established as the month where school big matches take pride of place. Just as much as its Christmas Celebrations in December, Sinhala and Tamil New Year in April and Vesak in May, March is reserved for the past, present and well-wishers to support their ''Alma Mater''.
Of course the glamour, the processions, the fancy dresses and street parades have reduced. The build up too is not as fever-pitched as in the past, but the effort that goes in by all involved is no less, in fact, it increases by the year.
What is lacking most is the number of results produced. Two days just does not seem enough. It is only natural that the players consider it too sacred to flirt with defeat. Safety first is often the first course of action. Coaches too adopt this approach. It does not go down too well should the charges under you succumb to defeat.
Big matches is not about just cricket alone. Meeting up with old friends is also very much part of the occasion. It is also to let your hair down, unwind and enjoy yourself. So many make it a point to enter the big match dates first in their diaries at the beginning of the year.
The oldest of the lot is the Royal-Thomian match, ageing one hundred and twenty one years now. It is the only encounter in cricket history that has gone on for so many years without a break. Not even the two world wars could break the sequence.
I was fortunate enough to play in three of those including captaining one of them. Looking back I'm proud to have had that privilege.
The three day game naturally gives a great chance for a result to be produced. With two hundred and ninety two overs available both teams have responsibility to play positively to achieve a result. That happened last year. The poor batting of the Royalists in the second inning contributed very much.
Much of the reason for the non-achievement of results is the lack of penetration in the bowling attacks. At school level the overall standard of batting has improved over the years. There may not be outstanding batsmen coming through the schools ranks right now but at their level there are players who can contribute. No longer is the second half of a batting line merely there to fill in the numbers.
On the other hand the overall standard of bowling has dropped somewhat. There are more medium pacers around, bowling containing stuff. But that is inadequate and so batsmen continue to occupy the crease.
The Josephian-Peterite match sees a different approach with the first innings of both teams restricted to sixty overs. It will certainly see the game stretch towards a result. But then a declaration becomes a must, unless one side is dismissed cheaply, to achieve a result. Declarations with a purpose always sets up a good game. Captains and coaches must set about to do that.
Pitches also play a part. There must be a reasonable amount of assistance for the bowlers. Of course should the pitch be grassy and hard then the finger spinners will not be able to get into the game. A big turner spoils the game. This does not make the task of the curator easy. Of course holding the catches is also of vital importance.
School cricket for this season has reached its peak. It is the time of year when old memories flood back and cricketing tales for the future unfold.
---
London, here I come
On the first of January 1978 I was transferred to Bambalapitiya Police Station as Officer-in-Charge. I shifted my residence too from Anderson Golf Links Police Quarters at Narahenpita to the Inspectors Flats by the Police Grounds Bambalapitiya overlooking the Senior Officers Mess and the Police Tennis Courts at the rear. Commissioner of Police Colombo A.C. Lawrence was promoted DIG in charge of the Metropolitan Range and Senior Superintendent of Police S. Vamadevan was appointed Commissioner of Police Colombo. ASP Reggie Amarasekera was in charge of Bambalapitiya for a short period and was succeeded by ASP W.A. Weeraratne who later went on to become DIG and is presently living in Australia.
This year was a memorable one for me for several reasons. I was fortunate to admit my three daughters Renuka, Sharmila and Sashikala to the Kindergarten of St. Bridget's Convent with the blessings of Sister Mary Thomas who was the Principal of St. Bridget's whom I came to know during the period I was working at the Cinnamon Gardens Police. This heralded the beginning of my children's successful academic career.
On another day when I was at the Colombo Rowing Club, my good friend Mahen Ediriweera walked in with his father P.A. Ediriweera, who was the Chairman of Ceylon Tours and his brothers and requested me to join them on a trip to the Maldive Islands as they were being invited as guests of the Government due to their involvement in tourist promotion, mainly for foreigners who were involved in deep sea diving and under-water exploration in the Maldives. I accepted this invitation and went with Mahen and his younger brothers Suren and Ravi on the 10th of February and spent six days in the pleasure atolls of Kurumba Village and Bandos. We also visited Male, the capital and some other distant atolls. We were looked after by Ahmed Nazeem who was the brother-in-law of Nazir, the former President of Maldives, as he was in charge of Tourism and was also the Maldivian Representative in the United Nations.
The main mode of transport in the Maldives is by speed boats and "Donis". Most of the staff who worked at the Kurumba village and Bandos were all Sri Lankans. The tourists at these atolls were mostly from Europe. In the mornings you could see them sun bathing on the beaches. On every Tuesday evenings at Bandos which is the biggest atoll, there was dancing by the beach on an uncovered cemented floor close to the Jetty with a circular bar by its side and the dancing went on till early morning. All tourists from the other atolls too came to Bandos to join in the fun and frolic. There were tourists of various hues such as lone girls, young lovers and millionaire families who live in these atolls. We returned to Sri Lanka on February 15.
On my return from Maldives I had to present myself for an interview which was to select a Senior Inspector to go on scholarship to London under the Colombo Plan to follow a course in Advance Police Training at the Metropolitan Training School in London for six months. All Senior Inspectors in charge of "A" grade stations were summoned to Police Headquarters and I was selected to undergo this course in London.
I left for London on Wednesday May 31, 1978 by British Airways at 9.30 a.m. On this day was the farewell parade to Inspector General of Police Mr. Stanley Senanayake who was retiring and Mr. Ana Seneviratne was appointed IGP. On my arrival at Heathrow Airport I was met by a courier from the British Council at the Victoria Terminal and was driven to Earls Court and was booked in at the Sky Star Hotel. I spent my first night in London and was surprised that there was sunlight even at 11.00 p.m. as it was summer in London.
The following morning a guide from the British Council took me by tube from Earls Court to Trafalgar Square where the British Council office was at No.10, Spring Gardens. I met Miss Viva Hart, a pretty young lady who was very nice to me and who was to be my programme officer during my entire stay in London. She was of great assistance and briefed me on all aspects. I had lunch at the British Council and went to the historic Trafalgar Square which was inundated with tourists and pigeons. There were several professional photographers taking pictures of the tourists for a fee. I too took three photographs which were later posted to me to the Training School.
The following day, February 2, I went by tube to Paddington and visited the Sri Lanka High Commission where I met the High Commissioner Mr. Noel Wimalasena, Mr. Asoka Jayasinghe who too worked in the High Commission and Mrs. Jayasekera, another member of the High Commission staff and the wife of Retd. Police Inspector Elmo Jayasekera. This being a Friday I went to a Hindu Temple at Wimbledon and attended pooja with one Mr. Kandiah who was formerly an Accountant in the CTB in Sri Lanka. During this period the World Cup Football matches were on and that night I watched Tunisia beat Mexico and Italy beat France live on the TV.
On the June 3 which was a Saturday I visited W.S. Pathirana who joined the Police with me as a Sub Inspector and who was in Edmonton, London and working as a Solicitor and his wife Udula who was a doctor in London. I had lunch with them and watched the cricket Test between Pakistan and England on TV. In the evening Pathi and his wife drove me to Golders Green and dropped me at the house of Elmo Spaulding who studied with me at St. Peter's College and who was managing a Shipping Firm in London, named Nobelex and married to a Finnish girl. I spent the night at Elmo's watching the World Cup Soccer game Peru versus Scotland which Peru won 3-1 which shocked the entire soccer world.
The following morning, June 4 which was a Sunday, Elmo and I visited Raja Ratnagopal, a Sri Lankan business tycoon at his flat in Central London where Vivian Kodikara, a former chairman of the Leather Corporation too was with him. They later dropped me at the hotel at Earls Court. In the afternoon I taxied to Trafalgar Square British Council along with several other police officers who had come from other countries. Mr. C.A. Williams and Mr. M.J.D. Murray who were to be our lecturers met us at the British Council and took us by special coach to the Metropolitan Police Training School at London where we were to undergo training for the next six months.
(To be continued)
---
Peterite juniors shine at cricket
Stupendous, incredible and an indomitable achievement by the Under-13 and Under-15 Peterite cricketers.
The Under-15 Peterite side for the last six years consecutively has reached the finals of the Division I Horlicks Trophy Tournament. In this incalculable effort thrice in the years 1994, 1998 and 1999, Peterite's Under-15 cricketers have won the Winners Trophy. Reaching the finals repeatedly 6 (six) years and winning the trophy for 03 (three) years is an enviable, fascinating achievement.
In the years 1998 and 1999 the Peterites have triumphantly captured the trophy in a row beating all else. Jehan Jayasuriya led the Peterite champion squad in 1998. Chaminda Gallage was the skipper of the 1999 winning team.
The Under-13 cricket squad led by Gihan De Silva was the joint champions along with St. Anthony's Kandy, in the year 1998. Prajeev Janze was the skipper of the champion team in the year 1999.
On Tuesday, February 29 saw another sparkling achievement of the Peterites in their march to glory. In the award ceremony of the Sri Lanka Schools Cricket Association for the Division I, sponsored by Horlicks, what was memorable was the Peterite's walking away with all the 04 (four ) Horlicks Championship Trophies.
The continuous ride to reach the finals for the last six years, three times winning the Championship Trophy was the fruits of the committed, dedicated and capable service of coach Mr. L.H. Sunil, holder of level four advanced diploma and in his salad days of youth has captained the St. Xavier's College Matara senior cricket team.
Not to forget the inspiration, motivation and courageous leadership given by Fr. Rector - Rev. Fr. Felician Ranjith Perera, the Sports Co-ordinator - Rev. Fr. Camilus Fernando, and the dynamic leadership of the Master-in-Charge Mr. Janaka De Silva is a significant contribution to dispel all barriers and to reach the pinnacle of Under-15 and Under-13 Division I Championship Tournament.
---
The thrills and spills of the Mahagastota Hill Climb
Nuwara Eliya can be considered the cradle of motor sports in Sri Lanka. In the 1930's many of the young European planters spent a frequent Sunday in friendly competition using the gravel estate roads for the thrill of driving fast.
In order to regulate the wild and unruly sport, the young planters banded together to inaugurate the Ceylon Motor Sports Club on September 4, 1934 at the Grand Hotel, Nuwara Eliya.
All other clubs inaugurated by the Europeans, especially in Colombo, were exclusively for Europeans. The Ceylon Motor Sports Club was the one exception where from the very inception Ceylonese members were welcome and could participate on equal terms with the Europeans.
As befits a young and enthusiastic band, no time was wasted in organizing the first meet - a hill climb at Mahagastota Estate, Nuwara Eliya on October 28, 1934.
Although there were only ten cars and two motorcycles taking part, the sheer enthusiasm of those involved ensured a most memorable and successful day's sport. The fastest time for the day for cars was by Phil Fowke in a Tourist Trophy Austin returning a time of 69.8 secs. The fastest time of the day for motorcycles was returned by T.G.Dickson riding a Scott, with a time of 64.0 secs.
Mahagastota became a regular feature in the motor racing calendar in Ceylon, being held in either October or December each year until 1938, from which year on it has traditionally been held in April.
Motor racing activities in Ceylon came to a halt in 1940 due to the conditions created by the Second World War. The last Mahagastota Hill Climb being held on March 25, 1940 . The course records were motorcars - T.S. Jinasena 55.79 secs. Motorcycles - Allan Clarke 55.89 secs.
Although motor racing resumed in Ceylon in 1947 (Circuit Meet at the Ratmalana Airport), the Sport was not to return to Mahagastota until 1952. The meet planned for 1948 had to be cancelled due to objections made by the Vicar of Nuwara Eliya to the meet being held on Easter Sunday.
The first post-war meet at Mahagastota was held on April 20, 1952. Not surprisingly both the motor car and motorcycle records were broken on this occasion. The new records 50.1 sec. for cars by A.E. Filby driving a Cooper 500 and Allan Clarke breaking his own record for motorcycles riding a J.A.P.Bitza, returning a time of 52. 8 secs.
The intervening years had seen a complete change in the character of the cars being raced worldwide. The Cooper 500 was an example of the new breed. The days of the lightened Touring Cars and home built specials raced in the past seemed to be numbered.
The Cooper 500 in the hands of A.E. Filby continued to dominate the racing cars class. He progressively lowered the record finally achieving a time of 45.0 secs in 1955.
Allan Clarke too continued to improve his times in the next three years but his record of 46.9 secs. (1954) was broken in 1958 by Kingsley Smith riding a Horex with a timing of 46.4 secs. Three years later, Kingsley riding a Triumph 101 got the course record for the Hill and for motorcycles down to 44.18 secs. a record that stood for many many years.
The course record for sports cars changed hands several times and in 1958 stood to the credit of Ranjan Canakeratne at 50.0 secs. in an MGA.
Upto 1958 cars were classified by the cubic capacity of the engine. In 1958 the Ceylon Motor Sports Club initiated a new system of classifying cars based on the weight and power of the car. This new method was called the Weight/Power Ratio and for the Mahagastota Hill Climb held in 1958 this method was adopted for production cars. Mr. E.J.(Sandy) de Soyza had the honour of returning the fastest time of the day for production cars with a time of 52.9 secs. in an Auto Union A.V.
A notable feature of the Hill Climb in 1959 was the reappearance of home built "Specials" at Mahagastota. Mr. James Obeyesekere drove his "Experimental" - a car based on Volkswagen components. This car continued to be raced for several years, being improved from year to year though not quite competitive enough to threaten the course record for cars which still stood to the credit of A.E. Filby.
---
Bonita and Ajith crowned sea queen and king
Bonita Wimalasooriya of Ananda BMV and Ajith Weerakkody of the Navy were crowned sea queen and king at the 63rd two-mile sea swim conducted by the National Amateur Aquatic Sports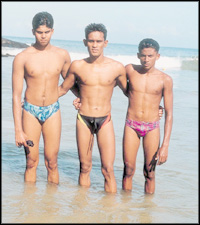 Union (NAASU) held at Mount Lavinia, last Sunday.
Bonita, the 16-year-old took 1 hour 1 minute 26 seconds to complete the course while the 20-year-old Sajith won the event for the third consecutive year in a time of 48 minutes 48 seconds.
The Sri Lanka Army won the Half Past Nine Challenge Cup with Sri Devananda Ambalangoda winning the overall championships and being awarded the Mount Lavinia Hotel Challenge Cup.
The Mayor's Cup was won by Ananda Balika Vidyalaya as women's champions. Maheshjanith Kumara of Sri Devananda won the youngest boys' swimmers award - the Bata Challenge Cup while Hirushi Weerasinghe of St. Bridget's won the E.G.A. Wilson Challenge Cup presented for the girls' youngest swimmers award.
K.V.G. Priyadarshana of the Army was presented the Srimathi Dayananda Memorial Trophy for the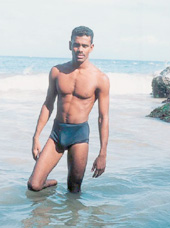 best disabled swimmer.
Douglas Weerasinghe, the Assistant General Manager of the Bank of Ceylon, was the Chief Guest with Ariya Wikremanayake, Chairman, Master Divers and Sudantha Pitigala, Resident Manager, Mount Lavinia Hotel as guests of honour.
Results - Men. Ajith Weerakkody, Navy 44 minutes 48 seconds. Nuwan Mendis (Sri Devananda) 52 mins. 41 seconds, Ajith Kumara (Sri Devananda), 52 mins. 43 seconds, S.T.K. Weerakkody (Sri Devananda) 52 minutes 44 seconds, Rumedha Medigasekera, (St.. Joseph's) 52 minutes 49 seconds. Ruwan Silva (Sri Devananda) 53 minutes 41 seconds, Anisha Kumara Dolphin AC 55 minutes 36 seconds, K.V.C. Priyadarshana (Army), 56 minutes 51 seconds, Charith Rodrigo St. Peters 56 minutes 52 seconds, Nalaka Jinasena (St. Joseph's) 57 minutes 03 seconds.
Twenty three swimmers completed the course in 50 minutes while 55 completed the course in 60 minutes.
Women - Bonita Wimalasooriya, Ananda BMV, 1 hour 1 minute 26 seconds, Puspha Chandani, Sri Devananda, 1 hour 1 minute 55 seconds, Melissa Boange Bishop's 1 hour 3 minutes 32 seconds, Muri Gunasekera St. Peter's SC 1 hour 5 minutes 10 seconds.
Manahari Wahalathanthri (St. Bridgets) 1 hour 10 minutes 5 seconds, D.J.N. Gunatilleka, (Airforce) 1 hour 10 minutes 31 seconds, Iroshani Kaushalya (Ananda BMV) 1 hour 12 minutes 33 seconds, Harini Jayasekera (Visakha) 1 hour 13 minutes 27 seconds, D.H.P.P. Gunawardena (Navy) 1 hour 14 minutes 14 seconds and Jayanthi Jayasekera (Visakha) 1 hour 14 minutes 37 seconds.
Sharp turning point
Many swimmers, both men and women were taking treatment from the first aid tents for cuts.
The cause for this was the turning point which was a sharp knife which even saw the TV camera of the MTV representative damaged due to water going into it.
---
Thilina, Deepika bag TT double
Thilina Piyadasa of Vidyartha and Deepika Rodrigo of Lake House bagged a double at the 53rd National Table Tennis chamionships sponsored by National Savings Bank and conducted by the Table Tennis Association of Sri Lanka, concluded at the S. Thomas' Indoor Stadium, Mount Lavinia.
Thilina bagged the men's singles title for the third consecutive year and the men's doubles while Rodrigo won the women's singles and mixed doubles with Indika Prasad also winning a doubles the men's doubles and mixed doubles.
Thilina with this win in the men's singles equalled the three wins by Lalith Priyantha, the present president of the Table Tennis Association of Sri Lanka. Priyantha in recognition of Thilina's effort handed over a trophy to him.
Results
Women's consolation singles - Kalpani Herath (Girls High School Kandy) bt Kaneesha Kameel (Pushpadana BMV Kandy) 21/5, 21/10; Semi finalists - A. C. K. Udugama (Devi Balika), Sadisi Nirashi (St. Joseph's Nugegoda).
Men's consolation singles - Tharindu Samaraweera (S. Thomas' Mt.) bt K. S. T. Lakshan Harshan (Sri Devananda) 21/13, 19/21, 21/19, Semi finalists - I. Wijesinghe (Tea Factory Hotel, Kandapola), R. Uduwela (Trinity).
Mixed doubles - Indika Prasad (Abans)/Deepika Rodrigo (Lake House) bt Thilina Piyadasa (Vidyartha)/R. Kameel (Pushpadana) 21/16, 21/16. Semi finalists - M. Prajagani (Visakha), Ruwan Sirisena (Colombo TT Club), P. Samaraweera (Asoka MV), N. K. Udugama (Devi Balika).
Women's doubles - S. de. Silva (Dharmasoka)/M. Kottegoda (Maliyadeva BMV) bt Deepika Rodrigo/Namal Gunasekera (Lake House) 21/15, 6/21, 21/14. Semi finalists - Dilini Madawela, Kaneesha Kameel (Pushpadana BMV), K. L. Kalpani Nisansala/K.W. Wasana Dinesh Kumari (Sri Devananda).
Men's doubles - Indika Prasad (Abans), Thilina Piyadasa (Vidyartha) bt L. M. B. Dikkumbura/V. M. Wickremasinghe (Vidyartha) 23/21, 21/18; Semi finalists - Yohan Desapriya (Royal)/K.S.T. Chalitha (Sri Devananda)/I.T. Gunapala/N.R.B. Dikkumbura (Vidyartha).
Men's singles - Thilina Piyadasa (Vidyartha) bt Indika Prasad (Abans) 21/14, 18/21, 21/7, 21/14. Semi finalists - Yohan Deshapriya (Royal), K. S. T. Chalitha (Sri Devananda).
Women's singles - Deepika Rodrigo (Lake House) bt Dilini Madawela (Pushpadana BMV) 21/15, 16/21, 21/18, 21/13; Semi finalists - Dilmini Direckze (Ministry of Education), Saranga de Silva (Dharmasoka).
---
Lewke confident of Sevens squad
By Jatila Karawita.
Sri Lanka's national rugby coach SSP Nimal Lewke is confident Sri Lankan Sevens team will fare well in the three upcoming Sevens tournaments in Malaysia, Hong Kong and Japan respectively as the local rugby squad has been groomed in a proper way for a long time.
"We have arranged separate practices for the boys as far as weight-training, skills training, and strength training is concerned and I am happy to note that more than 99 per cent of the players have been reporting for practices and that should augur well for our chances in those rugby tournaments," said Lewke in a brief interview with the Sunday Times."
Coach Lewke speaking further said that he has mapped out the entire coaching programme for the local ruggerites which would see them having practices at three different venues with the co-ordination of Dr. Priyanga Soyza of the Police Hospital , and S.M.G Bandara of the Ministry of Sports.
"The players are currently having four days per week practices which sees them doing physical and strength training at Reid Avenue, skills training at Police Park and general rugby practices at CR grounds. But I must state that there is real enthusiasm and keenness to be seen among the players at these practice sessions which I feel should do a world of good for the boys in time to come." said Coach Lewke while adding that it has been a tough process to select the Sri Lanka Sevens team but that the selectors had at the same time been mindful to give merit where it is due sans any bias or favouritism when selecting the sevens team.
Sri Lanka sevens team under the leadership of Kandy SC dynamic Winger Indrajith Bandaranayake is slated to take part in the Malaysian Sevens tournament from March 18 to 19 followed by their participation in the prestigious Hong Kong Cathay Pacific Sevens tournament from March 24 to 26. They are also due to represent the country at the Tokyo Sevens tournament from April 1 to 2.
The fleet-footed wing three-quarter Bandaranayake who led the country at the Singapore Sevens tournaments last year and also at the elite Hong Kong Sevens tournament during the same year, will be in charge of a 10 member squad with the much reputed likes of Nishantha Chanaka,the agile and nippy Leonard De Zilwa, Asanga Rodrigo, Bandula Mallikarachchi, the penetrative Sanjeewa Jayasinghe, and Kelum Senarathne to boast of, to carry forward Sri Lanka's challenge in the three Sevens tournaments shortly.
Among the new faces to be found in the Sevens squad are Janaka Buddhika De Silva of Isipathana and Erosh Fernando of St.Peter's. They deserve special mention here as they have made it to the national team as a result of their outstanding performances during the concluded season of 99.The former was quite instrumental in paving the way for his alma mater Isipathana to sweep the board as it were of the inter school rugby season last year, while the latter impressed the selectors with some eye-catching displays for CR & FC during the concluded Inter Club Rugby season in 99.
SSP Nimal Lewke also added that he has up to now received the entire backing of the Sri Lanka Rugby Football Union for his novel coaching programme and did not fail to mention that Union President Anton Benedict and Union Vice President and Manager of the team Captain Harsha Mayadunna along with the selection committee had done much to put Sri Lanka Rugby on a firm footing to meet the challenge of foreign teams in the months to come.
The Sri Lanka Rugby Sevens squad is as follows: Indrajith Bandaranayake (Captain Kandy S C), Nishantha Chanaka (Havelocks SC), Janaka Buddhika De Silva ( CH &FC), Leonard De Zilwa (Havelocks S C), Asanga Rodrigo (CR & FC), Bandula Mallikarachchi (CR &FC), Sanjeewa Jayasinghe (Havelocks SC), S. Karunarathne (Army SC), Erosh Fernando (CR & FC), Kelum Senarathne (Havelocks SC).
Stand Byes: Pradeep Basnayake ( Kandy SC), Manjula Damith (CH &FC), Jude Pillai (CH &FC), Saranga Jayakody ( CH &FC),
Yuganthara Karunarathne (CH &FC), P Wekadapola (Kandy SC), Coach: SSP Nimal Lewke, Manager: Captain Harsha Mayadunna.
---
Anura spends time and money to watch cricket
By Bernie Wijesekera reporting from Pakistan
Dusky Anura Edirisinghe from Panadura now domiciled in Cairns, Queensland, Australia, was seen here supporting and cheering the Lankan cricketers in all the venues in the three-match one-day series here. Sri Lanka won the series in the end under Sanath Jayasuriya. Unlike in Karachi there was hardly any back-up for the Lankan team in Gujaranwala and in Lahore. But, Anura was seen among the vociferous fans. It was in Lahore (Gadaffi Stadium) that Sri Lanka won the World Cup final against Australia in 1996.
An old boy of Sri Sumangala, Panadura, which school has produced some outstanding players at first class level. Sri Lanka took the lead 2-0 after the Gujaranwala match. Anura was interviewed by The Sunday Times in Lahore for his comments
Q. What made you get interested and come all the way from Down Under to watch Sri Lankan cricketers in action ?
A. Firstly, I love my motherland though I am settled down in Australia. It has also taught me the ups and downs in life. Further it's a great game of character building, though I have not played much cricket.
But I've learnt much about the game, whilst watching it in the meadows of England. Since 1984, I was living in London for eight years. I got the taste of Lankan cricket in 1988 when the Lankan team toured England under R. Madugalle. In 1991 too Sri Lanka came to England, which team was led by Aravinda de Silva and managed by Chandra Schaffter. Since then I have followed the Lankan team and saw them in action, given the opportunity with my own expenses, be at home or abroad.
Q. What is special for you to be in Pakistan for this on-going tour?
A. That's a good question. Sri Lanka beat Australia at the Gadaffi Stadium in 1996 in Lahore in the final. On that occasion I watched the match on TV in Brisbane. The Lankans created a new dimension by winning the World Cup with a determined team effort. I was yearning to come to Pakistan, that too, to Lahore and see a game at the Gadaffi Stadium. Well, my ambition became a reality. The new-look Lankan team under Sanath Jayasuriya with a united team effort got the better of Pakistan. I will follow them at any given opportunity as money is not everything.
Q. Anything special in your life?
A. It saddens me when you ask this question. I lost my beloved mother. In 1992 I came to Sri Lanka to look into her needs when she was sick. But, she passed away in 1993. Undoubtedly she was my best friend in my hour of need.
Q. You have being away from Sri Lanka for 15 years. Being a cricket lover, have you contributed to your alma mater, put aside supporting and watching Sri Lankan cricket?
A. I have given cricketing gear to the school when I returned from England before the 'Big Match' against Moratuwa M.V.
Sri Lanka triumphed in the 1996 World Cup despite limited facilities and had done proud for the country's cricketing image, Anura added. After watching the Lahore one dayer Anura left for India on February 20.