---
Can her life be changed?
Revolutionary technique of bio-engineering could end young Masha's agony
More bad news was in store — the bumps could turn malignant in time. For Masha
that day seemed like the last straw. "She did not eat or drink anything, she just wept and wept," her mother says, the lines of sorrow on her face accentuated by the tears
By Kumudini Hettiarachchi
She is pretty. She is very intelligent. She is a talented artist and she's just 16 plus. Like any teenager

she has many hopes, aspirations and ambitions, the most recent being to sit the Ordinary Level examination and earn eight distinctions. Last week when the OL results were announced she was in tears. No, not because she did not get eight distinctions, but because she could not sit the exam at all.

For Masha Wickremasinghe life is not just that of another teenager. She is ill and surviving each day has become a battle. At first glance, nothing seems to be wrong. Her long-sleeved brown dress is down to her ankles. The beauty of her face, framed by lustrous black hair, is enhanced by "birthmarks". Her eyes glitter with unwept tears as she says that she is covered with inno (warts).

"I was born like this. My whole back, from neck to waist is full of black ugly warts," Masha says and gestures to me to touch her back through the dress. I do and am taken aback.......bumps, bumps and more bumps. Then come the photographs....horrific is the word that comes to mind. An album filled with close-up photos of the parts of Masha's body, affected by the "birthmarks." Large black weals running down her back.

From the time she was born, it was trips, trips and more trips to the doctor. Well-known skin specialist Dr. Lakshman Ranasinghe has been the "doctor in sorrow" for Masha's family.

"She was brought to me a few days after birth. Her entire body is covered with 'birthmarks,' the medical term for which is giant pigmented naevi. It's all over the body, even on the palms and the soles. The worst-affected area is the back, from the hairline to the waist. The naevus range from one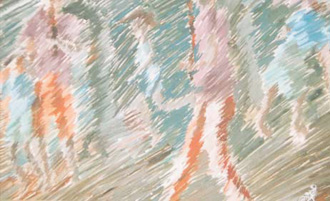 millimetre to 20 millimetres," explains Dr. Ranasinghe.
The marks are flat and in most cases hairless. Some of them are bumps, lime-like nodules, mostly on the back, he says and I remember the touch of the bumps.
And I ask, just like Masha's father Nissanka and mother Padma would have done 16 years ago, "How did it happen?"
"It is a chance happening during conception or at birth, like we get birthmarks," according to Dr. Ranasinghe who stresses, "It is not tied up with family weakness, either chromosomal or in the genes. There is also no family history of being close-blooded (marriage between close blood relations)."
What does it mean? To Masha and her family it means sleepless nights, as she tosses and turns with unbearable itching. It means that the father could not do his job as a tourist guide regularly as both parents had to keep watch over the child, to try in some small way to alleviate her agony, by physically fanning her with a piece of paper until a kind soul gave them an electric fan. It means dreading hot and humid days, attempting to cool their humble little home by drawing water from the well close by and splashing it across the floor to keep it cool.
It has cost Masha her schooling, as she is unable to endure the long journey to Visakha Vidyalaya from her home in Narangodapaluwa, off the Ragama junction.
Starting school at Narangodapaluwa Kanishta Vidyalaya, she was able to gain admission to Visakha as a Grade 5 scholarship winner of 10. But last year when she was due to sit her OLs, El Nino put an effective stop to her schooling. Wearing the uniform was difficult and she had to go a long way to school. She would take the early morning bus to Ragama, change to another for the next part of her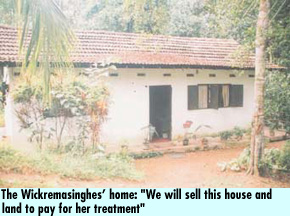 journey to Kadawatha, from where she would board the school bus.
Sweltering days would leave her clammy and itching. The bumps on her back would be blistered. They would ooze and bleed leaving her helpless and frustrated over her "fate".
As a child and sometimes even now, Masha would suffer the cruel barbs of unkind people who look her up and down and comment on her "karume".
Masha and her parents endured this in silence while praying for a cure. But more bad news was in store — the bumps could turn malignant in time. For Masha that day seemed like the last straw. "She did not eat or drink anything, she just wept and wept," her mother says, the lines of sorrow on her face accentuated by the tears.
For Dr. Ranasinghe there was no rest. He kept reading and hoping. One day, he saw a magazine, with the cover story on bio-engineering, advertised in the newspaper. It seemed to indicate that a new technique had been found to grow human organs.
Hoping against hope, he sent his wife to buy the Business Week of July 27, 1998 and there it was — the break that young Masha needed. The article was about decades of research into tissue engineering paying off in the United States of America and how it offers the promise that failing organs and aging cells need no longer be tolerated — they can be rejuvenated or replaced with healthy cells and tissues grown anew. A few cells could be turned into acres of living skin that can be handled, cut to fit, and grafted without fear of rejection or scarring.
Dr. Ranasinghe immediately wrote to pioneer Dr. Charles A. Vacanti in America with Masha's case history, and yes there is hope.
Dr. Vacanti has agreed that there is a chance for Masha with this extremely novel procedure.
Explaining that soon after Masha became his patient he showed her to a team of German doctors, amongst whom there was a black tumour specialist, Dr. Ranasinghe said, "Masha's problem is in the epidermis (outer-layer of skin) and not the dermis (inner-layer of skin). Her entire problem is only skin-bound and that also only of the epidermis."
The dermis has living cells including fibroblasts. In laboratories, these fibroblasts have the potential to grow new skin. It would be like 'clone-grafting' of skin equivalents of the patient, he said coining the word 'clone-grafting'.
The procedure planned and anticipated by Dr. Vacanti in consultation with Dr. Ranasinghe is going to be the first of its kind in the world.
The silver lining is there for Masha in the form of a permanent cure but it is on the distant horizon. The simple and humble parents of Masha just do not have the wherewithal to meet all the expenses of her medication (Dr. Ranasinghe is treating her free of charge) let alone a trip to America for treatment.
"We will sell this house and property," says Masha's father waving his hand arounds, their spartan home and tranquil garden from which comes the twittering of birds. The trees are laden with 'veralu' and as I look arounds the evening sunlight forms dappled patterns on the neatly-cut grass. But it's far from the madding city and how much will it bring?
Just not enough to meet the rough estimate of Rs. 5 million, Dr. Ranasinghe talks of. First Masha would have to go to America for a preliminary assessment. She can't go alone, as she is very young and also ill. Her father may have to accompany her. Then she would have to go back once fibroblasts from her dermis have created enough skin to cover all the affected parts, and face surgery for the removal of the tumours and replacement with clone-grafts.
That is where Masha's struggle against something which is not of her making stands. Can we help? Maybe we can with our 'mite,' help her get the urgent cure she needs to be like our teenage sons and daughters, full of life and zest for what tomorrow may hold. Otherwise it's just …menacing black clouds on the horizon for this beautiful girl.
---
Front Page| News/Comment| Editorial/Opinion| Business| Sports | Mirror Magazine