Teaching children in an easy and painless way
By Roshan Peiris
Smiling, and attractive Shermila Rajaratnam and Nelun Ratwatte are both devoted to teaching young children in an easy and painless way.

They both worked at the Ladies' College nursery school and Shermila was head of the nursery school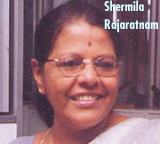 when she left with Nelun to start the "Young Minds Pre-school" at Thurstan Road.
The Pre-School introduces children from ages one to six to the fascinating world of learning.
Shermila has a pre-school qualification and a Diploma from the University of Colombo after having spent some time at the Ladies College Vocational Training Institute.
Nelun has a pre-school and Montessori diploma from the BMICH Vocational Institute.
"I like to work with young children. I feel they are most interesting and when one gets to know them at an early age, they remain friends for life," Shermila said.
Nelun and Shermila said that young men and women doing well in the academic world as doctors, lawyers accountants and even politicians still come running to them on seeing them. This is a bond that has been forged when they were young.
Nelun observed: "I was the eldest in a family of five girls. So I learnt to handle the younger members of my family and in so doing developed a yen to teach the very young."
Asked whether they were not bored, in unison they said "of course not. It is a challenge. Everyday the children say or do something interesting and the teachers have to be alert to cope with the many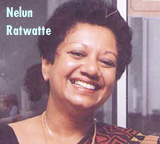 questions they ask in innocence and round-eyed wonder.
"Far from being tiresome, they are so innocent and unspoiled.This alone is appealing to a teacher who loves to help small children to take their first steps in learning," said Nelun.
Shermila who counts thirty years of teaching Pre-School children had some very amusing anecdotes to relate.
A boy was discussing pets in class and he drew his pet, a dog with spots all over. Your dog has many spots, observed Shermila. "No," said the little lad in all seriousness, "they are not spots, teacher but tick bites!".
A little girl while talking of the different professions of parents told Shermila "my father is a lawyer but my mummy keeps asking him whether he is scraping coconuts at Hulftsdorp. Why coconuts we wonder, a new angle to the legal profession!!
"We are very proud of a former pupil Nirupama Rajapakse, the Deputy Minister of Women's Affairs who still does any favour we ask of her and hugs us when she sees us despite her exalted position," said Shermila.
Said Nelun, "We have both realized that very young children give of their love to everybody. This is because they remain unspoiled. Children show great confidence in their teacher and this bond remains with them all their lives.
"A boy who once drew rugger players on a rugger field told me," said Shermila "I will play rugger at Royal."
"Will you ask me to come and watch?", asked Shermila and the boy looked up from his drawing said, "Yes, teacher if you are not too old by then. After all I am only five now!."
The boy did make the rugger team at Royal, said a beaming Shermila and "he rang and asked me to come and watch him. As Nelun says these children remain attached to us."
"He may this year make the captaincy of the rugger team. I am so very proud," Shermila said beaming as if she had won an outstanding award herself.Talking to Nelun Ratwatte and Shermila Rajaratnam, the Principal of the Young Minds Pre-School, one gained much insight into young minds.
One requires a genius of a certain type to be so very happy teaching the very young.
Both Shermila and Nelun have the knack to find this a rewarding profession.