---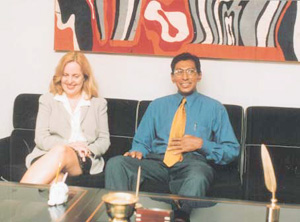 "Do your recommendations include his departure?" "Oh! No, we wish Mr. Prelis could be with DFCC permanently," said Price Waterhouse Coopers Management Consultant in Colombo Leslie Flynn at a press conference to discus the Bank's on-going restructuring. Flynn is spearheading a PWC driven restructuring for the bank which will take it to the next millennium redefining its role. Maxi Prelis who has been synonymous with DFCC during its recent history will retire later this year to follow a different line of interest-meditation. Pix: Lakshman Gunatilake
---
Mixed readings on growth, deficit for 1999
The budget deficit could be contained at 7.5 per cent of gross domestic product (GDP) this year (down from 9.2 in 1988) and a 4 per cent to 4.5 per cent growth GDP could be expected, a senior Central Bank official said last week.

"We expect the economic growth to hover around 4 to 4.5 per cent and the fiscal deficit to be 7.5 per cent of GDP," Director Economic Research, R A Jayatissa told a seminar last week.

On the domestic front, an early fiscal correction is necessary, and structural reforms should continue, he urged.

However, Dr. Dushni Weerakoon, Research Fellow of the Institute of Policy Studies said that the deficit is unlikely to be less than 9 per cent.

"I feel the deficit will be over 9 per cent and GDP will be around 3.8 per cent to 4 per cent in 1999," she predicts.

The government needs to control its budget deficit to rejuvenate investor confidence and sustain economic growth, she said.

Her sentiments were echoed by Central Bank Governor A S Jayawardena who told the media at a recent briefing that: "The government has to get back to its intention of reducing the budget deficit to 6.5 per cent of GDP and hopefully five per cent GDP growth next year." Central Bank's 1998 annual report said the budget deficit rose sharply to 9.2 per cent of GDP, fuelled by rising defence expenditure and lower tax collections.

With GST (Goods and Services Tax) revenue unlikely to increase this year and a general downturn in the economy, the revenue gap will be hard to fill.

"We are coming up to elections and there is going to be some pressure on government expenditure," Dr. Weerakoon said. The global economic downturn is expected to add pressure on Sri Lankan exports.

With the deficit going out of control, inflation is expected to rise, interest rates will rise, putting pressure on exchange rates. The macro economic situation is not that conducive and even investors are adopting a cautious approach. "We have not seen the after-shocks of the 1998 East Asian crisis and in 1999 we are going to see the resilience of Sri Lanka economy," she noted.

Sri Lanka's import bill is expected to rise in 1999. Oil prices are rising, and there are indications that wheat and grain prices will rise this year. However, export growth is expected to slow down with tea and rubber exports not forecasted to grow this year.

---
Financial products to be monitored
By Mel Gunasekera
The Central Bank is considering regulating a series of financial instruments introduced by financial companies that attract high interest rates but without adequate security and guarantee, a senior Central Bank official said.

Most financial instruments have vague definitions, which leaves room for unscrupulous activities.

"We are in the process of drafting a set of rules which define financial instruments, to prevent unhealthy activities," the official said.

Over the years, financial institutions have taken refuge under lack of regulations to solicit funds under the guise of attractive schemes, which carry a heavy credit risk. One such scheme, recently introduced by a financial institution listed as a primary dealer mobilises funds asking for a minimum Rs. 100,000 for a one-year, with a minimum guaranteed annual return of 17.5 per cent.

In the USA, the SEC (Securities & Exchange Commission) has to approve quoted and unquoted corporate debt.

The SEC in Sri Lanka only regulates quoted debt. In this instance the scheme is unquoted, hence does not fall under scrutiny.

Although this scheme is not illegal, the market has raised questions about the adequacy of investor awareness about the risk in such investments.

In neighbouring India, such schemes collapsed with no rescue operation for private placements.

Such methods bring disrepute to the rest of the market players, and shatters investor confidence in the entire finance industry, analyst said. Central Bank officials say they only regulate primary dealer activities as most primary dealers operate as a division of a parent company.

"When dedicated primary dealers are in operation, we can regulate primary dealer activities more effectively," Superintendent Public Debt, T S N Fernando said.

---
DFCC to plunge into debt markets
DFCC Bank, currently undergoing a major overhaul courtesy Price Waterhouse Coopers (PWC), will move heavily into debt, outgoing CEO/GM Maxi Prelis said. Prelis is due to retire at the end of the year and the bank is aggressively hunting for a replacement. With access to soft loans drying up, we hope to tap the international capital markets as well as the local debt market to source funds for medium to long term projects, Prelis told The Sunday Times Business. The bank has already raised US$ 65 million on the international market which will be used to buy corporate debt, which will be listed on the Colombo Stock Exchange, creating a secondary market for corporate debt, Prelis said.

Price Waterhouse Coopers (PWC) who undertook DFCC's restructuring process, has identified the need for debt market development, PWC Project Manager in Colombo, Ms. Leslie Flynn said.

"We want DFCC to fill this gap. DFCC can play a more important role in this area," she said. DFCC has made plans to start an investment bank purely for debt market activities. Prelis said that the Central Bank could play an important role to encourage multinational companies present here to issue debt.

There could be a condition in the privatisation process for multinational companies investing in the project to source their funds through debt issues. "They should not drain the local commercial banks, instead the authourities could induce them to list their debt," he said. Multinationals have a responsibility and they must contribute to the long-term development of the country, he said. Smaller companies should not list debt, instead tap the commercial banks for funding. Instead bigger companies like Hayleys, Levers, NTT/SLT should fund their expansion programme through listed debts. He said DFCC would focus on tapping these institutions.

The re-structuring process will see an American style management process. "We have reached the end of our capacity, out lived our present organisation. The designations are in line with international practice. We are going to borrow commercially overseas and we need to have an organisational structure that is internationally recognised," he said. DFCC has already advertised for newly created positions of eight Executive Vice Presidents (EVP), in addition to a new CEO/President. Out of the eight EVPs five have been identified from within the bank. EVPs will focus their activities on IT, Marketing and Human Resource Development. Under the new roles the managers and staff will have a greater say in decision making. "The entire process will facilitate greater shareholder value in the medium to long term, further increase margins, competitiveness, productivity and improve innovativeness," Mr. Prelis said.

DFCC is being prepared to be one of the next generation financial institutions in the country. The Bank is curtailing its present equity investment of Rs. 3 bn due to poor market sentiment. Giving up the equity brokerage was a financial decision as we felt there are too many players in the market. If market sentiments pick up next year we may go into a strategic alliance with an existing brokerage, he said. "We hope the report won't be used like a Bible but the suggestions given can be further refined in the Sri Lankan context", Ms. Flynn said. "We have given a map and a set of directions, it's upto the Bank and senior managers to drive with it," she added.

---
Ceramics cracks
Cracks began to deepen in the ceramic giant Lanka Ceramics last week, with the resignation of a senior board member and the company suspending its controversial management fee.

In March this year, Lanka Ceramics Ltd (LCL) major shareholder Uni Walker Group entered into a management agreement with Uni Walker Management Services Limited (UNMS)

The agreement entitled UNMS to 1 per cent of LCL's turnover and 5 per cent of net profits.

Market sources say the management deal was conjured to strengthen Uni Walker's position in LCL, as the Ceramics Company was subjected to a 'hostile' take-over.

However, LCL officials said Uni Walkers has been managing the company without a fee since it was fully privatised a few years ago.

The management fee was put into formalise what Uni Walkers has been doing over the past few years, the official said.

The management contract was for five years, renewable for a further five-year period depending on the performance.

The controversial management agreement may have been withdrawn due to shareholder pressure, sources said.

---
More tea to Pakistan
By Shafraz Farook
Larger volumes of tea may be exported to Pakistan following last week's breakthrough by a tea delegation to the SAARC.

The delegation that attended the talks in India and Pakistan has managed to negotiate possible tea exports to Pakistan through a fast track trade agreement. This agreement looks at exporting around 10%- 15 % of our total exprots or or 15 mn- 20 mn kilos to Pakistan. At present Sri Lanka exports about 3% to 4% or around 4 million kilos annually.

Meanwhile, at the SAARC delegation South Asian officials formed the Tea Association of South Asia to promote growth and consumption of tea within the seven member countries.A SAARC tea association could not be formed because Pakistan and Maldives were not present at the delegation. A draft constitution was formed from the initial draft and will be finalised at Karachchi, Pakistan in November this year, Sri Lanka Tea Promotion Bureau Director, Hasitha de Alwis said.

The idea of a tea association comprising the world's largest producer, consumers and exporters was mooted after the African tea producing countries banded together to form COMESA and India and Sri Lanka felt they would eventually be crowded out of the lucrative Egypt tea market.

Member countries also discussed the possibility of getting tariff reductions within tea producing countries and within the member countries.

The Sunday Times Business also learns that there was a keen interest from Pakistan and Bangladesh to commence growing tea.

The Sri Lankan delegation who met the Pakistani officials agreed to help Pakistan in their endeavours.

The New Delhi talks also looked at issues like conducting joint marketing, research and also look into other issues like setting minimum quality standards for exportable tea.

Meanwhile local tea prices picked up in last week's auctions recovering some losses incurred in the previous auction.

John Keells Tea Brokers said that many buyers seemingly decided that the low prices were attractive enough and therefore participated with fairly substantial orders. This helped the lower end of the tea market gain a few rupees, hence selling above Rs. 60.

Prices for most varieties made further gains, averaging Rs. 120 and looks like it would stabilize fairly soon, the report added. They expect the monsoon to break soon and harvest to decline, hoping for prices to pick up.

The Sri Lankan delegation comprised, Tea Board Chairman Clifford Ratwatte, Sri Lanka Tea Promotion Bureau Director, Hasitha de Alwis, Chairman Tea Exporters Association Ajith Gunetillake, Mr. R L Juriansz from the Colombo Tea Traders Association, Tea Smallholders Association Chairman Rohan Illangaratne and Mr. P B Gopallawa of the Tea Board.

---
Paris Aid meeting fixed for December
By Feizal Samath
Sri Lanka's foreign donors are likely to meet in December this year for their regular aid-Sri Lanka consortium group parley to decide on the quantum of aid to this country, World Bank sources said.

The group met last year on May 28 in Paris but the sources said there was no cause for alarm in the change of dates. "We are holding the meeting once in 18 months," one source said, noting that the 1996 meeting was held in November while there was no meeting in 1997. The source said that some donors had suggested December as an appropriate date for the meeting. Other dates were also being considered.

The meeting organised by the World Bank, since the 1960s, brings together foreign donors, financial lending institutions including the International Monetary Fund (IMF), the Asian Development Bank (ADB) and Sri Lankan officials, normally headed by the finance minister or the deputy finance minister.

At last year's meeting, aid pledges totalling little over US$ 700 million were made by donors to the Sri Lankan delegation led by Deputy Finance Minister Prof. G. L. Peiris. The World Bank also organised a half-day discussion on social issues and trends in Sri Lanka during the Paris meeting.

The aid group meetings were annually held during the former United National Party government except in 1994. The 1995 Paris meeting was held in April.

Informed sources say that some donors are keen to move the meeting away from Paris and even hold it in Sri Lanka but the government is not too happy about meeting in Colombo.

A retired government economist said that in recent years donor countries have sent low-level officers or ambassadors instead of before when top officials attended the Paris meeting. "If the meeting is held in Colombo, donors may ask their ambassadors to attend and that would not be to the liking of government authorities," he said.

---
Washington opposes Asian consensus
Conformity with the Washington Consensus appears to be manda tory for other nations of the world. This was the clear message which the American and European representatives gave at the recently concluded Annual Meetings of the Asian Development Bank (ADB) in Manila. The sentiments of the new Japanese President of the ADB Todao Chino to forge a different line of thinking on Asian economies was severely frowned upon. It appears that the US and its allies are determined to dictate terms to the Asian countries. Is this a new imperialism ?

Mr Chino had articulated a new concept of constructive competition among the development financial institutions of the world. He is of the view that governments of Asian countries should follow more flexible policies suited to their particular conditions rather than follow the prescriptions of the IMF and World Bank. The President of the World Bank Wolfensohn takes a diametrically opposite stance that developing countries should not go on their own way but follow strict prescriptions laid down by the Washington Consensus. Such a conformity the World Bank chief contends is in the interest of the developing world.

Bertrand Russel said that Popes despite their claims to infallibility made grevious mistakes. The claims of the Washington institutions are even worse as their self-righteousness comes in the wake of proven mistakes in their prescriptions. After the Asian debacle, which these institutions could not predict even on the eve of their catastrophes, the Washington twins were expected to be more humble in their approach to developing countries. They had described these economies as miracles and other developing countries were expected to follow their path. . Despite their mistakes the IMF and World Bank continues to believe that they alone know what should be done. It is basic commonsense that the economies of the world differ in their structures, capacities and stages of development, which imply that a single policy prescription is not likely to work for all countries. Yet that is not the way of thinking of the Western dominated multilateral agencies. They insist on a single prescription.

In contrast the Japanese are of the view that there should be more variation in policies depending on the particular conditions in each economy. They take the view that theoretical policies however rational do not necessarily hold good in the real world, or more specifically the specific conditions of each country. It is also felt that the institutional capacity to implement IMF World Bank policies are weak in many countries of Asia and that policies should be tailored to their capabilities of implementation. The World Bank however is of the view that the ADB is too soft on the conditionalities and that they should follow the same set of conditionalities as laid down by Washington.

Despite the new ADB President's more pragmatic approach, the US government and her allies are in no mood to accommodate a more flexible approach, which departs from the Washington Consensus. Only China and India lent support to the new stance of the ADB president. What this demonstrates very clearly is that the US and her allies want to dominate the world economy and dictate economic policies, which are of advantage to them. The end of the cold war has made this possible

---
Bouquets and brickbats for CB from IMF Rep
By Feizal Samath
The Sri Lankan govern- ment should take fis- cal measures in light of the disappointing 1998 budget outturn, the Colombo representative of the International Monetary Fund (IMF) says.

"It will not be possible to reduce the budget deficit to six percent of GDP (gross domestic product) as planned by the government. Revenue underperformed in 1998 and will do so again in 1999 in the absence of measures, especially given the weakening of the economy," IMF representative Anton Op de Beke told The Sunday Times.

Sri Lanka's economy was little affected by the East Asian crisis up to around mid-1998 but after that the depressed world economy started to take its toll on Sri Lanka's export sector. At the same time, competition from East Asia intensified as Korea, Thailand and Malaysia stabilized their economies and were able to take advantage of their depreciated currencies.

Coupled with these drawbacks, several years of historically high tea prices came to an end in 1998 with the tea industry being adversely affected by the Russian financial crisis.

Economic growth last year fell to 4.7 percent from 6.3 percent in 1997. Growth would have been substantially lower if it had not been for the unusually good paddy harvests (18 percent growth over 1997), according to the Central Bank's 1998 report released earlier this month.

GDP figures for the fourth quarter of 1998 show sharply declining growth in manufacturing, construction and services. The Central Bank said last week that economic growth in 1999 would be between four and five percent.

Mr Op de Beke said the slow-down in growth was largely due to external factors and there was not much that economic policy could do in the short term to counter this. The best would be to try to boost investor confidence by working towards affordable budget deficits and low and stable inflation, and by accelerating the economic reform program, he added.

He praised the Central Bank report for its candid assessment of the state of the economy and the statistics it provided, particularly on the fiscal situation.

"I am glad the Central Bank focused on the serious fiscal situation. The numbers in the report bring out clearly that the deterioration in 1998 was mainly the result of a shortfall in revenues, " he said.

The IMF representative said that there was a mistaken belief that Sri Lanka's fiscal problems were due to defence expenditure. He said high defence spending, obviously crowds out economically more productive expenditure.

"More generally, current expenditures should be curtailed in favour of capital expenditure. But at least tight control over non-defence spending is keeping total spending reasonably under control. From a fiscal management point of view the pressing problem is tax collection. As a share of GDP it has been declining for the last three years, and it will again this year unless some action is taken," the IMF representative noted.

According to the Central Bank report, the fiscal deficit (not taking into account privatization proceeds and grants) rose from 7.9 percent in 1997 to 9.2 percent in 1998.

This was as a result of total revenue declining to 17.3 percent of GDP in 1998, from 18.5 percent in the previous year and 20.4 percent in 1995. The decline in tax revenue was even sharper, from 16 percent of GDP in 1997 to 14.5 percent in 1998, partially offset by a small increase in non tax expenditures.

Expenditures, on the other hand, as a share of GDP were unchanged from 1997 to 1998 at 26.4 percent of GDP, easing from a high of 30.5 percent in 1995. Current expenditures were down by one percentage point to 19.7 percent of GDP in 1998, thanks to a lower interest bill, while capital spending was up to 6.8 percent from 5.7 percent of GDP, the year before.

"The principal problem with the current size of the budget deficit is that it forces the government to borrow large amounts of money that otherwise would be available to the private sector for investments in productive ventures", Mr. Op de Beke said. He noted that in 1998 one third of bank credit went to the Government, and almost all the money collected by institutional investors such as the EPF and ETF.

The report noted that the GST (Goods and Services Tax), introduced in April last year, did not generate the projected revenue due to transitional problems in its implementation and because the rate of 12.5 percent was below the estimated 17 percent rate that would have raised the same amount of tax as the BTT did previously.

This accounted in fact for two thirds of the tax revenue shortfall in 1998 since general sales and turnover taxes brought in one percent of GDP less than in 1997.

The IMF representative agreed with the Central Bank that the GST rate was not "revenue neutral".

"In addition to reviewing the current rate and list of exemptions, the government should seriously consider extending the GST to cover the wholesale and retail sectors. Those sectors produce a lot of 'value added' and if they are included in the GST base, the rate can be much lower. Covering the retail sector would also help the enforcement," he said.

The Central Bank Governor's comments at a press conference earlier this month that the income tax base should be widened to include public servants and parliamentarians and that tax breaks to foreign investors should be limited, has stirred up debate in many quarters.

Widespread tax holidays and tax concessions to foreign and domestic producers alike were responsible for the erosion of the bases of income and import taxes, according to Mr. Op de Beke, who said that there was no evidence to show that temporary tax concessions generated durable and high quality investments.

"It is true that quite a few countries offer them anyway. But it is an ill-advised strategy, which especially a country with pressing fiscal problems like Sri Lanka cannot afford. The government should begin with quantifying the costs of all tax concessions so that it can balance them against its tax and expenditure priorities as part of a rational budget debate," he said.

The bank said that the Colombo District Consumer Price Index (CDCPI), computed by the Central Bank, showed an annual average increase of 7.3 percent in 1998, down marginally from 7.4 percent in 1997. The Department of Census and Statistics' Colombo Consumers Price Index (CCPI) reported an annual average increase of 9.4 percent in 1998, slightly below the 9.6 percent in the previous year.

The report said that normal seasonal price changes were seen in 1998 with price levels declining, according to all consumer price indices, during February-March and July-September, which corresponds with the country's two rice seasons.

The IMF representative agreed with the Central Bank's analysis that although inflation came down slightly in 1998, Sri Lanka remains a "high inflation country".

He endorsed the emphasis the report placed on inflationary expectations. "When I ask people what they think inflation will be over the next year, they often answer 10 to 15 percent. That is well above measured inflation and certainly much above the Central Bank's implicitly stated objective of reducing inflation to below five percent. High inflationary expectations add to real interest rates and to the cost of bringing inflation down."

Mr Op de Beke said that it is popular among central banks around the world to try to bring down inflationary expectations by being explicit about their inflation target and backing this up with an well-articulated and transparent monetary policy.

"Of course this will only work if fiscal policy is supportive. The Central Bank's report does a good job in highlighting the threat to inflation, or the cost of living, from an uncontrolled budget. It would also help if there was a single high quality consumer price index in Sri Lanka. If the CPI was methodologically sound, covered the whole of the population and not just the 40 percent lowest income households, and was based on an up-to-date consumption basket, it would command much more credibility," he added.
---
Front Page| News/Comment| Editorial/Opinion| Plus | Sports | Mirror Magazine