Forerunner in the genre of Indo-Jazz fusion John Mayer will soon treat Colombo audiences
Freedom in fusion
The British Council in association with the Sunethra Bandaranaike Foundation, AirLanka, the Hilton Colombo and TNL Radio will present Indo-Jazz Fusions on May 24 at 7.30 p.m. at the Colombo Hilton Ballroom and on May 26 at 7.30 p.m. at the British Council.
By Arun Dias Bandaranaike
The Sunethra Bandaranaike Foundation has, of late, been calling the shots in the realm of refined artistic performances. All of this, in support of the Foundation's own purpose of assisting deprived young people to participate in the mainstream of artistic achievement.

Sri Lankan audiences will now have the privilege of hearing another violinist of Indian birth, but, a

forerunner in the genre come to be known as Indo-Jazz fusion, the Birmingham based John Mayer.
It would be important to recognise the stature of John Mayer, in the context of contemporary attempts in this area, and much that occupied world audiences in the '70s with the work of guitarist John McLaughlin with his 'Indo' sounding "Mahavishnu Orchestra" including the affectation of Eastern mysticism as propounded by the likes of Sri Chinmoy (remember "Inner Mounting Flame" - issued on Columbia Records?), as well as the work of individuals such as Saxophonist Charlie Mariano combining forces with the Karnataka College of Percussion, Trilok Gurtu, Talvin Singh and many others of their clones leading up to the present. Not least among these, pursuers of the same tangent in Sri Lanka such as "Triveni" and "Shakti" as led by Anthony Surendra.
Indeed, what of the effete "The Colonial Cousins" - we might well ask in this same context.
For Mayer, fame or fortune never came easily. As an example in contrast, guitarist McLaughlin and the Mahavishnu Orchestra (later with (Devadip) Carlos Santana and (Narada) Michael Walden, (more recently again, joining hands with the legendary Indian flautist Hariprasad Chaurasia) came out from the galaxy of the l969 Miles Davis band which produced the milestone classic, "Bitches Brew". With that level of 'acceptance', McLaughlin's trading places from the plugged-in Free enterprise of the Jazz avant-garde, in favour of this introspective Indo 'chic' was a smart career move.
John Mayer's rite of passage in the birthing of his muse, engendered far more anguish for him. Mayer 'existed' even before the word 'fusion' was appropriated into the vernacular of music. Born in the grinding poverty of Calcutta's slums, in 1930, music was an escape in very real terms. His attitude was that of a gunslinger; as Mayer admits, "When I'm hungry I play. It's as simple as that.... have fiddle will travel"!!! But, for his dock-worker father, violins and music for a boy was an unmanly pastime, and he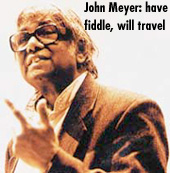 was unwilling to tolerate a 'cissy' in his household.
Therefore, he learnt from a French violinist in secret, until he was 13 years old. Then, encouraged by another Indian violinist, Melhi Mehta (father of conductor Zubin) Mayer entered Bombay's most prestigious music competition, played Brahms' Violin Concerto and won the Prize, which was a paid trip to London to attend a violin course at the Royal Academy of Music.
This was the escape that he yearned for, but obviously, the funding had to run out soon enough. Survival in this milieu was possible only as an orchestral player in The Royal Philharmonic from 1952 to 1965. This experience, and facing bitter ridicule and antipathy for nursing notions of grandeur, was his initiation both into the real world of Western Music, as well as into the 'life of a musician'. Actually, the violin was, for John Mayer, only a means to an end; his goal was to be a 'composer'. Was it likely that he would be accepted, being just another fiddle player, and an Indian at that?
He earnestly persevered nonetheless. He badgered his way to a meeting with Denis Preston, a powerful producer at EMI (Incidentally, the "Grove Dictionary of Jazz" credits Preston with coining the word "Fusion" to represent the meeting of Jazz with other forms, such as Pop, Rock and Indian Raga). Preston wanted two-and-a-half minutes of music as background for a literary event, and since other composers in his stable were otherwise occupied, asked Mayer if he had anything to fit the need. Mayer lied, and said that he had one scored for wind and percussion, but, stayed up all night and composed a piece which he called "Nine for Bacon" (the reference being to Francis Bacon), and handed it in the next morning at 6.30 a.m.
At the recording session were some of Britain's outstanding Jazz players. A friendship developed, although it was a full two months before Preston returned to Mayer with the words "....they had this idea of bringing a fusion of the Indian and the Western together".
The often bitter cultural divide that separated India and Britain during the pre-war Gandhian campaigns, began to gradually heal after independence in 1947.
By the middle '60s sitarist Ravi Shankar had formed an over publicized friendship with the Beatles and also with classical violinist Yehudi Menhuin. Again, another 'climate' change had occurred, when by 1959, alto saxophonist Ornette Coleman descended on Jazz with Free improvised performances, and other Hard Boppers were delighting in experimenting with modes and scales to produce the monumental influences like John Coltrane, and Eric Dolphy. Though far less well documented, similar developments were taking place at the same time in Britain involving names such as trumpeter Kenny Wheeler, Flautist Harold McNair, and from the Afro-Caribbean community in London trumpeters Shake Keane and Dizzy Reece, and the very powerful alto saxophonist Joe Harriott.
John Mayer's meeting with Joe Harriott was fateful. As it happened in this scheme of things, Harriott was on a quest for 'Freedom' having pioneering albums like "Free Form", "Movement" and "Abstract" (British Capitol label), and had realized the need for getting his head around the Eastern methods. Mayer and he had a common purpose though a hard won one, when Denis Preston brought them together. Also present were Keane, then later, Wheeler, pianist Pat Smythe and drummer Jackie Dougan.
In actuality, there were two separate sessions, 'Indo-Jazz Suite', and 'Indo-Jazz Fusions', the latter yielding the 'heat exchange' of Raga and Free jazz to levels that were both exciting and artistically satisfying. A generation ago, listeners in Sri Lanka would remember Tommy Perera, on his Monday night Downbeat Radio programme and later his bride Mahes frequently focusing on these same amazing recordings, that still remain gathering dust in the library of the SLBC! (Indo Jazz fusions I and II have been reissued on CD on Verve, in 1998)
In these attempts at integration, Mayer was allowed full-flight for his compositional impulse. From his knowledge of the Eastern system as well as what he had toyed with for years, the serialization and scalar techniques of Schoenberg, Mayer brought to realization some profound pieces of musical invention. At last, there was success and critical acclaim. The Indo-Jazz groups led by Harriott and Mayer toured the UK and were present at larger international festivals and also were, even later, the focus of a series of TV specials, where they played with invited guests (including the Moody Blues!). Harriott's untimely death from cancer, in 1973, brought to an end this fruitful period of musical experimentation and artistic creation. Mayer remembers that it was their road manager Don Norman, who in fact coined the word 'Fusion' to describe their work, but which was picked up for promotional purposes by Preston of EMI. From this perspective, it is clear that others who lapsed into this same groove, were only followers.
In the intervening years since then, John Mayer has remained with his compositions, albeit with far less success than he enjoyed during his partnership with the towering Harriott. Mayer is now composer in residence at the Birmingham Conservatoire, and has also sat on the Arts Council.
Aside from the above activity, Mayer also has continued with his orchestral, chamber and other instrumental compositions. "Prabandha" for Cello and Piano was recorded and performed by its dedicatees Rohan and Druvi de Saram. Some of the other works are "Shivanataraj", and "The Flames of Lanka" which may not sound that exotic now, but they nevertheless represent a fervour and stance that is monumental in bridging Eastern and Western musical systems.
The question is: Would Mayer in his current incarnation as leader of an Indo-Jazz outfit, still be able to kindle a fire which he has spent stoking for nearly 30 years? His attitude is interesting, "If you are challenging a man to a duel, make sure you know what arms he is using, because if you take a sword and he has a gun, he'll blow your head off!" By such a gunslinger as Mayer is, I can expect to be delighted!!
(The writer acknowledges the research of Rob Young of WIRE in the preparation of this article. See http://www.dfuse.com/the-wire)