---
I'm born again!
Was he Ranasinghe Premadasa?
By Udena Attygalle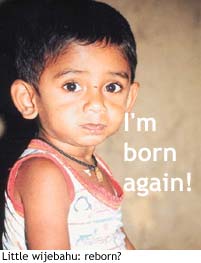 Stories of rebirth are as old as history itself. The countless, yet mostly inconclusive pieces of evidence scattered along history's many roads have only deepened this mystery. Even with our modern gadgetry "the other life" remains as yet a minutely explored question.

So when a little child, not yet two, in remote Hanguranketa describes his past life, how do we deal with it? Is it dismissed as just another 'tall story'?

Not when his story is about a man named Ranasinghe Premadasa. The second executive president of Sri Lanka, brutally killed by an LTTE suicide bomber was a person who aroused deep feelings of both love and hate in his people. In short his was a life that left an indelible mark on the history of our country.

Kottala is a small agrarian community about three kilometres from Hanguranketa. A quiet village surrounded by mountains, which gives it an ideal cool climate, it's the kind of place where everyone seems to know everyone else.

The foot path to the child's house led through a very green and lush paddyfield. The house of Minister S.B Dissanayake was also close by. Last Tuesday morning, we were not the only people who were visiting little Sampath Wijebahu. Many others who had heard of this amazing tale were making their way towards the little house that Ranasinghe Banda (the father), a peasant farmer and G.W Wimalawathi (the mother) shared with their two children.

In fact the first experience the family had with rebirth happened nearly two years ago, unknown to the rest of the world, when their first child started talking of her past life in "Pansalwatte" in Kandy. The parents were shocked. But the phenomena didn't last long. By the time six months had gone by she didn't recall anything of her previous life. This had happened when she was about the same age as her brother is now.

Little Wijebahu's birth occurred under strange circumstances. After their first child his parents were practising birth control. So when Wimalawathi complained of pains, it was put down to a stomachache. Only after a doctor's examination did it transpire that she was five months pregnant.

After this, strange things began to happen. Wimalawathi suddenly developed a craving for the taste of ash. She had even swallowed a whole handful of it only to vomit the next moment. She now believes that this yearning for burnt things was due to the tragic way the president died.

Wijebahu was born on February 9 at 4.15pm. His astrological sign was calculated to be Cancer. The first year of little Wijebahu's life was uneventful, like that of any other toddler. It was in the second year that changes began to happen.

The child began to wake up at 3 in the morning and observe pansil (a well known habit of the late president). One day seeing a coin depicting the late president he had said "This is me." By now he even began to say that he was from "Kenwatte" (the late president was born in Keselwatte).

All this had happened about 1 1/2 months before the story became public.

When we visited little Wijebahu he was playing in the yard, seemingly unfazed by the 50 on-lookers gathered around him. He seemed to like the attention, and it was with great reluctance that he came to a quiet spot to speak to us.

As if to show his displeasure at being hauled away from the admiring crowd, he didn't speak to us for a long time. It was after much prompting from the parents that he said a few words.

For the first time that day he said that he was "Pemadasa", his wife was "Hema" and his children "Sajith and Dulani". The "performance" though, wasn't very convincing.

Was it the prompting that made the boy speak? Why didn't he say something new ? These were the questions paramount in our minds as we left the house.

But wasn't this boy a vegetarian like President Premadasa? Didn't he sometimes walk on his toes with hands crossed behind his back? Didn't his horoscope say that he would be a great speaker, a trait the late president undoubtedly shared. All these questions left us no nearer the answer.

A short distance from the house is the Madanwala Pirivena. A Pirivena that still uses old methods of teaching. This place it seemed had won the heart of the late president. A sudden visit had made the President an ardent devotee of the temple, so much so that he had gone to great lengths to provide the temple with a new building. In his unique way he had personally overseen the construction.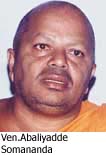 According to the Ven Abaliyadde Somanada Thera of the temple even though there is a time lapse between the death of the president and the birth of Wijebahu there may have been a gandabba period ,when the life force searches for a suitable place to rest.
Maybe this place was what the spirit of the president was searching for. Maybe this was the kind of life the late president wished for, but never had. A quiet place, the temple he loved close at hand and an easy paced lifestyle, without all the pressures he had to live with during his life time, the Thero said. Another interesting observation the Ven Thero made was that Wijebahu was actually related to Minister S.B Dissanayake.
Ranasinghe Premadasa was a self-made man. On his way to the top he made many enemies as well as friends.
The parents of Wijebahu fear that people from the president's past may try to harm the child with the motive of revenge. So when the stream of people bring gifts of foodstuffs for the child the parents are very careful. Poisoning, they believe, is a distinct possibility.
It could well be that this little boy is just another nine-day wonder. Maybe in a few months the world will forget Wijebahu's strange revelations, and he will get a chance to make it to the top on his own as Wijebahu Banda. Maybe that would be the best for this child who has had fame and attention suddenly thrust upon him.
---
More Plus * Gone is the beauty *Uva vignettes
Front Page| News/Comment| Editorial/Opinion| Business| Sports | Mirror Magazine