Education reforms- Part 2: shifting to a competency -based curriculum
Degree: that's not all
By Kumudini Hettiarachchi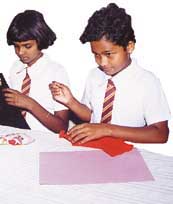 An impromptu musical show. A closer look and we see the instruments - a roughly-hewn piece of wood in the shape of a guitar, with "thangus" strings, a "geta-bera" made of two sardine tins tied together, a plank of wood with a piece of steel nailed onto it turned into a drum, a tambourine made of bottle-stoppers passed through a wire. Eleven-year-old boys having fun and singing at the top of their voices, slightly off-tune.

In a corner of the same room, little cooks in aprons peeling luscious fruit - mango, banana, papaya - about to make a fruit-salad, while close-by another group prepares for a puppet show, with tiny puppets made by the students.

About 18 miles away, similar scenes - children making tea and sandwiches, others clipping newspapers and listening to the radio, still others taking part in a drama, while about four or five girls tend a small plot of land, coaxing the spinach creeper up a frame, watering the radish plants and loosening the earth around only to guide them. The children were free to do, innovate or join another group.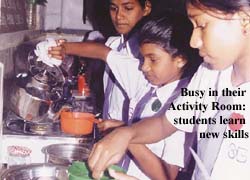 They were in the "activity rooms" introduced in 15 schools so far, under the education reforms of the National Education Commission (NEC). Two-hundred more schools will get activity rooms in May/June, this year with aid from the Asian Development Bank and all 10,000 schools across the country in three years with Japanese aid, NEC Chairman Professor Lakshman Jayathilake says.The students of schools which do not have such rooms do "project work", where they engage in various practical group work.
Vidya Rani (12) said she enjoyed tending the plot at St. Anne's along with her classmates. They hope to sell the produce and channel the money back to this project by buying cheap garden tools and seeds. While watching the children at their tasks in the activity rooms of both schools, the principals and teachers were of the view that it will help them to be more innovative and also find out their talents. Usually, they would have been poring over books, under the old system, just cramming for examinations. But now they will also learn the practical side.
Teachers pointed out that Sri Lankan children were very intelligent, but their "inventive" powers had not been adequately developed. This inadequacy will be overcome by the activity rooms.
Take people such as Michael Faraday, Thomas Edison and even Bill Gates. Most of them did not have a long academic career, but look what they have done, the teachers said.
Maybe, Dilan Kumara (11) of Mattegoda, who has fashioned the roughly-hewn guitar would become an expert, like the famous "Stradivarius" violin craftsmen who have made it a fine art. Or Kaushalya, whose mother has left her in charge of the "nanda" (aunt) and gone in search of better prospects to the Middle East will become a culinary expert.
With the Sri Lanka government's commitment to "education for all", the stress of the education reforms is on "quality as against quantity", while aiming to impart a complex combination of knowledge, skills and attitudes, Prof. Jayathilake explains. "The curriculum would be competency-based, so that once a student goes through her academic career, whether she enters university or not, she would be able to adapt to any situation and use her skills to do any job and activity rooms are part of this."
As the primary education reforms are being introduced in Grade 1, more reforms are being implemented at Grade 6 and 9 levels in secondary education. Another new development is the integration of students not only with their peers, but also with their seniors or juniors. Very young students of Grade 1 and 2 will work with those of Grade 6 during certain periods of the timetable. This will enable the younger children to integrate with the older ones, and the older ones to learn skills such as leadership in dealing with the younger ones, officials of the National Institute of Education (NIE) said. The NIE is engaged in restructuring syllabuses, curricula and teachers' guides, training teachers through a network of "in-service advisors" (a nucleus of teachers who have already been trained by the institute) and putting out colourful textbooks and workbooks. Explaining that such mixing would help them in later life, NIE officials pointed out that in most offices or workplaces you not only had to work with those of your age, but also with those older and younger. The integration in school would equip students to adapt to this kind of environment later.
The emphasis of the education reforms will also be on gathering information through informed means. Children would be made aware of the need to think logically, so that they could be trained easily, instead of memorising textbooks and parroting the teacher. This will help them to fit into any kind of employment.
According to Prof. Jayathilake, the following social goals have also been built into the reforms to enable society: to live in a dignified, self-respectful manner, to have peace of mind, to protect the innocent and the weak.
Then people would have better moral and ethical standards. They will be able to enjoy life without over-consumption of alcohol and other such antidotes. They will also be better attuned in mind and body development.
Allaying fears of favouritism with regard to the school-based assessment, Prof. Jayathilake said such assessment would be done after observation of the child in different activities set under certain guidelines. The assessment such as "weak", "average" or "fast-track" will be kept confidential and not made public, but will help the teacher to give more attention to weaker students and also guide the fast-track ones. The assessment will be discussed only with the child's parents or guardian, so that they too could help the child overcome any weaknesses
REFORMS IN JUNIOR SECONDARY (GRADE 6 to 9)
The most radical reform in Grade 6 will be the setting up of "activity rooms", Prof. Jayathilake explains, while the number of subjects will also increase to eight. They are:
- Mother-tongue
- Maths
- Religion
- English
- Second Language (Tamil for Sinhala students and Sinhala for Tamil students)
- Environmental Studies
- Aesthetic Studies
- Health and Physical Education
In Grade 7, the number of subjects will be increased to 10, with the inclusion of Science & Technology, Social Studies & History and Life Competencies. (The base for Science & Technology and Social Studies & History being built by Environmental Studies).
Prof. Jayathilake explained that under the old system science concentrated on the natural sciences. It lacked a technological content. This was a debilitating aspect of the former education system. Life competencies will be introduced as a subject to enable the student to cope with varying situations such as personal stress, inter-personal relationships and bodily changes (which will come with adolescence). They will also be instructed on time management.
Projects will be worked into the curriculum in Grades 8 and 9, so that the student becomes self-reliant. She will be set fact-finding tasks on the environment, such as a project on bees. There will be group work and excursions.
More guidance and counselling will also be introduced in schools to keep track of the student's progress.
With Grade 9, compulsory education ends, as it is only limited to 5-14 years. The students will then be issued a certificate on the school-based assessment and terminal examinations that will be overseen by the Department of Examinations. According to Prof. Jayathilake the Grade 9 certificate will be valid, even if a student wants to find employment without continuing her studies. Both the assessment and examination results will help her to seek employment suitable to her capabilities.
However, there will be no compulsion for any student to leave school at this stage, he stressed.
ORDINARY LEVEL (GRADE 10 AND 11) The General Certificate of Education Ordinary Level (G.C.E. O/L) studies will be two years, unlike the old system when they were three. After Grade 9, students could decide to study Health & Physical Education and Second Language as an optional subject, while Life Competencies had been worked into other subjects. The students will have to do a minimum of eight subjects, but could go upto even 10. The core subjects are:
- Mother Tongue
- Maths
- Religion
- English
- Social Studies & History
- Science and Technology
- Aesthetic Studies (one from art, music, dancing and drama)
- Technical Subject (one from four subject areas: home economics, commerce, agriculture and technology)
The optional subjects a student could choose from will be:
- Geography
- History
- Development Studies
- Second Language (Tamil or Sinhala)
- Languages (any one from a list of modern and classical languages)
- Health & Physical Education
- Literature (Sinhala, Tamil or English)
Three of the areas listed under "Technical Subject" cover several branches from which the student can pick one
- Commerce — Commerce & Accounts or Typing and Shorthand
- Agriculture — Animal Husbandry, Horticulture, Inland Fisheries, Marine Fisheries or Food Technology
- Technology — Construction Technology, Mechanical Technology, Electrical and Electronic Technology or Art & Craft
Prof. Jayathilake said even after the O/L examination the certificate would have two columns - one for the assessment and the other for the performance at the exam. Therefore, the certificate will be a true reflection of the strengths of the student. The students could sit for 10 subjects, while eight will be compulsory, he said.
Under the reforms, two optional papers would be set for both maths and science, as the NEC had found that most students failed in these important subjects. Those who were interested in pursuing advanced maths or science will have to sit the more difficult papers, as against those who would be dropping these subjects after the OLs. The second category will have the option of choosing which paper they wanted to sit, he said.
ADVANCED LEVEL (GRADE 12 & 13)
At the Advanced Level (AL), reforms for which will be introduced over a period of time, students will have to sit only three subjects and could select from five streams.
- Arts
- Commerce
- Sciences
- Technology
- Agriculture
The first three streams will be similar to the old system, with the change only being that students will have to sit for three subjects instead of four. However, those who are seeking to enter university will have to pass a fourth paper, "General Common Paper" which will be compulsory.
Prof. Jayathilake said by the year 2000, the NEC hopes to introduce construction and civil technology, mechanical technology and electrical and electronic technology as subjects in the technology stream. Then by the year 2001, it hopes to include three more: bio resources; soft materials; and service-related (to cater to the hotel industry or for those seeking to go into a career of hair-dressing).
All these "radical" changes brought about by the reforms, the NEC Chairman hopes, will help put out well-rounded students. With or without a university degree, they should then be able to meet the increasing job demand in the private sector.
ACTIVITY ROOMS
Children are inquisitive and curious, wanting to find out, inquire about and try out things and activity rooms will provide those between the 11 to 14 age group with an opportunity to improve and promote their creative abilities. The main objectives are:
- Make children aware of the wide-range of practical situations and involve them in those
- Provide an opportunity for children to experiment on their own and become aware of their talents and capabilities
- Allow them to get to know the proper use of material, tools, appliances and equipment
- Help them understand the importance of information, how to acquire and process it in a changing environment
- Motivate children to innovate and be creative
The NEC Chairman pointed out that the areas in which practical knowledge and technical skills will be imparted in activity rooms were like the five branches of a tree. A workplace will have a combination of these areas:
- Food and agriculture
- Making and doing (like any craft)
- Information and organisation (especially for offices)
- Performing arts and movement
- Visual and graphic arts
These will help children who are about 11-plus to develop skills and not just be bookworms. They will also help identify children - whether they have a "green thumb", whether they can organise things. But, Prof. Jayathilake stressed it is not to "stream" the child, only to open up new horizons. If a particular child has a "green thumb" it would be encouraged, but she will not be forced into a career in agriculture. There will never be such "streaming", he reiterated.
The principals, teachers and children in both the schools we visited - St. Anne's Tamil Balika Maha Vidyalaya and Mattegoda Maha Vidyalaya seemed to echo Prof. Jayathilake.
The children were free to try out things on their own without being limited by a strict syllabus. Another important aspect was the participation of the community in such activity rooms. Both principals pointed out that the parents were not compelled to send things or money towards the setting up of these rooms. But most had got involved because of their children's enthusiasm - a parent fixed the gas cooker in the activity room of St. Anne's. Its Principal, Sr. Mary Kamala said people had given old computers, broken telephones and old radios for children to study the "inside" of such equipment.
Mattegoda MV Principal Sugath Ranasinghe said parents, not only volunteered to send stuff for the activity rooms, but also helped improve Grade 1 classrooms through a "shramadana".
The steaming cups of tea and the tall glasses of lime juice, prepared by the children themselves that we were offered in the activity rooms of St. Anne's and Mattegoda MV were evidence that they had learnt at least one skill.