The magic of Rangoli
Aesthetics of caring for all life forms
By Roshan Peiris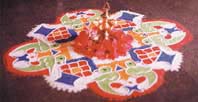 Vanathy Ravindran, the attractive wife of businessman K.R. Ravindran has the ability of giving expression to religious rituals going back to the time of Chola kings.

Kolam, as we know it, is termed 'Mandana' in Rajastan, 'Alpana' in Bengal and Assam, 'Aripana' in Bihar and 'Mugulu' in Andhra Pradesh. It is known as Rangoli in Gujarat. It is an art form anchored in an abiding tradition, an obeisance by man to the culture and tradition of a people.

Basically Kolam is the pattern drawn out with rice flour, normally at the doorstep of the house as a ritual offering to various life forms like ants etc. Although it should be done throughout the year, here in Sri Lanka, Kolam is seen mostly during the month of markaly (December 15-January 14) ending with the Thai Pongal.

The Kolam were originally a part of temple ceremonies. They used to decorate temples, and now sitting rooms and even the kitchen. The pooja rooms are usually decorated with these symbols.

On the aesthetic side the Kolam, in an elaborated form, depends a great deal on the ingenuity of the artist in making innovations which appeal to the aesthetic sense of the beholder.

In the olden days, Vanathy used to outline with a free hand, the pattern of the Kolam with rice flour and then fill it in with coloured rice.

The Kolams with their traditional designs are directly drawn on the floor. But today bristol boards are used for the draft Kolams. The patterns are outlined on a bristol board with pencil dots. Then, the bristol board Rangolis or Kolams are placed as carefully as a newborn baby on the floor to complete the pattern, and for the finishing touches.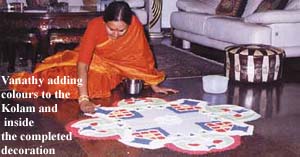 The Kolam is a colourful benediction to old cultural values which also symbolise wealth, prosperity and festivity. The lighted brass lamps are symbolic of this.Vanathy explained that it is really a labour of love as well as joy since one spends as long as two hours to complete a Kolam or Rangoli.
The Kolams are not only filled with coloured rice flour but believe it or not, also with mung for green colouring, rice for white, and mysore dhal for orange.What is significant in a Kolam is the centrepiece with lighted lamps around it.
The Rangoli done by Vanathy had perky parrots with pepper for the black eye.
As a young girl Vanathy used to do freehand traditional Kolams for Deepavali, Pongal and other ceremonial occasions encouraged by her mother Pathma Balasingham.
Today the decorative aspect has changed a great deal. Mango leaves, triangles and even stylised flower vases are used in the traditional Kolams and Rangolis.