Hashan confident of his Lion cubs despite Asia Cup heartbreak
By Ishan Samaraweera
View(s):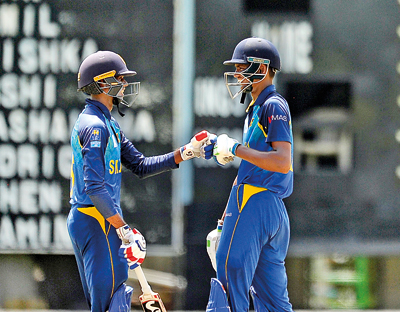 There was much anticipation that Sri Lanka would be crowned Champions since it was played on home soil, but unfortunately they were knocked out as their semi-final clash against India was abandoned due to inclement weather.
A week after their Asia Cup debacle Head Coach Hashan Tillakaratne expressed his views on the recently concluded tournament and the challenges that lie ahead of them.
Despite the heartbreak that the hosts had to encounter, their head Coach Hashan Tillakaratne believes that his team performed well, but they could have been more consistent. He insisted that the team needs to learn the way of handling pressure in crunch situations.
"If we analyse our performance in the tournament, we can't be satisfied with the result. Our preparations were very good. We were the runners-up last year. It was just that we were not able to live up to expectations. The players are very disappointed. I can feel their pain and confident that they will bounce back strongly, with some important tours coming ahead," Tillakaratne said.
After the Asia Cup they will embark on tours of Bangladesh and the West Indies as they are looking to finalise the squad for the Under-19 World Cup in South Africa.
Both the semi-finals were forced to be abandoned due to rain. According to Hashan it would have been better if there had been reserve days.
"In a major tournament such as the Asia Cup, we should have reserve days especially in the knockout stage. After preparing tirelessly for this tour, I feel like our efforts were in vain and obviously heartbreaking to go out without playing the semi-final".
He commended the standards of fielding and regarded it as a huge improvement. At the same time, he was mindful of the fact that there is a World Cup on the horizon. He stressed on the importance of working hard and maintaining the standards moving forward.
"Fielding was a major positive factor. I thought we were the best fielding side in the tournament. In this day and age, the standard of fielding needs to be monitored often. If we have a dream of winning the World Cup next year, we have to maintain our fielding standards. This our main focus now."
The captaincy of Nipun Dananjaya is another positive for Sri Lanka. He scored 114 runs at an average of 38.
According to his Head Coach, he has the making of a good captain and he is certainly a future contender for the captaincy in the National team.
"Nipun (Dananjaya) has been leading the team well.  He's started to think like a good captain. He will mature with experience and I hope that he will captain the National team in the near future," a hopeful Tillakaratne said.
Furthermore he went on to say that they did not take Bangladesh lightly despite comprehensive victories against Nepal and UAE.
"As I always say, we don't take any team lightly. We knew Bangladesh was the toughest side to beat in the group. We wanted to win the group so we had to play our best cricket on the day. Unfortunately it was not our day" He emphasised
However he lamented the way that his lion cubs performed in pressure situations.
"There are a few areas we need to improve. Batting in pressure situations needs to improve. We have to be able to handle vital situations well. It could be while batting or bowling but in general we have to handle these crunch situations better. If they can't perform in pressure situations they will not be able to be successful at international level."
"Against Bangladesh we were asked to chase down 273. Our first ten overs had to be good. It wasn't the start we wanted as we played 41 dot balls so the pressure was firmly on the middle order and eventually we lost the match, and it was a turning point and we were knocked out of the tournament," he added.
Dilshan Madushanka was one of the standout performers for Sri Lanka with six wickets in two matches.
Hashan praised the young fast bowler and believed that he has a bright future ahead of him.
"Dilshan Madushka bowled well. He's improving day by day. Batters such as Ahan Wickramasinghe and Nipun Dananjaya were impressive. Overall the bowlers performed quite well," the former batsman noted.
"All in all, it was a great tournament. We have an idea of the players now. Our next challenge is to perform well on the tours  of the West Indies and Bangladesh. Hope we can finalise our World Cup squad as soon as we finish those two tours," Hashan concluded.
It has to be said that it was the best opportunity that Sri Lanka had to win the Asia Cup and it will be remembered as a lesson learnt, more than as a tournament that slipped away.