UK containers to be checked for nuke waste dangers
View(s):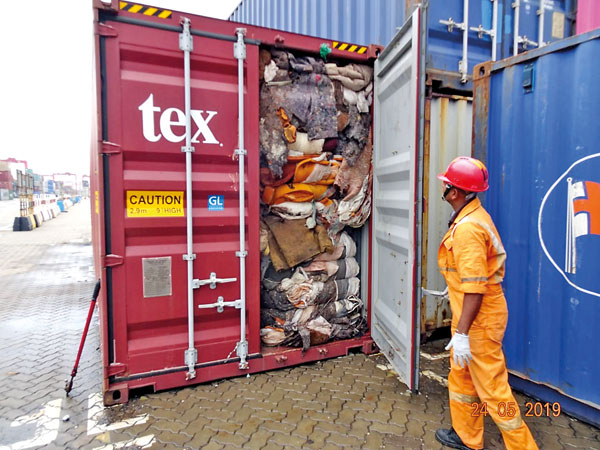 The Government Analyst has called for reports from the Medical Research Institute (MRI) and the Atomic Energy Regulatory Council (AERC) on the containers reportedly loaded waste imported from the UK and now held at the Colombo Port.
Mr A.Welianga, the Government Analyst, warned that if the two institutes fail to submit their reports, they will not be able to investigate the samples of the containers and issue a final report before the next hearing on September 20.
"We informed the courts as we don't wish to risk the lives of the scientists involved," he said.
However AERC Director General,  H.L. Anil Ranjith, told the Sunday Times that no radioactive waste has been detected.
"Investigations were carried out on the 15th and 21st at customs and the free trade zone," he said.
"The main focus of our investigation is to reshoot the containers followed by a customs inquiry which will determine the motive of importation," said Mr Aqthar Hassen, the Deputy Director of customs.
According to him, a senior officer will be appointed to carry out the inquiry. The Director of Chemical and Hazardous Waste Management unit of the Central Environment Authority (CEA), Ajith Weerasundara, said the containers must be shipped back to the United Kingdom.
"Currently we are liaising with environmental authorities of the government sector to re-export the containers," he said.
He claimed that officials of the CEA have determined that the containers are filled with waste.
Ceylon Metal Processing Corporation (pvt) Ltd. Director Sasikumaran Muturamar told the Sunday Times that this modern business model is not a form of dumping, but a part of the process of recycling.
"The bureaucratic red tape does not seem to understand this new industry, we export used mattresses which are separated so it can help manufacture new products," he explained.
The Hayleys Free Zone Limited Director Asanka Ratnayake said that they are still waiting for the Government Analyst to draw samples from the containers and hopes that reports will be ready by the next hearing.