Strain on Colombo's water supply feared despite overhaul of pipeline network
By Sandun Jayawardana and Kasun Warakapitiya
City on course to major improvements by 2022, but long-term solutions needed, say officials
View(s):
While much needed improvements to Colombo's 130 year-old water pipeline network are now being made, officials insist that long-term solutions are needed to prevent serious water shortages in the coming years.
The Colombo Water Supply Service Improvement Project (CWSSIP) has been ongoing since 2015. The project is being carried out by the National Water Supply and Drainage Board (NWSDB) with the assistance of the Government and the Asian Development Bank (ADB). The Rs. 40 billion project divided Colombo into four packages – North, East, West and South. Work on the North and East sections began in 2015 while the South and West sections started in 2017. Work on 450 kilometres out of some 700 kilometres of pipeline has now been completed with the final stage due to be finished by 2022. About 70-80 percent of the pipe system will be replaced with new pipes.
According to the NWSDB, there are currently about 600, 000 people living in Colombo while around 400, 000 commute to the city daily for various reasons. As such, some one million people are in Colombo on a daily basis. The current water distribution pipe network is insufficient to cater to the current and future requirements of the city. Given the rising number of condominiums and the expansion of the Port City Project, improvements to the water supply infrastructure are essential.
Even at present, people living in certain parts of the city still get water only for 6-10 hours per day and the supply is limited to off-peak hours. Distribution suffers severely due to low pressure in elevated places. This means that there is no regular water supply during peak hours to certain areas including parts of Hulftsdorp, Narahenpita, Dematagoda and Kotahena.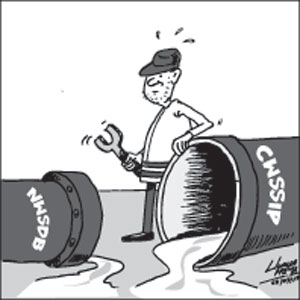 Approximately 300, 000 cubic metres (1 cubic metre = 1000 litres) of treated water is supplied to the city for daily use but prior to the start of the project, the Water Board was losing as much as 49 percent of the water without any revenue due to a variety of factors including leaks in the pipes, illegal water use, authorized free water usage in tenement gardens and other administrative losses. "We have reduced the loss to 41 percent at present and the target is to limit the loss to below 18 percent by the end of the project," CWSSIP Project Director Abdul Rasheed explained.
Sumith Perera, the NWSDB's Additional General Manager (Western), said two factors were essential to prevent immediate water shortages in the city during the next three years. "The Ambatale Water Treatment Plant currently treats about 550, 000 cubic metres per day. We need to immediately increase the treatment capacity of the Ambatale Plant by 50, 000 cubic metres to 600, 000 cubic metres. The procurement process for this is ongoing. We are also saving Non Revenue Water (NRW) through the CWSSIP. If we reach the target of reducing the water loss to 18 percent by 2022, we don't envisage a shortage for the next few years."
Mr Perera though, said water shortages can be expected beyond 2024 even if this target was achieved if more infrastructure improvement was not carried out. This includes the major Welivita Water Supply Project which is supposed to produce 180, 000 cubic metres of water at the initial stage. In February this year, Cabinet identified it as a "priority project" to cater to the future demand of water for areas such as Athurugiriya, Homagama, Kaduwela, Malabe, Pannipitiya, Maharagama, Dehiwala, Kotte and Battaramulla. Accordingly, it approved a proposal by Minister of City Planning, Water Supply and Higher Education Rauff Hakeem to acquire lands required for the construction of the water intake and water treatment plant at Welivita along with lands for a ground reservoir at Hokandara and a pump house at Jayawardanagama.
Mr Perera said it would be extremely difficult to continue supplying water to Colombo City, its suburbs and Port City in the long term if the project was not implemented quickly.
While the CWSSIP is progressing in the city, it too has faced hurdles. Colombo has no "utility corridors" (specific passages built under or above ground to carry utility lines). The networks of many utilities run underground and absence of accurate data on their locations mean workers have to be extremely careful, Mr Rasheed explained. "As such, the project is designed to investigate, find more details, record and find a way to lay the pipeline," he noted, while adding that there are times when they have to stop and even completely change their route after running into other utilities while digging. This of course, is a time-consuming exercise.
Nevertheless, Mr Rasheed insisted that the project would greatly improve the water distribution system in Colombo city. Water will be at the appropriate pressure as the main pipe that brings water to the city would be of a higher capacity, he opined, adding that speedy solutions will be given to leaks and breakdowns using Geographic Information System (GIS) technology.
He further said water meters will be fixed at the front boundary of the property and meter readings will be on actual consumption rather than estimates.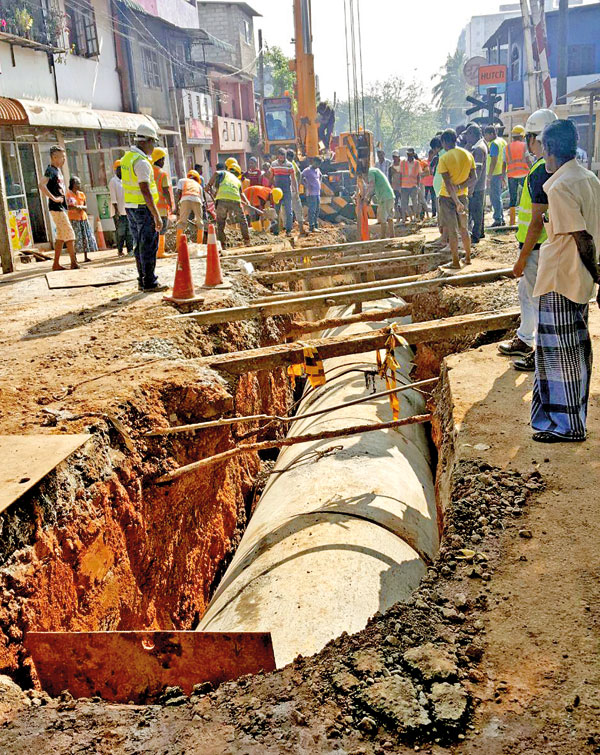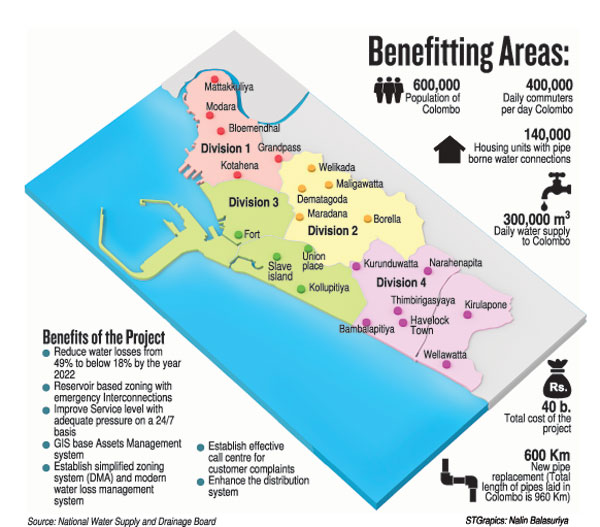 Residents say 'please reduce inconvenience'; officials say 'bear with us'

Residents of Borella and Dematagoda areas complain that they have been severely inconvenienced due to the laying of water pipes in the night.

Angry residents claimed their day-to-day activities were affected by unannounced excavations taking place in front of their houses during the night.

Neurosurgeon Dr. M.P Gunawardene (46) said that though the laying of water pipes were completed by the Water Board, the road in front of his house had not been properly repaired and is now a muddy mess.

A few weeks after workers from the Water Board left, those from the Colombo Municipal Council (CMC) again started digging it up claiming they wanted lay some culverts and gutters in order to stop flooding on the road, he added.

"We are not against these improvements, but when they engage in such activities they should minimise the inconvenience caused to people," he said.

Dr Gunawardene added that when the Water Board construction was ongoing, all their equipment was left in front of his main gate and therefore he was unable to take his car out of the house and was forced to ask them to remove the equipment every time he travelled by car.

Another resident who lives at Siridamma Mawatha Borella, Dhramapala Perera (66) said he is suffering from wheezing after inhaling dust as the water pipeline construction along his road is still continuing.

"Now I am using an inhaler as the dust inhalation made me sick. Even my wife is sick. She went to our son's place as she was also unwell due to living in the dusty atmosphere."

He explained though the main pipe was installed in the main road, the laying of new pipes inside bi-lanes was continuing during the night.

Mr Perera who is also a retired employee at the Sri Lanka Transport Board requested the authorities to expedite the construction or take measures to reduce the inconvenience.

Nadeeka (34) who requested only to be named by her first name said she is unable to get enough customers to her vegetable stall which was set up in front of her house as the road is being excavated to instal pipelines.

"The vegetables are covered in dust. Therefore, sales have also reduced," she complained.

K Priyanka Kumudu (51) who sells national flags and Kola Kenda on the pavement along Baseline Road near the prison said that she was unable to sell kenda in the morning as the vehicles cannot stop near her stall as the road was being dug up to fix the pipeline.

Colombo Water Supply Service Improvement Project Director Abdul Rasheed said night-time construction was unavoidable in most cases as police were insistent that work be carried out only from 9 p.m. to 5 a.m. to minimise traffic congestion and road closures. "The police are cooperating with us, but the situation demands that most of the work is done at night," he stressed. It however, meant that workers might be working in a particular area over several nights to finish the job.

Police Headquarters acknowledged that such excavation work was only allowed during the night.

Mr Rasheed said teams have been notified to brief area residents before commencing excavation work through distribution of leaflets. "We do create as much awareness as possible. Our engineers are working hard at minimising inconveniences. We have moved out of areas in certain instances where children were studying for exams or the elderly were being disturbed. There maybe some shortcomings but the public, by and large, have been supportive as the project is essential," he added.