Mountain of child abuse cases pile up
By Sandran Rubatheesan
View(s):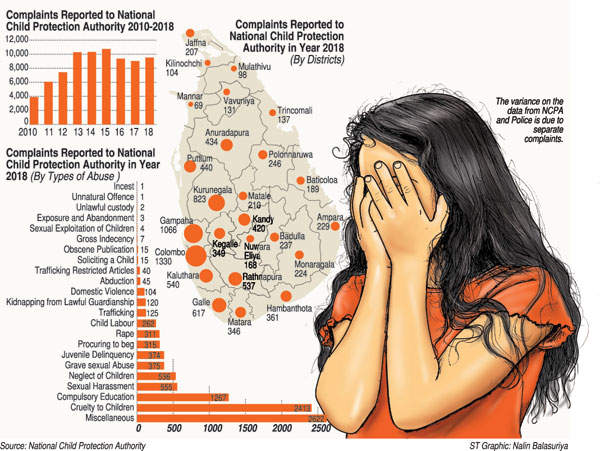 Last Saturday, Nusra (not real name), an eight-year-old schoolgirl from the Ampara District was walking home in a by-lane when the father of her tuition teacher asked her to buy a bar of soap from a nearby shop.
When she returned to the home of the 55 year old 'uncle', she had been abused. Neighbours had rushed in when they heard her cries.
The suspect had fled, but was arrested by police after two days. On Tuesday, he was brought before a magistrate and remanded.
Like Nusra, there are thousands of children abused by adults, particularly by those who are close to their families, and members of extended families.
A data investigation by the Sunday Times comparing various data collected by the Attorney General's Department under the Ministry of Justice, National Child Protection Authority (NCPA) and the police, shows that thousands of child abuse cases are piled up at the AG's Department awaiting indictments at High Courts and further legal actions to resolve.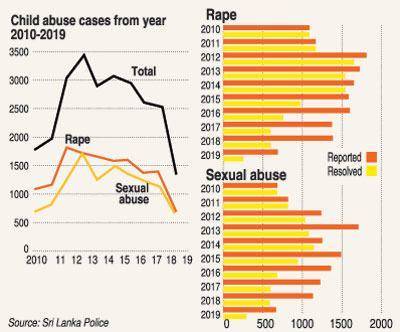 The investigation also shows that very few of those cases are resolved through prosecutions.
Every day, at least three children are being raped by adults in the country while nearly half of the total complaints are pending in courts awaiting further action, or there are delays in filing charges in courts, data on child abuse cases from 2010 to 2019 released by the police revealed.
This year alone from January to July, out of total 688 child rape complaints, police successfully resolved 256, while out of 666 complaints of other forms of child sexual abuse cases, only 294 were resolved.
Interestingly, police which resolved almost all complaints they received in 2010 (1,772) and 2011 (1,989), found it difficult to conclude cases as the years went by with 7,584 cases yet to be resolved. The data from police show child abuse cases have been increasing since 2012.
Last year, out of 1,384 child rape complaints, only 604 were resolved.
The AG's Department said that from January this year to July 31, some 3,113 child abuse cases were concluded where 1,881 indictments were served in High Courts. Advice was sought on 399 cases and 833 cases were discharged.
According to the NCPA, at least 9,000 complaints are recorded annually on various forms of abuse, including cruelty to children, sexual harassment, rape, grave sexual abuse, child labour and trafficking.
Most complaints were received through 1929, a toll free 24-hour hotline.
NCPA Chairman M H.M.Abhayarathne, told the Sunday Times that lack of funds and shortage of people at the grass-roots level in addition administrative shortcomings are the main obstacles affecting efficiency and effectiveness in dealing with child abuse cases.
Mr Abhayarathne, who refused to comment on child abuse cases piled up at the AG's Department for years, noted there are some other administrative shortcomings that cause delays in resolving complaints.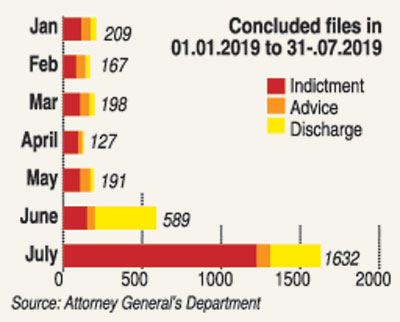 "I have no direct control over them [the police investigation unit], therefore I cannot demand them to fast track investigations," he said.
Noting that the highest number of complaints received by the NCPA across the country was related to cruelty to children in various forms, Mr Abayarathne added that people must learn to treat children with respect and dignity. The NCPA has begun awareness programmes such as 'Jana Paura' or people's shield, to educate the masses on protecting children and their rights.
As the Child and Women Bureau of Police plays a major role in investigating abuse cases, depending on the severity of the cases that comes under the jurisdiction of Magistrates' Courts as outlined in the Criminal Procedure Code, police file a formal plaint sheet and proceed further with a judicial medical process. The AG files indictments for child abuse cases in High Courts only.
Police spokesperson, Superintendent of Police (SP) Ruwan Gunasekara told the Sunday Times that trained police, particularly women, are serving the Child and Women Bureau of Police.
Political cronies infect child abuse watchdog

The National Child Protection Authority (NCPA), has failed in its core mandate as it increasingly became highly politicised in recent years with political cronies being appointed to high ranks and turned into another 'white elephant', the founding chairman Prof Harendra de Silva said.

Prof Silva who is a renowned paediatrician and main architect of policies to curb child abuse, noted that the pattern of thousands of child abuse cases pending in courts and other various state institutions including the NCPA is a "trend of corruption".

"There are some committed officials at the AG's Department and the police who push for prosecution of child abuse cases but that number is relatively very few," Prof Silva said.

At the initial stages many cases are withdrawn or resolved 'amicably' due to reasons such as political influence, settlement by both parties followed by compensation, or long delays in the process etc.

Noting that he is "critical of his own child'', the NCPA, set up in 1998, Prof Silva added that the one time vibrant body became highly politicised over the years as politicians installed their cronies into top management and the board.

"The only main reason for this is to secure the interests of their political masters whenever there is a complaint of child abuse against them or those who are affiliated with them," he said.

Prof Silva who considers children as a powerless minority, said it is the responsibility of the adults to protect children's rights. Adults should be held accountable.

"A child cannot look after its own interests. A child cannot stage demonstrations on streets when violations are committed against them," Prof Silva said.

Criticising that many political appointees to the NCPA in the recent past are not competent and had no commitment, Prof Silva said that committed officials are obstructed, not only by violators but also insiders.

"There is no audit of the workload or output in the administration for the money they spent for initiatives," he said.

For instance, Prof Silva said, that the action plan on child protection strategy for NCPA was plagiarised from the respective Australian agency website and was translated into Sinhala, while enormous amount of funds were spent on consultants.

Reiterating that child abuse is a systematic issue for the human race, Prof Silva said it cannot be justified.

He said that's precisely why people have a culture and social norms as unwritten laws, followed by legal mechanisms such as the rule of law, transparency and accountability to protect children's rights.