Rajeev Amarasuriya declares candidature for BASL Secretary
View(s):

Attorney-at-Law Rajeev Amarasuriya has declared his candidature for the post of Secretary of the Bar Association of Sri Lanka (BASL) for the year 2020-2021.

Amarasuriya is a regular Practitioner before the Appellate Courts of Sri Lanka, engaged in Civil Litigation, including areas of Public Law and Commercial Law. He also provides Corporate and Legal Consultancy to a wide range of Civil and Commercial Law areas.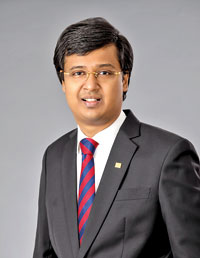 He served as a member of the Bar Council for several years and was also Chairman of the National Law Conference in 2015. He was the Convenor of LAWASIA – Sri Lanka 2016 Golden Jubilee Conference held in Sri Lanka.
Amarasuriya has also been the Convenor of the Finance Committee of the BASL from 2013-2016. In his early years at the Bar, Amarasuriya was the Founder Editor of the Junior Bar Law Journal, his brainchild, which is an annual publication to date.
He was a visiting Lecturer and Examiner in Tax Law at the Faculty of Law of the University of Colombo, and also an Examiner at the Sri Lanka Law College. He is a Commission Member of the Securities and Exchange Commission of Sri Lanka.
He is also the President of the Alumni Association of the University of Colombo.
Amarasuriya holds a Bachelor of Laws LL.B (Hons.) Degree from the University of Colombo, and is a Fellow Member of the Chartered Institute of Management Accountants (CIMA) (UK) and a Chartered Global Management Accountant (CGMA). He is an Alumnus of the Harvard Kennedy School, Executive Education.
He also has the distinction of having topped the batch at the Attorneys-at-Law Final Examination in 2003, and winning the Justice Siva Supramaniam Gold Medal and the Sir Lalitha Rajapakse Memorial Prize, and also the Sethukavalar Memorial Prize for Commercial Law.
Nominations for the election of Office Bearers of the BASL, will be called in January 2020, and the election scheduled to be held in February 2020.