Voices from Colombo's vibrant music scene
With the city's nightlife slowly getting back to normal, this week the Mirror Magazine caught up with popular musicians around Colombo as they get back to what they love doing best. Read on to find out where to catch these acts
By Joshua Surendraraj
View(s):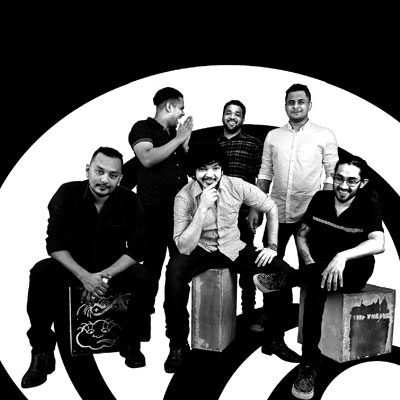 Four months on since the devastating Easter bombings and we find Colombo's nightlife gradually returning to normal. Perhaps the biggest driving forces behind this are the vibrant musicians who perform at several hotels and pubs around the city. This week, they give us an insight into their lives and the music they offer.
Sam Dayaratne
Sam Dayaratne is a renowned musician whose professional career took off after he won TNL Onstage 2009. Music has been a part of Sam's life since his school days, where he used to take part in school talent shows.
Today, he performs at weekly gigs in various venues such as Next Innings, The Manchester and The Kingsbury. Apart from this, his new band 'Taxi' performs at concerts as well as other events both corporate and weddings.
Sam's gigs never fail to draw in a crowd. "One of the things I enjoy doing is engaging with the audience to ask them what they want to hear. Let them know that their requests are appreciated," he explains.
Once he knows what direction the music should go on, Sam is quick to keep the mood swinging that way.
Gavin Crusz
Gavin Crusz describes himself as a day time banker and night time musician. He tells us the first instrument he learnt was the piano at the age of ten. Subsequently at fifteen, Gavin got hooked onto the guitar and has been playing since.
He has been performing at several pubs, clubs, weddings and special events throughout Sri Lankan for more than seven years. Currently, he and his band 'Lit' could be found at Next Innings, Republic, and The Station Restaurant. Gavin also performs solo at the Manchester Open mic night.
Being a musician is no easy job, as Gavin puts it, having to be on the ball, ready to cater to all age groups and venues. For this, he  stays updated with his music. But, what he loves about his job, aside from the music itself, is being able to meet and interact with different types of people. This also helps him learn and create his own music too, he tells us.
Joshua Vittachi
Joshua Vittachi has been performing as an acoustic solo artist since he was sixteen (while he also performs as part of a duo, trio and in a band as well). He still calls himself a semi-professional musician "as there's still some learning to be done." His initial taste of performing was with his dad, Lenny (Leonard) Vittachi, a musician himself who lets Joshua join him on gigs every now and then.
Joshua has been performing every Thursday from 7:00 pm to 11:00 pm at The Station. Recently he also began performing at Coffee Bean & Tea Leaf (Maitland Crescent) every Saturday from 9:00pm to 12:00am.
His set list primarily features folk acoustic or indie acoustic music, "but I have tried expanding my repertoire to fit a little bit of everything in," he tells us.
Anyone familiar with Joshua's performances, would also know that he packs in a lot of energy and talent. "I just find joy in singing and playing music, quite often my eyes are shut and I'm lost in a song," he tells us.
"I'm sure every musician who values their work makes each song their own and it's not just covering a song but owning it."
He also strives to get a feel of which genre/era of songs work in a crowd and then play to their ear. "Although I have a strict policy about not singing Hotel California or Summer of 69 as those are heavily overdone and tired, to me," he says.
Dream Caravan
Dream Caravan (DC) has been active as a professional band for almost two years. As individuals they've all been in and around the music industry, some of them for nearly 15 years. We are told the band was actually formed by Chandu (Chandimal Fernando), their bassist.
Dream Caravan could be found at 'Next Innings' every Friday evening (except the last Friday of the month), 'Circle' (Wednesdays), and 'Long Bar' every Thursday. Aside from this, they also perform at weddings and corporate events etc.
They are primarily a cover band that originally functioned as a four piece line-up with Chandu, Roshan Peter on Guitars, Ryan Henderlin on Vocals and their former drummer Shehan (who was replaced by Shenal Perera). Soon they felt their sound needed to go bigger and that's when Chanaka Abeyratne joined as the fifth member on lead guitar and Dilranga Nadeeshan came on board as their keyboardist.
Each member brings their unique backgrounds, style and skillset to the table, which is what the band believes to be the key to their performances. "We like to use the tagline "good vibes and great jams" a lot because that's really the heart and soul of what DC stands for and what we want people to feel when they listen to us play," Chandu says.
As performers though, being able to give people an escape through music is just why they love their jobs.  "When we see people having a great time just enjoying the music and the atmosphere it really gives us a sense of what makes this all worth it."
A couple of months ago, they released a commercial cover of Sam Smith's "Dancing with a Stranger" which was featured on the local radio. The band is also working on their first original track and two other commercial covers which will be released on their Social media channels soon.
Perhaps the biggest driving force behind DC is their common love for music – "it's in our blood and it's in our souls," Chandu shares.