Finding solace in art
By Ruqyyaha Deane
View(s):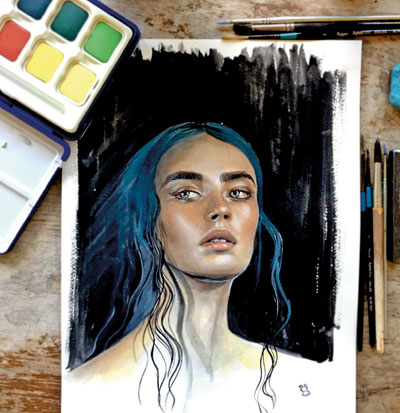 Twenty-six year old Prathiba Hewakuruppu can't remember a time when she was not drawing – in her own little bubble, lost to the world. Her life-like portraits that seem to capture the essence of her subjects has caught the attention of many who stumble upon her work.
An alumni of Musaeus College, she completed her Bachelor of Design (Visual Communication) at the University of Technology Sydney, and currently works as a freelance Graphic designer/portrait artist living in Queensland. She is also in the midst of developing an ethical/sustainable bedding brand.
Through an email interview, we were able to speak to Prathiba about her art, a passion that she found solace in.
Q:  What got  you into art?
I was always interested in art. I can't remember a time that I didn't draw. It was sort of an escape from life, a meditation, that requires a lot of focus, where you can get lost for hours.
Q: What types of art are you most interested in and why?
I am mainly interested in portraiture and illustrations. Drawing portraits doesn't only involve replicating what you see on paper. You also have to make them (the portraits)  look lively. It is always a challenge and is quite lovely to see the excitement of clients when they see the final result.
Q What are the mediums you are most comfort able using and why?
Currently I am comfortable with graphite, charcoal and gouache. I hope to master watercolour because it is an unpredictable medium to work with. If you don't get it right the first time, you don't get a second chance.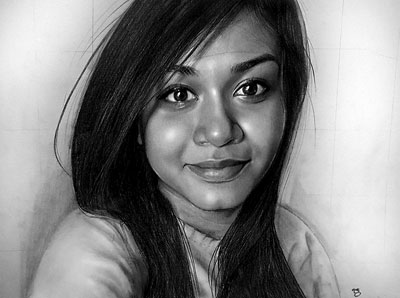 Q: You draw a lot of portraits, how long do you usually take to finish one?
It depends on the size and the amount of detail, but usually I can finish a portrait in about 3 hours. But if I really want to perfect a drawing it can take a few hours every day over multiple days.
Q What inspires  your work ?
Portraits are usually inspired by interesting personalities or facial features. Most of my illustrations and conceptual art is inspired by me, trying to communicate a feeling or a thought I have about the world or the people around me.
Q: 

Is there a specific mood/time that you  have to be in, to draw?
I am much more artistic when I have low moods and at night time, which is unfortunate because I don't get to draw in beautiful natural light conditions.
Q:  As an artist, are there any role models you look up to?
For watercolour I follow Agnes Cecile, her painting style and approach to watercolour is so effortless. I also love Hieu Nguyen, an Australian artist, whose painting style is quite unique. Marina Abramović and her performance art pieces are also a big inspiration when it comes to the impact art can have on people.
 Follow Prathiba's work on Instagram @www.instagram.com/tibitubi/