Strains of metal from the 'Fountain of Memory'
Sri Lanka's first metal album to be released by a female artiste, Shehara Napolean speaks to the Mirror Magazine about her work
By Sashini Rodrigo
View(s):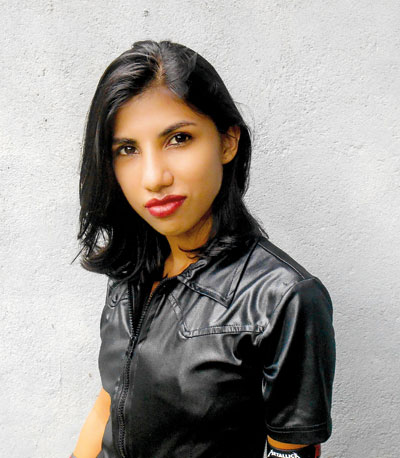 Shehara Napoleon (Batti) was always so moved and enchanted by the healing power of music, that she turned to it whenever she needed to feel comforted. Her debut album, 'Fountain of Memory' (FOM) is a compilation of music derived from the different emotions she experienced.
FOM is slated to be Sri Lanka's first metal album to be released by a female artist.
From early on, Shehara was exposed to the likes of Rock and Roll and country music etc, which made a huge impact on her perception of life and how to live it. During her teenage years, she started writing poems that subsequently evolved into songs.
"Just the realization that I was able to transport my mind to a better place and come out of negative situations through etching my emotions into paper began my journey in music," she recalls. 'Loved for Eternity', which is on the album, was the first song she ever wrote.
TNL Onstage 2011 proved to be an avenue for Shehara to test her skill and passion for music.
Prior to entering the competition, she had wanted to bring to life her dream of making music. This came about with the experience of performing on stage, practicing with a band, video interviews, on air shows and professional recording sessions during the competition and the finals.
Since Onstage, Shehara began writing, practicing, performing, recording, promoting, brainstorming and designing to make music and release her album.
"Fountain of Memory (FOM) is everything I am and what I believe in," she explains. The record showcases songs Shehara had written to heal and overcome some of the toughest experiences in life.
Creating the tracks was her natural response to negativity. "I needed to turn the negativity into complete light and come out to experience a more enlightened and better life by using my past experiences to ground and better myself rather than camping in the void," she says.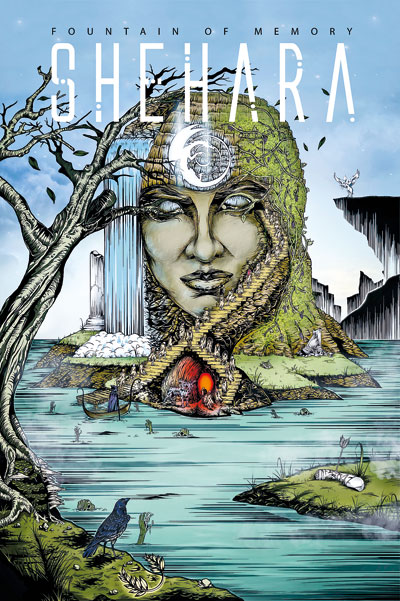 As she puts it, each of the tracks are different in the sense that though they all fall under the Metal genre, individually they incorporate a different sub genre. At times the songs also incorporate different vocal techniques, owing to the different time periods the album was recorded in.
The title 'Fountain of Memory' itself is based on the river from the underworld according to Greek mythology. This idea was something that stuck with Shehara when she first read about the Myth of Er.
"How souls can remember their past lives if they drink from the river of memory when they enter the new world resonated with my belief of always letting go of the pain, but remembering our experiences to better our connection with ourselves and with other people," she explains.
With the help of Kyle S Valentine, she was able to bring out this concept through the album artwork which is an anthropomorphic landscape of the underworld, the garden through which souls walk to enter the next world and Shehara's face.
"If you look closely, you'll also find symbols that represent Greek mythological characters and a few other very cool surprises," she reveals.
In terms of the music itself, Shehara always wrote the melodies and lyrics together. Her husband Tennyson Napoleon also helped her put together the guitar, bass and drum sections to all the songs. The album was recorded for the second time with the help of Azlan Sharifdeen and Izzy Wildchild.
Piecing the songs together with Tennyson was a great experience to Shehara, because it showed the both of them how much they love their music. "I'll always be grateful to him for helping me out and recording this album with me," she shares.
Overall, Shehara feels the album is a reflection of herself and everything she has been interested in over the years that makes her write the way she does.
"And when I write, it's like I go into a portal where time and space don't exist and every situation unfolds itself clearly."
In this sense, what she writes may not intentionally relate with someone. But the fact that it does at times is always a blessing and humbling experience for her.
A limited 150 CDs will be available for purchase at her album launch concert on September 28 at the Fountain of Memory Album Launch Concert where she will perform songs off the album with Rewan Jayatilaka, Izzy Wildchild, Dimitri Cooray and Ash Lanthra.
The album will also be available on Spotify and iTunes after September 28. Though Shehara encourages fans to "purchase the CD from artists due to the fact that we artists don't make much when our tracks are purchased and streamed online where as you really help an artist when you purchase our physical albums and merchandise."
Online tickets for the launch concert can be purchased after September 7 via the anim8 website. You can also listen to her music at sheharamusic.com/fom