Geek Headquarters finds a new home
View(s):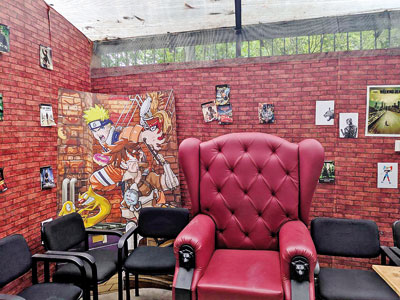 Geek HQ, which was located in Frankfurt Place, Bambalapitiya, has now  shifted to Kirulapone Maya Avenue. The premises looks like the headquarters straight out of a comic book. The new GeekHQ is at No.131, Merrynew Place.
The new Geek HQ opened its doors on August 31, and it looks lovely. Along with the space, the menu has also gone through a bit of a change  with a variety of new dishes as well as a few old favourites.
Colombo's biggest burger is still on the menu, if you want to try it out.
The familiar array of action figures and comic book covers were present throughout the new place, and much to our pleasant surprise, the work of local geek artists were also featured on the walls.
The new Geek HQ consists of two floors, a smoking lounge, and ofcourse spaces for parking.
While the entire space doesn't seem to feel as big as the old Geek HQ, there is plenty of floor space on the ground floor to make up for it.
While the owners are looking forward to settling in at the new location, and judging from the number of people heading through the doors, it seems the geeks are just as eager!
(Pix and text by Paramie Jayakody)