June Jam pop up sale at Halcyon House
By Joshua Surendraraj
View(s):
The tourism industry has been slowly striving to get back on its feet, in the aftermath of the deadly Easter Sunday attacks. While it has taken a toll on several boutique accommodations around the city owing to the lack of tourists, there are also those attempting to make the best use of their spaces.
Halcyon House and Highbury Colombo are such examples. Following the aftermath, the hotels have decided to make the best use of their surroundings by hosting pop-up sales and other events. "This also enables us to create a sense of community and hope for other small businesses and vendors," an organizer tells us. The June Jam pop up sale, which takes place today (9) at Halcyon House, is the first step in that direction.
Halcyon House is a 70-year old property, located in Colombo 05. It was newly renovated, before it opened its doors for business back in 2016. Despite the bustling city noise, the house is neatly tucked away in a cosmopolitan environment and gives you a sense of peace and quiet. The relaxing space is created through a beautiful combination of art and nature.
The idea  to have a pop up sale first came about during a discussion between friends, we are told. This later transpired into a business plan that included vendors such as AKA Tropics, Euphoria, Sugar Nugar, Pandora's Box, Halcyon House Colombo and Highbury Colombo. The sale is a combination of an artistic venue and creative vendors.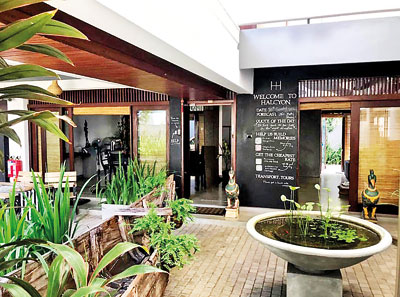 June Jam pop up will feature a combination of apparels, food and jewellery stalls. For example, 'AKA Tropics' will be bringing popular brands right to your fingertips. Their styles range from Boohoo, Pretty Little Things, Shein ,ASOS, H&M, FOREVER21, Zara etc.
Pandora's Box- a homegrown clothing brand that specializes in unique party-wear, everyday linen and trendy crop tops will also be selling their products.
All materials are handpicked by their team and the pieces are manufactured locally with "love and care."
Euphoria Colombo will be featured in the jewellery section of the sale and contains a range of necklaces, rings, flower crowns, metallic tattoos and earrings – with majority on discount.
In terms of food, 'Sugarnugar' will be selling delicious homemade and handcrafted desserts that are prepared by two self taught baker sisters.
Some of the other desserts will also include no bake cheesecake, tiramisu, magic cookie bars and many more.
Fellow boutique accommodation Highbury Colombo will also be selling their 'Pot Pies' that come with a Sri Lankan twist. These pies are homemade and include a selection of Shepherds (lamb) and chicken and are filled with cream cheese and veggies.
Organisers hope to hold these pop up sales once every month at either Halcyon House Colombo or Highbury Colombo alternatively. The organizing team also hopes to have more vendors collaborating with them in the future in order to make the sales an ongoing success.
The sale will be on from 10am -7pm at  Halcyon House.