Chef DK excels in Vietnam
View(s):

Group Skills Development Chef of Aitken Spence Hotels Chef Dimuthu Kumarasinghe, popularly known as Chef DK was selected to be among 17 culinary experts handpicked by Da Nang City People's Committee to be part of the Da Nang International Food Festival in Vietnam, held from 2 to 6 June 2019.

The event will act as a platform for tourists to enjoy a variety of international cuisine prepared by famous chefs at the International Food Corner. Chef DK will also work with local chefs to cross learn more about local Vietnamese cuisine with the aim to promote and spread the tourism brand of Da Nang city worldwide.

Chef Dimuthu Kumarasinghe is the Group Skills Development Chef at Aitken Spence Hotels and Heritance Hotels and Resorts. A world renowned culinary celebrity, Chef DK is the only chef in the world to ever win 9 gold medals in individual events held at two separate Culinary Olympics, once in 2004 and again in 2006.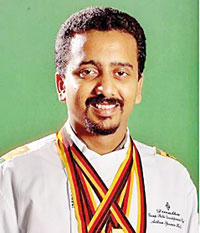 Having started off as a trainee cook, the Chef admits that he only joined the industry because of the support of his brother. He then spent ten years in Bahrain as a Pastry Chef and joined the Aitken Spence Hotel group after his return to Sri Lanka. As the Group Skills Development Chef he is now responsible for the skill development of all the chefs and cooks in the Aitken Spence Group, with a particular penchant for training cooks and chefs to represent Sri Lanka in culinary art competitions.
A remarkable achiever, Dimuthu has excelled in his capacity and carries many accolades under his belt. Some of the events in which he won at the Culinary Olympics are 'artistic showpiece', 'artistic pastry showpiece', and the 'pulled sugar' event.
His many awards and achievements are innumerable and Chef Dimuthu is an irreplaceable member of the Aitken Spence family.