Infusing traditional handweaving with contemporary designs
View(s):

Ethical. Meaningful. Risk Taker. These are three words, 27 year old Umanga De Alwis Kulasekara uses to describe her brand 'UDAK' that's creating a buzz.  "Clothing with a deeper meaning," is what Umanga aims to create for her brand. UDAK is inspired by her love of the rich culture and heritage of Sri Lanka.

Stumbling upon the Ududumbara artisans on a heritage visit to Kandy in her second year at the Academy of Design, where she completed her degree in Fashion and Textile Design, Umanga fell in love with their handweaving techniques. "For my final year I wanted to take hand-weaving into the contemporary world and show them, hand-weaving can be taken to the contemporary world of fashion."

Focusing on the people who help create her pieces of clothing, Umanga considers the Ududumbara hand weavers her family. Working primarily with artisan Chandana Yapage, shares that it is a collaborative effort to  design her line. Chandana teaches primitive patterns to different techniques, educating her on the handweaving art whilst Umanga enlightens him on the new trends in the fashion industry and how they can adapt.

"Handweaving is an art, as a
Sri Lankan citizen, we are people who grew up with so much culture. There is so much heritage in us and in order for us to take it forward. We have stepped into this contemporary world where these primitive designs are given less attention. We don't value it."

Launching her brand last year in March, UDAK provides statement pieces that fuse together modern-day clothing with a special kick by incorporating hand weaving into its design. UDAK essentials include a new diffusion line that was just launched last month at Urban Island is a line that provides everyday-wear such as shirts with a subdued Ududumbara woven panel.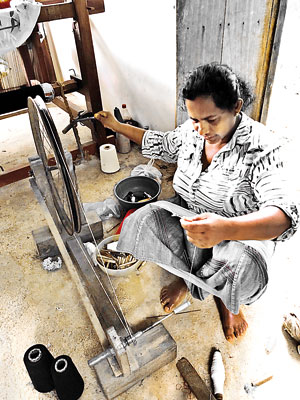 "I have always been a fan of adding edgy details to basic garments. With shirts I like to experiment with enlarged collars or like structured button patterns or an exaggerated sleeve. I want to turn the basics into a more edgier version of it and that's my silhouette concept."
As a fashion designer, Umanga revealed that she was very worried about the carbon footprint the fashion industry is leaving. Coming across a number of articles on how the industry is not helping the earth has led to Umanga ensuring that her brand is as sustainable and ethical as possible.
On how she does this, she elaborated adding that her designs come with only 2-3 pieces from each size (xs-xl), Umanga ensures that there is no excess wastage. Furthermore as the number is very limited, it prompts people to get their money's worth.
By using handweaving in her production, she reduces the use of machinery whilst helping the artisans grow economically and socially. By collaborating with them, she helps them obtain a better standard of living as she highlights their talents.
As a long term goal Umanga wants to move into using organic materials, such as dyes and cottons to better help the environment. She says that she is still growing as a person and a designer. Experimenting with new products and finding new things to help UDAK expand, Umanga is and will remain optimistic about the brand.
"Whenever someone is in UDAK, I want them to feel they are in a revolution that is trying to do something different — trying to give something positive to the planet."