A film on corrupt politics and the battle for justice
'Goori'
By Susitha Fernando
View(s):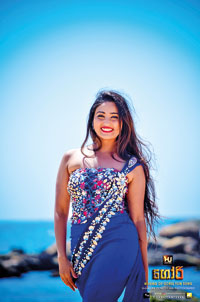 'Goori', a Sinhala action movie, the third direction by Harsha Udakanda is now being released in MPI Theatres around the country.
Woven around a politician and his two sons who are involved in various nefarious activities including misuse of law and order and spreading  fear and violence among the people, the film portrays a young child who is affected by the conduct of underworld gang. The story also focuses on a police officer  who tries to implement the law and order.
The cast of the film includes Sriyantha Mendis, Aryan Kularatne, Roshan Ranawana, Pubudu Chathuranga, Anuj Ranasinghe, Vinu Siriwardena, Tina Shanel, Rajitha Hiran, Kumara Ranapura, Sugath Janaka, Chathura Perera, Sanet Dikkumbura and the child actor Pahandhi Nethara.
Behind the scene, camera is handled by Mahesh Karunaratne, editor Thivanka Amarasiri, makeup Dhanusha Hulangamuwa, art director Himalka Madhushan, assistant director Hasitha Rajapaksa, background music Niroshan Dreams and the production executive is Kelum Udayakumara. The playback songs are sung by Ashan Fernando, Pahandhi Nethara, Amila Muthugala and Revka.
Produced by Nishantha Jayawardena, the screenplay, lyrics and direction of 'Goori' is by Harsha Udakanda.