Dulangi Wannithilake: Born to play netball
View(s):

This week in our series following the National Netball Team as they prepare for the World Cup, we feature Dulangi Wannithilake, one of the junior members of the team, but nonetheless, a bright star of the Sri Lankan netball scene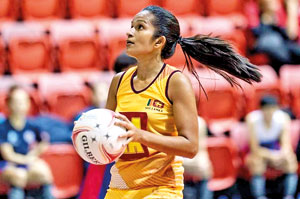 Dulangi is a key player in the team's attack and it was a delight to speak with her as the team enters the final stages of World Cup preparation.
Coming from a family of keen sportspeople Dulangi is continuing the family tradition of representing the Wannithilake name in national sporting teams.
Her mother is a doyenne of netball coaching in Kurunegala, her home town, and her father a former national volleyball player and coach. She played many sports growing up, however, netball was her favourite and her success with netball dates back to the Under 12s when she was part of the Holy Family Convent team that won the All Island Championship (after a 20-year drought for the HFC in any sport).
She experienced a period of sustained success with this team through the U14, U16, and U18 – indeed from 2004 to 2012 in both the Milo and All Island Schools competition she played in every final (and only lost two!). She was also awarded the best player for the tournament in the U12, U16, and U18 Milo competitions.
After completing her schooling, she enrolled in the Sports Science and Management Degree at Sabaragamuwa University and her participation in netball continued, with Dulangi earning her place in the Sri Lanka Schools Team, and the National Youth Team. In 2015, the National Youth Team won the Asian Championship after 13 years, alongside her were her current National teammates Gayani Dissanayake and Gayanjali Amarawansa. In 2018, Dulangi's "dream came true" and she debuted in the National Team.
She cemented her place in the team with a confidence boasting exposure series, and in September of last year she was part of the Asian Championships winning team.
As an interesting A side, in Sri Lankan netball history only four players have played in both National Youth and National Senior teams that have won the Asian Championship: These players are Dulangi, Gayani, Gayanjali, who were in the team in 2018, and Sashika Samarasinghe who completed this double in 2009, and is now retired.
Dulangi is a very well prepared, very focused, and very dedicated netballer.
She approaches the World Cup preparations with dedication and commitment recognising that the training and support networks provide a fantastic learning opportunity for her, especially as one of the junior members of the team.  She has taken to keeping a diary detailing the training sessions, her fitness goals, and mental preparation by analysing goals, obstacles, and achievements. She says, "I am totally focused on the tasks set, I want to give 100% at everything, especially the difficult training sessions."
It is clear that she enjoys learning about netball and being a professional sportsperson, and takes care to apply her knowledge, especially around food and nutrition, and muscles and injury prevention.
Under her current coach, Thilaka Jinadasa, she has the guidance and opportunity to become a world class netballer. Importantly, she is also a very bubbly and animated person who enjoys sharing stories – about netball and life – with great pleasure!
After each match she will watch a video to analyse her performance, especially any areas for further focus, and then work on these for the next game. Her dedication to analysis and continually improving her performance is another example of her professionalism. She is also the team's unofficial chronicler photographing her team mates and organizing team selfies to capture their journey.
Dulangi credits sport, and netball, with helping her to develop as a well-rounded person: "Participation in sport encourages learning, teamwork, overcoming challenges, building confidence.
You learn to face adversity through sport, you learn about pressure and decision making. I can face challenges with confidence and I believe education must include sports."
One of Dulangi's most valuable assets on the netball court is the ability to stay calm and focused.
Any challenges or unexpected changes that come up "don't phase me, I will deal with them and play my best."