Rocketman in Town
View(s):

Following the immense success of British movie 'Bohemian Rhapsody', cinematic capture of legendary Freddy Mercury and hit band 'Queen', another movie celebrating world renowned pop-singer Elton John, 'Rocketman' is now being released in theatres worldwide.

This epic musical fantasy about the incredible human story of Elton John's breakthrough years is directed by Dexter Fletcher and written by Lee Hall.

The film follows the fantastical journey of transformation from shy piano prodigy Reginald Dwight into international superstar Elton John. This inspirational story – set to Elton John's most beloved songs and performed by star Taron Egerton – tells the universally relatable story of how a small-town boy became one of the most iconic figures in pop culture.

The film also stars Jamie Bell as Elton's longtime lyricist and writing partner Bernie Taupin, Richard Madden as Elton's first manager John Reid, and Bryce Dallas Howard as Elton's mother Sheila Farebrother

Titled after John's 1972 song "Rocket Man", the film had been in development for almost two decades, with the project going through studios including Walt Disney Studios and Focus Features.

Taron Egerton who played Elton John had to know everything about this enormously talented super star.   At first, John invited Egerton over to his house, for a curry and a chat. Shortly afterwards, he showed him his memoirs, which have never been published. Then he let him see all the costumes. And then, well, then he just told him everything.
"There was nothing off limits," says John of the process the pair went through to bring his story to life on the big screen. "That's part of sobriety and learning to be open. There's nothing you can't talk about and communication is everything. I knew that if Taron was going to play me, he had to know everything. And he was so thirsty for knowledge. We just talked, like mates. It wasn't like an investigative process. I think that's why Taron has been so brilliant in this role, because a lovelyfriendship has developed because of this."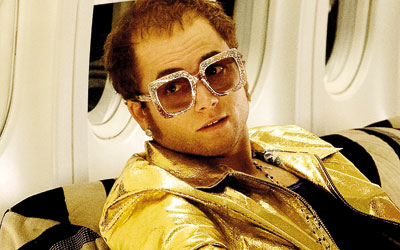 Elton John explains his incredible process with Bernie Taupin, who penned most of John's songs, and the filmmakers reveal how they have taken their classic tracks and made them feel "completely different"
"There are certain things that have happened in my life that I look back at and think they must have been divine intervention," says John with a smile. "The first thing was me deciding to leave the band I was in (Bluesology) and wanting to do something different. I was kind of chubby, not very confident about myself, but I was so fed up with doing cabaret, playing to people who weren't interested in music. So, I answered the advertisement in the New Musical Express. I look back now and wonder how I had the courage to do it. I think, 'I was so shy, how the hell did I do that?'"
The advertisement he's talking about is, as has gone down in musical legend, the very same one that a young guy who worked in a chicken farm in the north of England, called Bernie Taupin, had also answered, inviting people to try out for a writing job at Liberty Records. John got the call first and went in to meet a man called Ray Williams. John told Williams that he could write music but had no idea how to write lyrics.
"So, Ray Williams leans back and gets this unopened envelope from a stack of envelopes on his desk. It could have been anybody's," says John now. "But he gave it to me, to see if whatever lyrics were inside might work. I excitedly got on the train back to Pinner, opened the envelope and thought, 'These are really good.' It could have been any envelope, but it was Bernie's. "He's been my dearest friend; we've had a relationship for 50 years now. That envelope could have been from another person, whose lyrics were shit! I can only think, 'Oh my god, did I ever luck out?'"
The rest, as they say, is history, John and Taupin forging a songwriting partnership – the former on the music, the latter on the lyrics – that has dominated the worldwide music scene for six decades.
At one point, the pair were so powerful that their records represented 4% of all records sold, anywhere in the world. And now, with Rocketman, which features 23 of their songs together, their classic tracks are being reimagined for a whole new audience, sung by a whole new cast.
'Rocketman' premiered at the Cannes Film Festival on 16 May 2019, and was released in the United Kingdom on May 22. It was released in the United States and worldwide on May 31. 'Rocketman' is the first major Hollywood production to show a gay male sex scene on-screen.
'Rocketman' is now being screened at Liberty By Scope, Scope Cinemas, MC Cinema, Savoy 3D and several other theatres around the country.