Penning the autobiography of a music legend
By Arthur Wamanan
View(s):
'Notes of a Dream', the first authorised biography of legendary Indian musician, Oscar winner, A.R. Rahman, is a must -read book for every Rahman fan.
The young man behind the biography is 24-year-old Krishna Trilok whose book has been welcomed with open arms by fans worldwide.
"My intention was to do justice to Mr. Rahman and his journey, to all the people in his life, to my publishers who invested in this book and to Mr. Rahman's fans – and I think I achieved that," says Trilok in an email interview.
Extracts from the interview:
Tell us about your family
I come from a family that was always creatively inclined. All my family members always encouraged me to be creative – and understood when I told them, many years later, that I wanted to pursue a creative profession.  I was – I am very lucky in that sense.
When did you realise that you had a flair for writing?
I was around 13 I think. I saw the Chronicles of Narnia: The Lion, The Witch and The Wardrobe and I decided I wanted to create a world like that. I used to maintain a diary back when I was a child. I also had a lovely English teacher at school, when I was around 9 or 10 years old, who always told me I had a talent for language.  A family friend, Padmini Raman, who I used to go to, to learn Hindi, when I was around the same age also always told me I had a flair for narrating incidents. She told me I had to write one day. So I wasn't too afraid to start writing.
What inspires you to write?
I think there is nothing greater you can do for people than make them feel better when they are going through a hard time. I think all the artists whose works we love today, all the human rights activists we admire, all the great inventors we revere – the reason we love them so much is because they touched our lives. They changed our lives for the better. When we were having a bad day, a film could make us feel better and give us strength to go on. That's why we love that film's director or actor. I think that's what inspires me; the desire to create work that will give hope and happiness to someone in the world, somehow.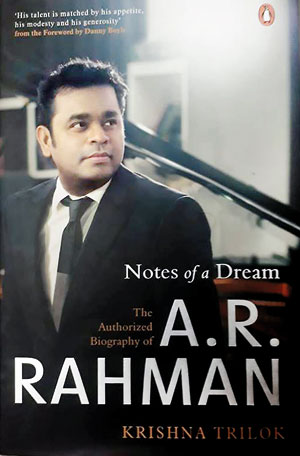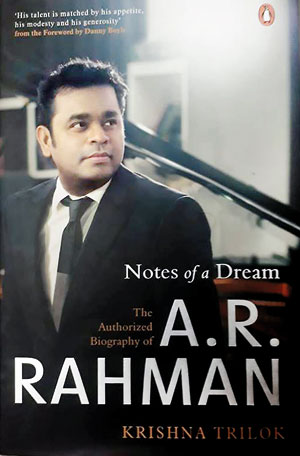 You are 24, and you got the opportunity to pen the autobiography of musical legend A.R. Rahman 'Notes of a Dream'. Tell us how this happened.
So Mr. Rahman is turning filmmaker now with Le Musk (the virtual reality movie he is directing) and 99 Songs (the Hindi movie he has written the story for and producing). I was very interested why someone who is so successful in his primary profession, which is of course music, was getting into filmmaking. Coming out of the comfort zone is the toughest thing for most of us and I was curious why this hugely successful and loved person would deliberately take this risk when he didn't have to. So I wrote him an email saying I wanted to write a book about him, showing how his life has been a constant series of turning points and taking risks. He loved the idea.
I also thought a man as spiritual and inspirational as him might have invaluable thoughts to share with people who are searching for answers.  And, finally, he is a very good human being so I thought there should be a book that did that aspect of him justice. Essentially Notes of a Dream was, in equal parts, a biography, a motivational book and a tribute.
Writers and storytellers often get inspired by those whom they interview. How did interviewing A.R. Rahman inspire you?
I think he taught me positivity. I think it is very easy to sink into a negative way of thinking in life. He taught me that, no matter what the situation, one has to look at it positively. That is something that I'm trying to live by now. His music has always inspired me creatively. Jodhaa Akbar and Yuvvraj were both albums I listened to a lot while writing my first book. But actually working with Mr. Rahman definitely taught me things about life and love that go way beyond creativity and have made me a better person now (I hope). And that also improves my creativity indirectly I think.
How special is 'Notes of a Dream' for you?
It's very special to me because, to this day, I get readers sending me mails saying this book has changed their lives. Of course I have little credit to take for that. (Most of the credit goes to Mr. Rahman and to God, of course.) But it was always my goal to present Mr. Rahman and his story as never before – intimately and in a warm, entertaining and inspiring way – and it is good to know that I managed that. To hear a young entrepreneur or a struggling musician say that this book has given them reason to believe and be better, that's very nice. My intention was to do justice to Mr. Rahman and his journey, to all the people in his life, to my publishers who invested in this book and to Mr. Rahman's fans – and I think I achieved that.
Apart from the Notes of a Dream, what other work would you consider close to your heart?
Last year, for my father's birthday, I wrote a tiny book containing 60 lessons I learned from him over the last 20 years. It is a private piece of work that was never intended to be published.  But of all the things I have written, that is possibly the one that is closest to my heart.
For most writers, working on such a project as 'Notes of a Dream' would be their dream project. What is yours? Where do you want to go from here?
Love as a concept is always something that has fascinated me. Not just romantic love, but the more universal kind of love as well. It is the core of what makes us human I think. It is the one feeling almost every person can identify with. And I would definitely want to explore stories that deal with love in a deep and meaningful way.