Persecution follows Ahmadi Muslims even in the land they found refuge
By Abdullah Shahnawaz and Amila Gamage
View(s):
Around 550-600 Ahmadiyya Muslim families fleeing persecution from mainstream Muslim groups and terrorism linked to extremists in Pakistan, sought refuge in Sri Lanka, only to find themselves stranded between the forces of terrorism and communal rejection yet again.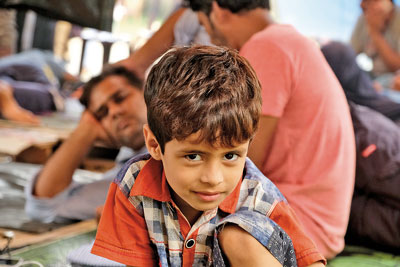 Aided by the UNHCR, the UN Refugee Agency, these families made their way to Sri Lanka and found residence mainly in Negombo and areas surrounding it. However, the Easter Sunday massacre by pro-ISIS terrorists brought back memories of the horrors of their homeland they fled from. They were forced to leave their rented homes by mobs of local residents. They are now camped in an Ahmadiyya centre in Pasyala and are provided security by the Sri Lankan police and army. The Sri Lankan Government, UNHCR, Red Cross and ZOHA, a Swiss NGO, provide aid to the refugees.
The Ahmadiyya sect originated in British India in the late 19th century with the teachings of cleric Mirza Ghulam Ahmad who claimed divine appointment as the Messiah Muslims await to appear before the end times. Although it is an offshoot of Sunni Islam, Ahmadis are rejected by Sunnis, Shiites and other mainstream Muslims and are branded kafirs (unbelievers). Persecution in Pakistan, where they comprise around 2.2% of the population, is warranted for by the Pakistani Constitution which declares them unbelievers.
In Sri Lanka, too, they are rejected by the mainstream Muslims, with anti-Ahmadiyya warnings be issued in sermons delivered by All Ceylon Jamiyyathul Ulema (ACJU) moulavis.
There is a name board in the Pasyala centre which reads "Love for all, hatred for none".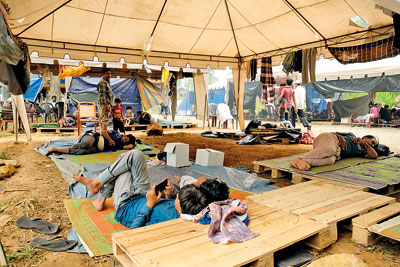 The families are cooped in an area insufficient to accommodate so many. Women and children sleep inside at night, while their husbands, fathers and brothers settle for wooden makeshift beds outside.
"We have enough drinking water for them but there is a shortage of water supply to wash their clothes and for other purposes," says Hafeez Ahmad, President of the Ahmadiyya Muslim Community Centre of Sri Lanka. "We lack other facilities also. We hope the Government will be able to shift them to a better place."
Mr. Ahmad says medical supplies are available but there are problems when certain prescription drugs have to be bought and medical tests be taken, especially for the children.
"We are discussing the issue with government officials and we have requested them to come up with a solution soon," he says.
There are only five Ahmadiyya Centres in Sri Lanka. These are located in Negombo, Colombo, Pasyala, Puttalam and Polonnaruwa.
Mr. Ahmad reiterates the threat Ahmadiyya Muslims face as they are a rejected community by the mainstream Sri Lankan Muslims, and after the Easter Sunday attacks by other communities, too.
"We are satisfied with the security the government has provided them, but there are other issues that need to be addressed and a solution has to be found."
Save our children, refugees plead

Twenty-eight-year-old Zair Ahmad Tahir and his family fled their home in Pakistan after a bomb attack killed 80 Ahmadi Muslims. Later, he found refuge in a rented home in Negombo. On April 25, 2019, four days after the barbarous Easter Sunday massacre, the Tahirs were forced to flee their rented abode when a local mob surrounded it."I left with my wife and son in a bus from Negombo with only this shirt and trouser," he recounts with a sad expression. Mr. Tahir feels secure at Pasyala and thanks the police and army on guard, but the lack of facilities, especially for his son who has now fallen ill is deeply unsettling.

"We have food water and shelter, but the toilet facilities aren't enough and children are falling sick," he says. "Yesterday some doctors came to check everyone and gave medicine and prescribed some tests. It is difficult to leave the camp to get those tests, but now my son is ill and I have to do them somehow."

After statements made by officials that the situation is under control, Mr. Tahir feebly requests the Government to allow them to return to their rented home in Negombo where he says they have everything for their son. But he is afraid of mob attacks too. "I lost my motherland due to terrorism and now I lost my rented home in Sri Lanka for the same reason," he laments. "This is very sad."