Airport bedlam mirrors havoc in tourist industry
By Kasun Warakapitiya
One luxury 300-room hotel had only five rooms taken
View(s):
The Bandaranaike International Airport (BIA) is a two-way gateway to Sri Lanka and the world for visitors – officials on business, tourists coming to see the picturesque resplendent isle and many others – and Sri Lankans.
Since the military defeat of the Tiger guerillas, the airport has provided an increasingly pleasant entry and exit point for travellers.
The Easter Sunday massacre put paid to all this for 18 days. There was no contingency plan in place for processing travellers while follow-up attacks were feared. Courtesy and politeness were thrown to the winds. Passengers wanting to board a flight had to walk from the Katunayake-Veyangoda Road to the Departure Terminal, often carrying heavy baggage. The porters, who are a law unto themselves, did not wish to come out or were not instructed to do so.
After 18 days, the Sri Lanka Air Force introduced new security arrangements so that passengers arriving in Sri Lanka could get to transport more readily than in previous days.
The situation had been a mess for arrivals. Security personnel were rude and ordered them to hurry to the airport gate on the Veyangoda Road with their baggage. They were allowed the use of baggage trolleys but only up to 25m before the gate. Passengers then had to unload their bags from the trolleys, with no help given, and carry them for a distance until reaching their transport. A Civil Security Guard at the gate barked orders asking them to move on quickly.
A desperate elderly mother was incensed. She almost fell while lugging a huge suitcase with her daughter and exhorted, "Undalaata hena gahapiya!" (let lightining strike them". The anger was not at the security measures but at the way the passengers were being treated, like cattle being taken to an abattoir.
There is no doubt a bad security situation demands stringent measures, a retired major-general who is familiar with the working of the airport remarked, but what is essential for its success is that all passengers be treated respectfully and instructed politely when a crisis occurred.
He declined to be named but said those responsible for the situation were only thinking about themselves and the airport.
"My husband and I returned from a pilgrimage to Mecca. We were exhausted by having to push the luggage trolleys ourselves and then, after walking all the way through the airport, having to carry three to four suitcases 500-600 feet from the Arrivals Terminal entrance to the main road," Innu Nisha, 61, a resident of Kandy said.
They found this a particular strain as they were fasting for Ramadan. "We are fasting, we are returning from a long trip of pilgrimage and are therefore very tired, and despite all that they forced us to carry heavy luggage," she said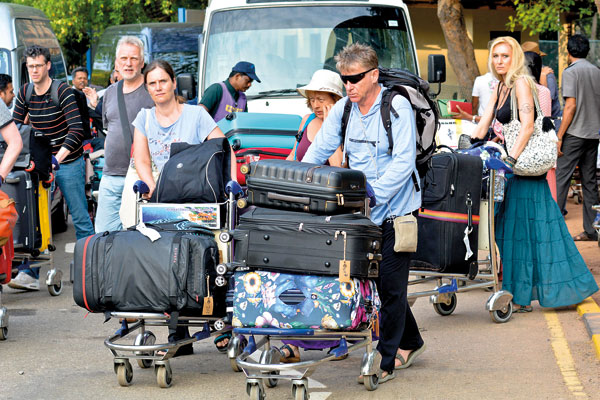 A traveller returning from a trip to Dubai, Kushan Jayasinghe, said security at BIA was tight and he was happy about the arrangements even though it entailed delays through officials carrying out extensive checks on people.
He said the fact that vehicles were not allowed into the Arrivals Terminal was inconvenient, making exit from the airport difficult. Passengers arriving on flights had to push their luggage on trolleys all the way to the main gate, then queue up to pass through the gate, ending up in confusion on the Veyangoda-Katunayake main road.
"Due to the people gathering on the main road, traffic is banking up, creating even more delays. Our vehicles are parked far away due to the security measures and it is difficult to carry or drag our heavy bags towards the parking area," Mr. Jayasinghe said.
He said these were burdens that had to be borne since national security was of paramount importance but asked if airport authorities and the military could check vehicles to allow them inside the airport premises.
Airport taxi operators who normally pick up passengers from the Arrivals Terminal but who are now barred from entering the airport were angry.
They said the foreign tourists who hire them are not able locate them in all the bustle of travellers lumbered with luggage at the airport gate.
"The security personnel are not allowing our vehicles into the airport premises but permit BIA Taxis (airport taxi service) and Sri Lanka Transport Board buses to go inside," the President of the Fair Fare Taxi Drivers Association, L.D.S. Samankumara, said.
He added that drivers had noticed a huge drop in tourist arrivals.
The tourism industry has been hit hard by the Easter Sunday bombings – particularly those that occurred in key hotels in Colombo – with some hotels having no guests, services catering to the tourist industry affected and tens of thousands of jobs at stake.
"It's a major hit for the economy of Sri Lanka and the livelihood of nearly 800,000 people," the President of the Sri Lankan Association of Inbound Tour Operators, Harith Perera, said, adding that there were "many cancellations" by tourists.
He pointed out that the tourism industry was never targeted during the LTTE war.
His organisation has called on President Maithripala Sirisena to take all possible measures to ensure security in hotels and public places to persuade tourists to come to Sri Lanka.
The government should fast-track the appointment of an international public relations agency to boost the country's image as a tourist destination and ensure the international community is aware of security arrangements, Mr. Perera said. The Foreign Ministry should update ambassadors on regular basis on the situation in the country in an effort to get adverse travel advisories recalled.
Financial support should be provided to all destination management companies, Mr. Perera said.
Inbound tour operators have reduced rates, offering special packages in order to keep the industry alive.
Hotels Association of Sri Lanka President Sanath Ukwatta said every hotel was checking travellers' bags; some hotels were now preventing vehicles from parking within their premises.
"The cars are stopped and the passengers are asked to get down in order to run checks on the luggage as well as the vehicles before they enter hotels," he said.
Mr. Ukwatta said the suicide bomb attacks had taken place in the off-season when there were fewer foreign arrivals so the loss from that sector was lower than it might have been. He said, however, that bigger discounts needed to be offered to attract customers as the high season approached and that the travel warnings issued by foreign countries posed significant problems for the industry.
Mr. Ukwatta said hotels were targeting locals by offering packages with lower rates and discounts catering specifically to Sri Lankan travellers.
A cabinet subcommittee has been formed to address the measures needed to be taken to assist the tourism industry.
Reports have come into The Sunday Times of dire vacancy rates in hotels around the country.
A guest who stayed at a luxury hotel in the south which has around 300 rooms said only five rooms had been occupied one day. Most of the occupants were foreign nationals; there was a clear absence of families.
The guest chose the hotel as it was offering up to 50 per cent off its half-board rates. "A room that costs Rs. 60,000 with half-board is now Rs. 30,000," he said.
Another five-star hotel at Negombo has also slashed prices in half until July 15. A full-board twin-bed room usually given at Rs. 35,600 has been reduced to Rs. 17,800.
Two hotels at Nuwara Eliya that used to be packed with tourists were left with a tiny number of occupants. One of the hotels, which has more than 150 rooms, only had five occupied while another hotel with 50 rooms had none occupied.
As result of this, vegetable farmers have suffered losses as hotels and restaurants have not placed orders for produce.
Even fishermen in Negombo have been affected because hotels are not preparing the usual seafood feasts due to the lack of tourists.
Tourist attractions such as World's End, Ella and Hakgala Gardens are seeing very few visitors.
During the days prior to the April 21 blasts there were an average of 200 vehicles transporting tourists weekly to World's End; only about 20 arrived this week.
In Nuwara Eliya, those in the tourist trade said they were concerned about tourist arrivals during what they call the "Arab season" next month also dropping. The area draws a large number of tourists from Saudi Arabia following the Ramadan festival.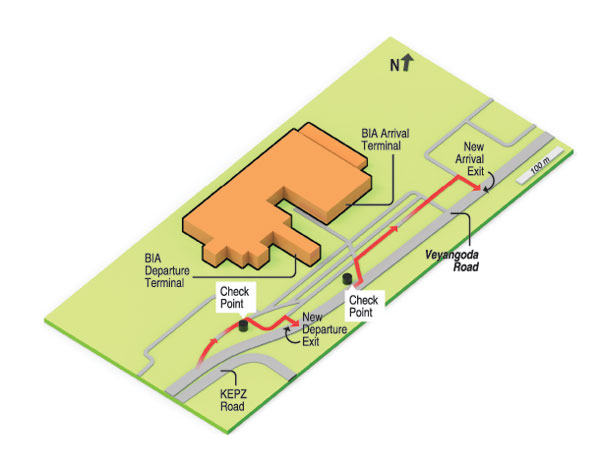 Relief package for stricken sector
On Tuesday, Cabinet approved an economic relief package presented by Acting Minister of Finance Eran Wickremaratne for the tourism sector to recover from the impact of the bomb blasts at three high-end hotels in Colombo.The package includes loans, processes to provide reductions in interest payments on existing loans and lengthen terms of repayment, and a reduction in VAT from 15 per cent to 5 per cent until March 31, 2020 on hotel and tour operators registered with the registered with Sri Lanka Tourism Development Authority.Imported security equipment such as handheld metal detectors, walk-through metal detectors, baggage X-ray inspection equipment and vehicle scanners will be made duty-free.

---

Laden Lankans provide silver lining
The 15 three-wheelers currently allowed to park at the roadside a few feet away from the gate of Bandaranaike International Airport have found some unexpected relief from the blow to their earnings following the Easter Sunday bomb blasts. Although earnings have been hit by the drop in foreign tourist arrivals, heavily-laden Sri Lankans returning from trips overseas are providing custom, driver M Leelaratne said."We are getting more hires from locals who return from their travels. Their bags are large so they hire three-wheelers to carry their bags from the airport gate to where the taxis are parked," he said. Airport authorities are preventing most vehicles from entering the airport premises so people coming off flights are being forced to carry luggage a considerable distance until they reach their transport.Meanwhile taxi operators say they are fearful about the consequences of the security measures taken at the airport entrance on the Veyangoda Road.
"During the peak hours, when flights arrive in between 5.30am and 7.30am, many people are waiting at the gate with their luggage and we think there is a high chance that a suicide bomber aiming for maximum casualties would explode a bomb at the BIA gate," taxi driver Anil Munasinghe, 70, said.