Nation too jumpy after bombings to resume normal life
By Chrishanthi Christopher and Asiri Fernando
Parents don't share Govt's sanguinity over school safety
View(s):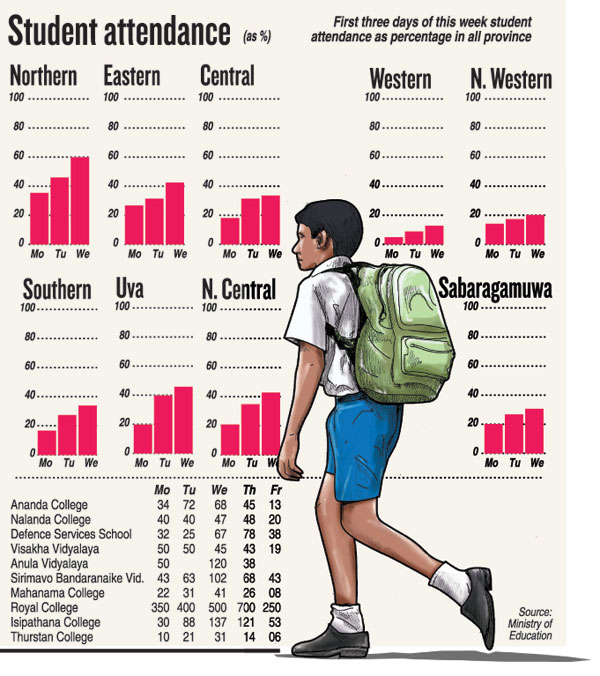 The sight of mothers and fathers sitting on pavements outside their children's schools, forming a pathetically brave line of defence against suicide bombers, is emblematic of the heavy strain gripping the country three weeks after the Easter Sunday Terror attacks.
Parents, school authorities, traders, daily wage earners, large companies and many others are struggling to keep going amid fear of possible future attacks and the crippling financial toll of the Easter Sunday attacks that killed more than 250 people and injured hundreds more.
Parents have been requested to come in as volunteers to guard schools overnight and carry out security checks on students while additional armed security personnel and police are also deployed outside schools. In some schools, parents, both men and women, are seen sitting on pavements outside the schools, providing security.
These guard duties are hurting the livelihood of some families, with parents in the estate sector complaining that they are forgoing daily wages in order to guard their children in schools.
The security measures have, in any case, failed to inspire confidence, with most parents keeping their children at home: overall attendance was less than 8 per cent for Grades 6-13 this week.
"We are willing to help schools to ensure security but that alone is not sufficient to give confidence for parents to send their children back to school," Eranga Adhikari, a parent from Kelaniya said.
As the government tries hard to restore normalcy after the Easter Sunday multiple attacks, many sectors are still struggling.
At Manning Market in Pettah, wholesale and retail vegetable traders lowered prices as they waited for customers.
Trader Ruwan Chandra had to return home the previous day with most of his products unsold. "After the New Year season we were expecting things to return to normal but then the suicide attacks occurred. Since then we have not had good business," he said.
"We have experienced previous incidents but this time it is taking longer to return to normal as there is a lot of speculation and suspicion."
Lottery ticket sellers were in the doldrums, and wayside hotels have seen a drop in custom. Even traffic wardens found less to occupy them. In government offices too, the return of normalcy is slow with the public yet to return to obtain services.
Colombo residents feel more insecure than people in the outstations. Schools showed this clearly, with less than 2 per cent of students in class on Monday, the first day of term this week in the Colombo district compared with 30 per cent attendance in rural schools.
In some schools, although attendance was low on the first day it started improving on Tuesday and Wednesday. On Thursday, however, there was again a drop, leaving authorities wondering what measures they could take to encourage students to attend school.
Visakha Vidyalaya in Colombo 4, which has 7,000 students, had a meagre turnout of 50 on Monday with the number dwindling to 45 and 43 on Wednesday and Thursday.
Ananda College in Colombo 10, with a 6,500-strong student population, only had 34 pupils attending on the first day. On Tuesday, 72 students reported in but on Wednesday their number dropped to 68 and on Thursday to 45.
Royal College in Colombo 7, with 7,000 students, had less than 5 per cent coming to class. On the first day there were 309 attendees, the second day, 369, and on Wednesday the number increased to 506. On Thursday, however, only 481 students turned up.
In other schools, numbers gained sluggish momentum with an increase of up to 10 pupils in numbers on average.
Royal College Principal B.A. Abeyratne said parents were apprehensive about sending their children to schools because of media reports and discoveries of weapons in raids conducted on suspected terrorists' homes.
Adding to the quandary, school vans have stopped operating and many students have no other means of transport.
Crowning the situation was Chief Marshal Sarath Fonseka's comments in parliament on Wednesday that, in his opinion, schools should not have been opened.
"This, too, could have contributed greatly to the drop in attendance," Mr. Abeyratne said.
He said classroom academic activities were being conducted as usual and the syllabus was being taught. "But no other activities are taking place," he added.
The Education Ministry said on Friday that no additional school sessions would be held to cover missed lessons in the past two weeks and school authorities must cover the syllabus within the allocated number of timetable hours.
The Ceylon Teachers Union said parents lost confidence after the government made differing announcements about school openings.
"First they said schools would start on Monday (May 6) for all children, then they changed that and said that schools would function only for secondary school students. When the government is not sure and is changing views every minute how will parents have confidence that their children will be protected?" asked union General Secretary Joseph Stalin.
Mr. Stalin pointed out that even the Defence College in Colombo, which has around 3,100 students, had a low turnout of 32 on the first day. "This shows that even defence personnel are not happy with the security given to schools," he said.
An interim decision has been made to open all Catholic semi-government schools on Tuesday (May 14) but Catholic Archbishop Malcolm Ranjith said this date could be postponed to after Vesak on May 18 depending on the security situation.
Meanwhile the University Grants Commission said the decision to reopen universities from Monday (May 13) rests on the vice-chancellors who will assess the safety of universities.
The Ministry of Education, in a media release, claimed the number of students attending school was improving by the day, releasing attendance statistics up to Wednesday from the provinces. On Wednesday, the Northern Province recorded the highest turnout of 60 per cent and the North-Central Province and Western Province saw around 42 per cent.
The Eastern Province recorded the least number of student arrivals with a 13 per cent turnout. The Central, Southern and Sabragamuwa provinces recorded up to 35 per cent attendance.
The suicide bombings have scared away many people making inquiries about passports and visas, the Assistant Controller of the Legal Branch of the Department of Immigration and Emigration, Gayan Milinda, said.
"The number of people coming in with concerns related to passports is somewhat back to normal, but was low initially," he said.
"The foreigners that come have dropped significantly, by around 80 per cent.
"They have either returned to their home countries or have not left their home countries at all after the attacks.
"We usually get a number of foreigners coming to extend their visas – we have seen a drastic drop in that since the attacks happened," Mr. Milinda said.
The National Chamber of Commerce, which is responsible for the promotion of domestic and foreign trade for small and medium-sized enterprises, said members are reporting financial stress.
President Asela de Livera said firms that service the tourism industry – air-conditioning, refrigeration and laundry businesses, to name a few – are in trouble and want to be included in the moratorium on loan repayments and interest rate cut offered to the tourism sector by the Central Bank. They met Minister of Finance Eran Wickramaratne on Friday to place their case before him.
Importers of essential food and commodities have requested the government grant them an interim relief package to ensure an uninterrupted supply of food items. They claim existing debts have increased due to the current unsettled situation.
"We need to show resilience and act together with one voice in this time of need," the former president of the National Chamber of Exporters, Ramal Jayasinghe, said, saying private companies, industry and the government needed to work closely to move Sri Lanka forward after the Easter Sunday tragedy.
"We owe it to those who lost their lives and were injured during the Easter Sunday bombings to return to normal and grow," he said.
National banks in the country have reduced the number of working hours due to staff shortages and curfew hours. Night banking in several private banks has been scrapped.   People who exist on daily earnings are badly affected. One, three-wheeler driver R. Amarasinghe, 52, said: "We have been hit very hard in the two weeks after the attacks. Even now, we are making less than we used to. I earn a daily wage. I must feed a family of four.
"When we don't earn even for a day, it affects us. There are expenses we need to meet: the lease and insurance on the vehicle must be paid even if I don't earn."
He said that as a result of the bombings many people have begun using use phone apps to get rides "so that loved ones can track our journey".
K. Sundralingam, 47, who operates a restaurant in Pettah said his sales were still "very slow".
"Most of my employees hadn't returned from the Avurudu holidays when the Easter attacks happened and I was significantly short-staffed afterwards as many employees kept away from Colombo due to curfew and fear of other attacks."Many people were trapped in Colombo unable to travel, and we did the best we could to feed them. However, overall most restaurants were badly affected. We haven't yet recovered," he said.